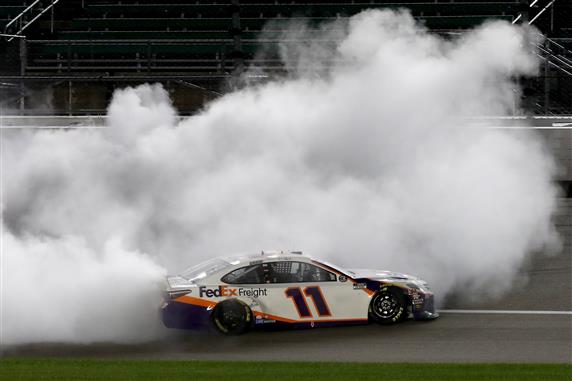 Denny Hamlin Comes in Clutch at Kansas for Fifth Win of 2020
A night that saw several drivers up front and in contention ended with a familiar face in victory lane. After an amazing restart, Denny Hamlin held off all challengers to pick up his fifth win of 2020 at Kansas. Hamlin now leads all drivers in victories this year, as he is still gunning for his first championship.
Logano Strong Early Until Mistake
Although Kevin Harvick was the polesitter, he would fail to lead lap one. That distinction would go to Joey Logano, who pulled away in the opening laps. Logano would lead up until the competition caution, where his team suffered an uncontrolled tire penalty. The 22 would spend most of the night regaining lost ground. That valiant effort would be cut short though, as Logano was involved in a crash en route to a 35th place result.
Kyle Busch Finally Breaks Through
With Logano back in the pack, the next driver to assert themselves as the favorite was Kyle Busch. The defending champion took command on lap 31, and would soon surpass a milestone. In the 19th race of the year, Busch earned his first Playoff point by winning Stage 1. Busch's 52 laps led in this run are second only to Bristol in the most laps he's led all year.
For the start of Stage 2, Joe Gibbs Racing would take the first three positions. However, it was not long until Brad Keselowski spoiled this party, with the 2 taking the lead on a lap 102 pit stop. A late caution in the Stage would see Ryan Blaney and Jimmie Johnson restart up front on a two-tire strategy, but Keselowski quickly got by both of them. The 2 would hold on to win Stage 2, his fifth Stage win of 2020. Keselowski and Chase Elliott both lead the series with five Stage wins apiece.
Crash Takes Out Playoff Contenders
Not long after the race resumed for the final Stage, a massive crash would occur. Out of turn two on the restart, Joey Logano would lose a left front tire and pound the outside wall. Behind him, Jimmie Johnson would get squeezed between Austin Dillon and Matt DiBenedetto. This contact would be night-ending for the 21 and 22.
Bad Luck Continues for Johnson
After being involved in the above-mentioned accident, Jimmie Johnson's promising day was over. The 48 would only make it a few more laps before failing to keep minimum speed. Johnson would finish Kansas in 32nd, and is now outside of the Playoff bubble. The seven-time champion in his farewell tour is now 19th in the standings, 18 points out of the Playoffs. With only seven Regular Season races left, Johnson may have to win his way into his final postseason appearance.
Scary Moment for Preece
On the ensuing restart an even scarier wreck would happen. Christopher Bell would be turned off of Ryan Newman, collecting Chris Buescher and Ryan Preece. Preece's No. 37 Chevrolet would go all the way to the inside wall and briefly get airborne. Preece's flip was very reminiscent of Ryan Newman's Daytona 500 crash, but thankfully Preece walked away uninjured. After three-straight last place finishes though, Preece was mad at such a strong run ending early for the JTG Daugherty team.
Young Gun Up Front Late
A caution for Ryan Newman spinning with 73 laps to go set up an interesting strategy play. While everyone else on the lead lap pitted, William Byron stayed out to assume the lead. The 24 team was working without crew chief Chad Knaus, who was on baby watch with his wife. In the meantime, interim crew chief Keith Rodden gave Byron track position late. Byron would initially hold off Hamlin and others on the restart despite his old tires. The 24 appeared to be on his way to his first career win, even battling back against Keselowski. The race to the checkers would be altered however with a caution on lap 236. Just prior to this yellow, both Kyle Busch and Ryan Blaney were forced to pit after wall contact. After being the class of the field, Busch and Blaney would respectively finish 11th and 20th.
Harvick, Hamlin Take Over
The coming restart would see Hendrick teammate Alex Bowman take the lead. However, an immediate caution for the spinning John Hunter Nemechek would bunch the field together again. On the next restart, Harvick and Hamlin would split Bowman to take the top two positions in one of the more daring moves all night. With 20 to go, Harvick was out front being chased by Hamlin.
Hamlin would continue in Harvick's tracks, as he would not allow the 4 to get away. With 13 laps to go, Hamlin made the winning pass out of turn four. The 11 would then cruise to the victory by half a second over Keselowski, having to play defense late. Kansas marked Hamlin's fifth win of 2020, which broke a tie with Harvick for a series-most victories.
Top 10 Results From Kansas
Rallying late to the runner up position was defending Kansas winner Brad Keselowski. Kansas was a great showing for all three Penske cars, with only Keselowski in the top 10 though. Keselowski has now overtaken teammate Blaney for second in the Regular Season standings as well, though he is 97 points behind Harvick.
Earning his fourth top ten in the last six races, Martin Truex, Jr. took the checkers in third. Truex would lead for 44 laps in Kansas, as the 19 is beginning to return to form. Truex was quickly catching the top two over the closing laps, but ran out of time.
Coming home fourth would be the 4 of Kevin Harvick. Harvick had an admittedly off night, as he was unable to maintain ground on any restart. The 4 was very loose late, but Harvick still held on for his record 12th top five of 2020. Harvick will now head to New Hampshire gunning for a second-straight win on the Magic Mile.
Rounding out the top five would be Erik Jones. Still very much on the Playoff bubble, Jones gained 12 points on the cut line with his strong run. Jones is now 18th on the Playoff grid, just 12 points outside of the top 16. In a contract year, Jones is truly racing for his life as he tries to make his third Playoff appearance.
Career Streak Continuing
Continuing a career-best streak of top-10s, Aric Almirola would be sixth in Kansas. Though he failed to lead a single lap, the 10 has become the picture of consistency of late in the Cup Series. Almirola now has eight-straight top-10s, as he is also now eighth in points. Keep an eye out on the 10 to steal a win with how strong they have been in recent weeks.
The Rookie Surprises Again
Backing up his Kentucky win, Cole Custer earned his fourth top-10 of the year by finishing seventh. This Kansas result is certainly a building block for momentum added onto the Kentucky win, especially since Custer crashed out of Texas early.
Although he had the lead late, Alex Bowman faded to eighth after losing track position. Kansas marks Bowman's best finish since Talladega in June and his first top-10 since Pocono. Much like Custer, Bowman and the 88 team can use this result to build some momentum.
Building his own top-10 streak is Kurt Busch. By finishing ninth, Kurt Busch has top-10s in three-straight races. The Ganassi driver was optimistic that this stretch of top-10s can turn into better results in the coming weeks.
After it looked like he could steal a win, William Byron will have to settle for tenth. This is Byron's first top-10 since Pocono, and also puts him into the top 16 by 10 points. Byron entered Kansas two points below the cut line, so this top-10 was a big step in the right direction for the 24.
Hamlin's Winning Reaction
"When we restarted fifth right there with 20 some to go, I really didn't like our chances that much," Hamlin said. "I just was trying to execute every restart perfectly. We were able to get to third. Another restart, execute that one nicely, we were able to battle it out. This is a well-executed race. We won today with probably not the best car." Hamlin later admitted they likely had the third-best car all night.
"I think Kansas has matured into one of the best mile-and-a-half's that we have on our schedule. It doesn't need any PJ1. We can run all the way from the wall all the way to the bottom. It's just a really, really nice racetrack.
Seems like the asphalt has aged well here. I think that the tire that we had here in the fall was a little better tire than what we had here in the spring or I guess summer. But it just seems like our setup was working for both. We didn't venture too far from our race-winning setup this time around, and it was pretty close. Like I said, I still got some work to do. I think we weren't the best car, but we found a way."
Hamlin was also optimistic about the coming Regular Season races after his fifth win of 2020. "I think we got some good tracks ahead of us. We have some tracks that have been tough for me in my career ahead of us. Those are the ones I really want to perform well at and get better at. If we can put ourselves in contention and win two, three more of these things before the Playoffs starts, we're going to be putting ourselves in a good position for the stretch run."
How to Watch the Next Race
Up next for the NASCAR Cup Series is the annual trip to New Hampshire Motor Speedway for the Foxwoods Resort Casino 301. Coverage will be next Sunday, August 2 at 3 pm EST on NBCSN, PRN, and SiriusXM NASCAR Radio Channel 90. The last lap at New Hampshire a year ago was a classic finish between Hamlin and Harvick, will they tangle again or will a new contender arise from the Magic Mile?
Written by Peter Stratta
Be sure to follow us on YouTube and Twitter.
Be sure to follow the writer on Twitter.
Photo credit to NASCARMedia