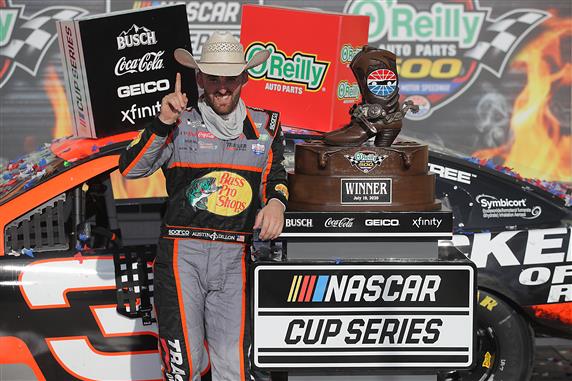 Austin Dillon Scores Texas Win, Puts Further Strain on Playoff Bubble
After a call to pit for two tires with 27 laps to go, Austin Dillon held off the pack to earn his first win of 2020. Career win number three for the Richard Childress Racing No. 3 team puts Dillon into his fourth Playoff appearance. Adding onto the magnitude of the day for RCR, teammate Tyler Reddick finished a close second. This marked RCR's first 1-2 finish since 2011. Dillon entered Texas outside of the top 16 in points. As a result of the win, he is locked into the postseason, shuffling the battle for 16th yet again.
Stewart-Haas Strong Early
Polesitter Aric Almirola ran away from the field early on. The 10 car set pace despite reporting faulty brakes under pace laps. Almirola led the opening 25 laps, through the competition caution. It was only on the restart when teammate Kevin Harvick muscled his way by Almirola. Harvick was gunning for his fourth Texas win in four years and second-straight win in the Lone Star state.
Almirola would get back by Harvick for the top spot in lapped traffic. He would hold serve until a pit stop penalty befell the 10. Almirola was busted for a blend line violation when exiting pit road. This sent the 10 two laps down. Amazingly, both this weekend's Xfinity and Truck races saw the same infraction issued. Almirola would spend much of the remainder of the race battling back, but would leave Texas with a top 10.
Stage 1 would go to Ryan Blaney, who was able to pass Kyle Busch on lap 69. Blaney would hold serve through green flag pit stops, and earn his second Stage win of 2020.
All was Not Lost for Johnson
While running in the top 10 on lap 117, Jimmie Johnson got loose out of turn four and slapped the outside wall hard. Despite losing any chance at the win, the 48 team persisted to get their Chevrolet to the finish and try to retain as many points as possible. Johnson entered Texas 24 points ahead of the cut line. Due to attrition, Johnson would finish 26th. The seven-time champion leaves Texas in the Playoffs by two points over teammate William Byron.
Blaney Sweeps Stages Again
Although Kyle Busch initially had the lead in Stage 2, Denny Hamlin would get by the 18 quickly. Not long after, Blaney would retake the lead. Blaney would again hold serve through another green flag pit cycle and cruised to a Stage-sweeping performance. Amazingly, Blaney also swept both Stages at Texas in 2017.
The Big One Kicks Off Final Stage
On the restart to begin the final Stage, Ryan Blaney got loose in turn three while running second. This set off a chain reaction that saw Kurt Busch shove Aric Almirola into Kyle Busch across the start/finish line. The 18 would clip the 19 of Martin Truex, Jr., with many others having nowhere to go.
Kentucky winner Cole Custer would see his day cut short after heavy damage. In addition, Ryan Preece, Chris Buescher, and Ricky Stenhouse, Jr., also had race-ending contact.
Amazingly, Kevin Harvick, William Byron, Bubba Wallace, Aric Almirola, Kurt Busch, and Matt Kenseth were able to continue after being involved as well.
Blaney, Hamlin Race it Out on Alternate Strategy
After a brief red flag, the race resumed with Brad Keselowski getting a big jump over Denny Hamlin. Though the 2 nailed the restart, he would quickly fall back into the clutches of Hamlin and Blaney. The 11 and 12 would duel for the lead, with Blaney eventually getting the upper hand. Blaney would lead until his final pit stop with 46 laps left. Hamlin would pit two laps later in a daring strategy play.
While they both ran near each other as green flag stops cycled out, Hamlin lost a ton of time to Blaney. The 11 was fighting amongst lapped traffic while trying to gap the 12, which he couldn't achieve. The strategy for both Blaney and Hamlin would go out the window however on lap 306. An ill-timed caution flew when Quin Houff got into Christopher Bell and Matt DiBenedetto. This caution allowed Austin Dillon to take two tires and gain track position, while Blaney and Hamlin were stuck back in the pack. Lining up to Dillon's outside would be teammate Tyler Reddick. Reddick would have the advantage with a fuel-only call, but it would not hold.
RCR Holds On For Breakthrough Win
Despite two more cautions for spins by Denny Hamlin, the top two of Austin Dillon and Tyler Reddick remained unchanged. Dillon was able to get a jump on each of the three restarts to keep clean air and hold off the pack. By the checkers, Dillon led Reddick by just a tenth of a second. Dillon addressed the restarts post-race, saying "I've been given a lot of s— actually from all my friends about restarts, how I restart for a long time. I don't ever want to let them down." By choosing the bottom lane all three times, Dillon was able to secure the victory.
Top 10 Results From Kentucky
Coming up in a career-best result in second was rookie Tyler Reddick. Reddick made it a 1-2 finish for RCR, their first since Talladega in 2011. Reddick leaves Texas at 17th in points, 14 markers out of the Playoffs.
The best of the rest in third was Joey Logano. Logano led 22 laps on the day, but was unable to make any pass work over Reddick late. For much of the closing laps, Logano was on the defense against Kyle Busch. The 22 showed more speed and performance than they have since the return to racing. Expect to see Logano in contention for more wins.
Earning his best finish since Atlanta in fourth was Kyle Busch. A top five is certainly a step in the right direction for the 18 team, as they still search for their first win and Playoff point of 2020. After a runner up in the All-Star Race and a fourth in Texas, Kyle could be finding his stride for a late summer surge.
Rounding out the top five would be Kevin Harvick. The most recent Texas winner coming into today, Harvick led 11 laps en route to his 11th top five of 2020. The 4 team continues their dominating lead in the Regular Season standings by 91 points over Ryan Blaney. Harvick also narrowly averted disaster in the big one, as he was in the eye of the storm for that crash.
Quiet Consistency for Jones
Erik Jones would end a nonchalant day in sixth. Despite the strong run, Jones is still on the outside of the Playoff bubble. The 20 is 18th in points, 14 points below the cut line. Jones will certainly need stronger Stage results and finishes in the coming weeks if he is to make the 2020 Playoffs.
Early Strength Doesn't Pay Off for Blaney
After winning both Stages and leading a race-high 150 laps, Ryan Blaney wound up seventh. Blaney has a bad tendency of fading late in races he dominates early, a trend the 12 team must correct if they are to be a title threat. Outside of the Talladega win, Blaney has been seemingly stuck in the back half of the top 10 all year long.
After running in the top 10 most of the day, Kurt Busch brought the No. 1 home in eighth. Texas marked Busch's 11th top 10 of the year, and second-straight after a few poor finishes. The Ganassi 1 car has been a threat for the top 10 all year long. They can sneak in a win at any of the upcoming races.
After being up front late, Brad Keselowski faded to ninth. Keselowski's late slide through the top 10 was due to restarting in the bottom lane. Keselowski said post race that the speed in the 2 car also fell off, but it was overall a nice recovery from where they started.
Aric Almirola continues a career-best streak of seven-straight top 10s. The 10 once again started from the pole, looked strong early, but fell back and did not fully recover. If not for the blend line violation, Almirola may have been a contender late in the going. Almirola will hope to continue his hot run at one of his best tracks in Kansas.
Dillon's Winning Reaction
Busting an 88-race losing streak dating back to the 2018 Daytona 500, Austin Dillon gave all credit to crew chief Justin Alexander. "If you can get the track position at some point, you can be fast," Dillon said. "You saw when we got out front, we had a hot rod. The (two-tire) call was the win, the call that Justin made. I asked him for something. Our car was fading.
When we put the lefts on, it was the call we needed to go on and win the race. It came down to just some restarts, not screwing up, making it happen when it counted on those restarts, getting through the gears, timing them. I had some good pushing. My buddy Kurt Busch gave me a good push that first one. Joey Logano was also a lot of help down the stretch."
Unlike his two prior wins, this time Austin Dillon was playing defense rather than offense late. "We took it from them. That feels good. This one, we had to make it happen multiple times on older tires. That was pretty cool. Feels great."
After a year to forget in 2019 for RCR, they now have one car locked into the 2020 Playoffs and another right on the cusp. With increased experience, Tyler Reddick will only get better, as he could also steal a Playoff spot.
How to Watch the Next Race
A short week for the Cup Series will see them back in action on Thursday night in Kansas. Coverage of the Kansas 400 will be on July 23 at 7:30 pm EST on NBCSN, MRN, and SiriusXM NASCAR Radio Channel 90. The past two weeks have seen the Playoff picture upset by Cole Custer and Austin Dillon. Can that trend continue in Kansas, or will someone above the cut line win?
Written by Peter Stratta
Be sure to follow us on YouTube and Twitter.
Be sure to follow the writer on Twitter.
Photo credit to NASCARMedia