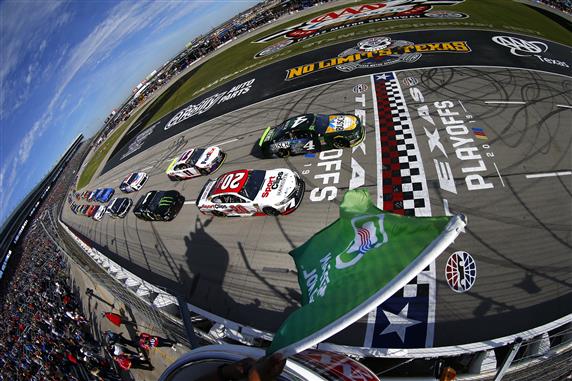 Past Texas Winners Looking for their First Win of 2020
As the NASCAR Cup Series approaches the halfway point in the 2020 season, there are still quite a few top drivers who have yet to capture that elusive first win of the season. Some of these drivers are looking for that breakthrough win to vault themselves into championship contention, while others are in the twilight of their careers and looking for one last chance at glory. Let's take a look at former Texas winners who have yet to win in 2020.
Kyle Busch
Coming into the 2020 season, Kyle Busch was pegged by many as the favorite to defend his 2019 title. Unfortunately for Busch, things just haven't worked out the way he planned. The driver of the No. 18 Toyota has yet to reach victory lane this season and is also sitting a disappointing 11th in points. However, Busch is looking to build off a strong second-place finish in the All-Star Race.
The three-time Texas winner led laps in both races last season, leading to a pair of top 10 finishes. Busch had a stretch from 2012 to 2016 where he finished top five in seven of eight races at the Texas Motor Speedway. Time is ticking for Busch to not only get his first win of the season, but his first Playoff point as well.
Kurt Busch
Perhaps the most underrated driver in 2020, Kurt Busch has constantly run up front all season. The problem is he just hasn't had that extra speed to put him over the top. Despite the consistency, the driver of the No. 1 Chevrolet has led multiple laps in just two races this season.
His track record at Texas is solid but not great. Just three top-fives in 34 career starts doesn't stand out and his one win at the track came in 2009 on a fuel mileage finish. He does have an active streak of six straight top 10s, but the finishes have been no better than seventh. His 2020 season and Texas stats both are good, but they will need a little bit more to become great.
Jimmie Johnson
Jimmie Johnson has shown speed in 2020 but it just seems like bad luck follows him everywhere he goes. From crashing out of the lead at Darlington to being spun out at Talladega and Kentucky late while running top five, Johnson just can't seem to finish the deal. In a similar fashion to Kurt Busch, he just hasn't had that race-winning speed.
Texas Motor Speedway offers a great place for the No. 48 to get his first win in three years. Johnson has seven wins in his 33 career starts. Five of those seven came in a three-year stretch from 2012 to 2015. His last couple races at Texas don't look that impressive but he led a combined 100 laps last season and finished fifth in the spring race.
Matt Kenseth
Matt Kenseth hasn't shown much promise in his second comeback from "retirement." Kenseth has just two top 10s, but one was a close second to Kevin Harvick at the Brickyard 400.
Texas has historically been one of his better race tracks. He sports two wins and 14 top fives in his 30 career starts at the track. He had a very impressive 18 race stretch from 2005 to 2014 in which he finished outside the top 10 just three times, including 12 top fives and one win. Kenseth needs a win to qualify for the Playoffs, and Texas is one of his best chances.
Ryan Newman
It has been a tough year for the driver of the No. 6 Ford. The last-lap crash at Daytona, leading to three missed races, really put Newman behind the eight ball. He has just one top 10 finish this season and an average finish of 18.6. Factoring in the three races he missed though, his average points per race would put him 19th in points.
Does Newman have a chance to have a strong run at Texas? Probably not. Newman has six top 10s in 33 starts at Texas. His one win came way back in 2003. He hasn't finished in the top five at Texas since 2008, and has just one top ten there since 2014. If he's going to win his way into the Playoffs, he'll probably have to wait for a track like New Hampshire Motor Speedway.
These drivers and 35 others will all look to capture the checkered flag in the O'Reilly Auto Parts 500 at Texas Motor Speedway. Coverage begins Sunday at 3:30 pm EST on NBC. We'll see if the championship favorites can pick up another victory or a driver on the outside can punch their ticket to the playoffs.
Written by Nicholas Sterling
Be sure to follow us on YouTube and Twitter.
Be sure to follow the writer on Twitter.
Photo credit to NASCARMedia