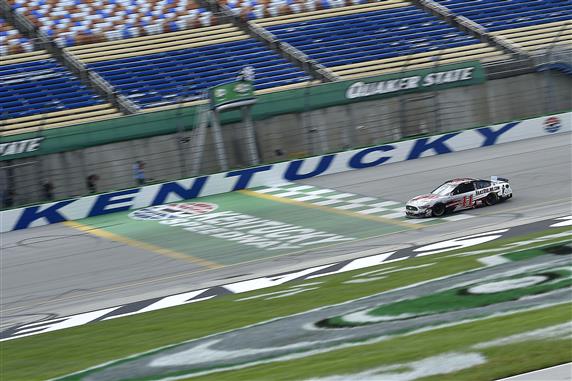 Cole Custer Earns First Career Win in Crazy Kentucky Finish
Restarting sixth with two laps to go, few could have envisioned the run Cole Custer would put on at Kentucky. The No. 41 Haas Tooling Mustang would go three-wide on the outside lane due to a big push from Matt DiBenedetto. As leaders Kevin Harvick and Martin Truex, Jr. got together, Custer was right on their bumpers for the lead.
At the white flag, Ryan Blaney would make it a four-way battle for the lead. After Blaney ran over a bump and went wide, Harvick and Truex both lost their momentum. This allowed Custer to squeeze by in turn two ad set sail. In only his 20th career start, Cole Custer is a Cup Series winner. This win not only puts Custer in the All-Star Race, it also locks him into the 2020 Playoffs.
Almirola Takes Off in Stage 1
Although Kyle Busch started on the pole, by lap 10 he would lose the lead to Aric Almirola. Almirola, who came into Kentucky riding a streak of five-straight top-fives, was the class of the field in Stage 1. Almirola would win Stage 1 by more than two seconds over Chase Elliott. This marked Almirola's second Stage win of 2020.
Stage 2 was much of the same early on, as the 10 car took off. However, Almirola's big lead was cut down in lapped traffic by the 12 of Ryan Blaney. Blaney would take the lead on lap 134, also looking for his second Stage win of 2020. However, the end of Stage 2 would be shook up with a late caution. This caution also fell in the midst of a green flag pit stop cycle, so Brad Keselowski was the leader.
The yellow would fly on lap 154 for Matt Kenseth spinning in turn four. This caution would set up a one-lap dash to end Stage 2, with Penske cars in the top three positions. Keselowski would hold on to win Stage 2, his fourth Stage win of the year. Also finishing a nonchalant third in Stage 2 would be Cole Custer.
Amazing Save by Busch
When the final Stage went green it was far from smooth sailing for Kyle Busch. The polesitter and two-time Kentucky winner reported a broken shock, and was falling back. Out of turn four Busch would spin, but saved it after minimal wall contact. A dreary day for the 18 team would see Busch finish in the 21st position.
Truex Takes Command
Not long after the Busch spin, his teammate Martin Truex, Jr. would take the lead away from Keselowski. Truex, also a two-time Kentucky winner, showed great speed all day as the 19 team looked up to their standards. As the race hit 50 laps to go, MTJ led by over four seconds.
First Laps Led in Pit Cycle
A green flag pit cycle would play out again when the fuel window opened. Truex would pit from the lead on lap 219. This cycle would briefly hand the lead to Cole Custer, who would lead his first laps ever here. Custer would pit with 40 to go, giving the lead to William Byron.
An immediate caution after Custer pitting would see the lead cycle back to Truex. On the restart with 30 to go, Truex cleared Blaney, but Johnson was up to third on the freshest tires. Another caution would come out when John Hunter Nemechek hit the wall in turn two with 24 to go.
Promising Day Gets Setback
On the ensuing restart with just 19 to go, third-place Jimmie Johnson tried to make a three-wide move for the lead entering turn one. However, fifth-place Brad Keselowski was to the inside of the 48 and did not lift. This contact sent the 48 spinning through the grass, but thankfully with no major damage. After he had a top-five run going in his post-COVID racing return, Johnson would have to settle for 18th at the finish.
This brief stint of green flag racing would see the lead change hands however, as Blaney just edged ahead of Truex at the moment of caution. For the restart with 13 to go, Blaney would be the one in command now.
'The Closer' Comes in Clutch
In a move reminiscent of his winning pass in last week's Brickyard 400, Kevin Harvick would go three-wide from third on the restart to take the lead away from Blaney. Harvick, who was looking for his first Kentucky win, began to set sail as the laps ticked away. With seven laps left though, a caution for Matt Kenseth spinning again would change everything.
Last Restart Gets Insane
For the restart with two laps to go, it was Harvick versus Truex up front. By turn two, Harvick was ahead but not quite clear. Entering turn three, Truex tried to fall in line behind the 4 but misjudged the gap, getting the 4 a little loose. This allowed Truex another run on Harvick's outside in turn four, where the 4 washed up into the 19.
By the start/finish line for the white flag, the leaders were four abreast as Ryan Blaney and Cole Custer were on top of them. Blaney made his move all the way on the apron, hitting a bump and briefly going airborne. This sent Blaney wide into Harvick, and Truex swerved to barely miss the 4. With a full head of steam, Cole Custer took the lead by turn two and set sail. Custer would come home two tenths ahead of Truex for his first career win.
Top 10 Results from Kentucky
Coming home in a close runner up spot was Martin Truex, Jr., who led 57 laps. Kentucky marks MTJ's first top five since his Martinsville win, and third of 2020. Truex did admit post-race that he got into Harvick slightly, thus costing him the win.
A but of a surprise result in third place was Matt DiBenedetto. The 21 car was in the top 10 all race long, and needed a good finish after the late crash at Indianapolis. Dibenedetto now sits 12th in points, 44 ahead of the Playoff cut line.
Harvick Limps it Home, Still Gets a Top-Five
Finishing fourth with a flat tire would be the 4 of Kevin Harvick. After leading late, Harvick's tire was cut after the contact from Blaney. However, Harvick's team certainly rallied and turned their car into a contender, as he was 19th when the final pit stop cycle began. The restarts definitely played into their march up through the field, and led to Harvick's three-wide pass. This marks Harvick's second Kentucky top five, as well as his best finish in the Bluegrass State.
Coming home fifth would be defending Kentucky winner Kurt Busch, who methodically moved forward on each restart. Kentucky is Busch's fourth top five of the year, his first since Charlotte in May.
After running over the bump at the white flag, Ryan Blaney fell from battling for the lead to sixth. The 12 led 18 laps on the day, leading to his third Kentucky top 10 in six starts.
Another Rookie in the Top 10
Coming home second-best of the rookies would be Christopher Bell in seventh. Kentucky marks Bell's fifth top 10 of 2020, as the 95 car seems to be turning a corner. After Custer's rookie upset win, do not be surprised to see Bell up front and in contention more often.
Though not a top-five, Aric Almirola does continue a top-10 streak by finishing eighth. The 10 car led a race-high 128 laps, but lost position in Stage 2 and never regained it. Almirola is now six-for-six in top 10 runs, as Stewart-Haas Racing has raised their level of competition across the board.
After the late contact with Jimmie Johnson, Brad Keselowski took the checkers in ninth. Keselowski lined up fourth on the final restart, but lost ground when Custer passed him on the outside. After leading 34 laps and winning Stage 2, Keselowski was somewhat happy post-race.
Rounding out the top 10 would be a third rookie in Tyler Reddick. Kentucky is Reddick's fifth top-10 of 2020 and second in a row. However, if no other rookie makes the Playoffs, then Custer's win locked up Rookie of the Year honors. Reddick is the next closest rookie to the Playoffs, as he is now 17th in points.
Custer's Winning Reaction
"Unbelievable car all day," Custer said after the win. "Honestly, that was the best car I've driven in a long time. We were kind of mired in traffic the whole day starting in the back. Once we got to the front, you just got to take advantage of it.
We have definitely done a lot better job these last few weeks. We started putting the whole picture together. You just got to have the whole thing working together, whether it's pit stops, restarts, me doing my job, having the car perfectly right. When you're just a little bit off in this series, you're going to pay for it big-time. You can't be off in one area too much.
You got to perfect all those areas, work at it. It's a lot of days when you're eyes are sore trying to look at film, trying to figure everything out. But it's just trying to put the whole picture together.
I think we still have a ways to go. We have things we can do a lot better for sure. I think we're to the point now where we can race with these guys. We can take advantage of it when we're near the front."
Custer's Win Shakes Up Playoffs
Custer entered Kentucky 25th in the standings. With the win now, Custer is locked into the 2020 Playoffs, pushing out 16th-place Austin Dillon. Dillon is now 24 points behind Jimmie Johnson for the final Playoff spot on points. With nine Regular Season races left, the bubble will definitely now be a bigger story every week.
How to Watch the Next Race
Up next for the NASCAR Cup Series is the 2020 All-Star Race from Bristol Motor Speedway.  With Custer's clutch win, he now bypasses the Open race and will join the sport's best in the big show. Coverage will be on Wednesday night, July 15 at 7 pm EST on FS1, PRN, and SiriusXM NASCAR Radio Channel 90. Whether it's the choose rule, under glow lights, or a $1 million short track race, this year's All-Star Race is building up to be a memorable one.
Written by Peter Stratta
Be sure to follow us on YouTube and Twitter.
Be sure to follow the writer on Twitter.
Photo credit to NASCARMedia