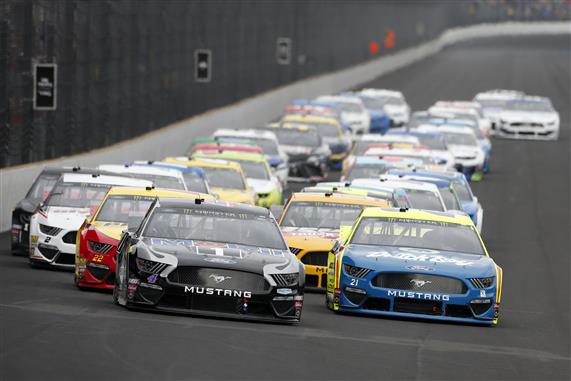 Active Drivers Who Have Won the Brickyard 400, and Those Who Have Yet to Kiss the Bricks
While the list of Brickyard 400 winners is a veritable who's who of NASCAR history, only five active drivers have won at Indianapolis. As a result, many entered into Sunday's 27th running of the Brickyard 400 have yet to be victorious at the famed Indiana track. Let's take a look at who could redeem themselves with another Indianapolis win, or who could kiss the bricks for the first time on Sunday.
Past Brickyard 400 Winners
Jimmie Johnson
Due to his recent announcement of testing positive for COVID-19, Jimmie Johnson will be forced to sit out Sunday's race. Sunday would have likely been the final Brickyard 400 appearance for the four-time winner. Johnson's four Brickyard 400 wins came in 2006, 2008, 2009, and 2012. Johnson became the first to win the Brickyard 400 in consecutive years. Since his last triumph however, Indianapolis has been hit or miss for the 48. In the seven starts since his last win, Johnson only has two top-fives and four finishes of 15th or worse.
Due to the COVID protocols, Johnson has likely made his final appearance in the Brickyard 400. In the 2019 running, Johnson was attempting to race his way into the Playoffs with a strong run. That day ended prematurely for the 48 however, as he crashed on a restart, finishing 35th. Please stay tuned for any updates regarding Jimmie Johnson's return to racing.
Kyle Busch
Perhaps the hottest driver in recent years at Indianapolis, Kyle Busch earned both of his Brickyard 400 wins in 2015 and 2016. Since both victories however, Indianapolis has not been kind to Kyle. While racing for the lead late in 2017, Busch crashed out after contact from Martin Truex, Jr., en route to a 34th-place result. He would finish eighth the next year, and then DNF'd last year after an engine failure.
With Kyle being one of the best drivers over the past five Brickyard 400s, can he break his winless streak this weekend? The 18 should be as strong as in years past, but will have an uphill battle ahead. Busch could still win his third Brickyard 400 though if the 18 team stays on top of strategy and has track position late. In the last Pocono race, Busch was crashed out after a pit stop on arguably the winning strategy call.
Kevin Harvick
The defending winner of the Brickyard 400, Kevin Harvick was lights-out dominant at Indy a year ago. Harvick led 118 laps from the pole, taking the 4 to victory lane by over six seconds. 2019 marked Harvick's second Brickyard 400 win, as his first came in 2003. Harvick is one of only four drivers to complete a career sweep of NASCAR's four crown jewels, which includes Indy. The other three drivers are Dale Earnhardt, Jeff Gordon, and Jimmie Johnson. With the recent momentum of Saturday's Pocono win, expect the 4 to be as strong as ever Sunday. Harvick enters this year's Brickyard 400 as a favorite for the win, as the 4 team is firing on all cylinders now.
Ryan Newman
The Indiana-born driver and winner of the 2013 Brickyard 400 has been surprisingly consistent at Indy. In the past 3 races at Indianapolis, Ryan Newman has three top-10s, including a third-place run in 2017. Due to setbacks faced by missing races after the Daytona crash, Newman is points racing to make up ground in the standings and hopefully a Playoff push. Newman enters Indy 24th in the standings, 88 points out of the top 16. If Indy turns into a strategy race, do not be surprised to see the Roush No. 6 in the top-10.
Brad Keselowski
2018 Brickyard 400 winner Brad Keselowski enters this year's race with added pressure. As if racing for Roger Penske at Indy was not already nerve-wracking, now Penske owns the Speedway. Under Penske's leadership, many upgrades have already been made to IMS. One thing that could stay constant however is The Captain's cars in contention. Keselowski finished 38th here a year ago after an early crash, ending any chance at a repeat of the 2018 win. Expect Keselowski to be as strong as ever this weekend, as Brad called his car last Sunday 'the best car we've had all year.'
Drivers Still Yearning for their First Brickyard 400
Matt Kenseth
Without any doubt, Matt Kenseth is a future Hall of Famer. However, one thing the Wisconsin native has not won is the Brickyard 400. In 19 starts at Indianapolis Motor Speedway, Kenseth has nine top fives, 12 top-10s, and 65 laps led. Kenseth does also have three second place runs at Indy, in 2003, 2006, and 2016. In his last Brickyard start in 2018, Kenseth did win a Stage before finishing 12th. While the Ganassi No. 42 has not shown race-winning speed all year, given the right strategy or circumstances, Kenseth could check off this final crown jewel event.
Denny Hamlin
The hottest driver this season amazingly is 0-for-14 in the Brickyard 400. Denny Hamlin has yet to win at Indianapolis Motor Speedway, but driver No. 11 does have five top-fives, eight top-10s, and 112 laps led. Hamlin's best Brickyard 400 finish is third, which he earned in 2008, 2014, and 2018. In the 2018 Brickyard 400 Hamlin led on the final restart, only to lose the race late to Keselowski. Expect the 11 to be one of the fastest on Sunday, as they have unloaded fast every week since the resumption. With the 11 team being the class of the field for much of 2020, Hamlin could be eyeing his first win in this crown jewel event.
Kurt Busch
While his brother is one of the best at Indy, Kurt Busch has not had the same luck. In 19 Brickyard 400 starts, Kurt Busch only has a lone top-five, coming all the way back in his rookie year of 2001. Kurt also only has six top-10s, with the most recent coming in 2018. Kurt has also only led 22 laps here across his career, so the Indianapolis Motor Speedway has not been to Kurt Busch's liking over the years. The 1 team will likely be grateful to leave Indianapolis with a top-10, as they have nine in 15 races in 2020.
Joey Logano
Another past champion who has yet to kiss the bricks is Joey Logano. Driver No. 22 has four top fives, seven top-10s, and a second-place finish in the Brickyard 400. That runner-up effort came a year ago, as Logano was a distant six seconds behind Harvick. Do not be surprised to see the Shell/Pennzoil 22 car up front and in contention late on Sunday. Over the past seven years, Logano has six of his seven Indy top-10s, so he has been consistent here lately.
Martin Truex, Jr.
One final veteran who has yet to win the Brickyard 400 is 2017 champion Martin Truex, Jr. MTJ has been very inconsistent at IMS, only earning one top five and three top-10s in 15 career starts. These stats are not helped with Truex's laps led total being only 11. However, Truex has not finished two of his last three Indianapolis races. Truex crashed out racing for the lead in 2017, and suffered brake failure in 2018. With that being said, Truex is due for a solid result at Indy. Truex's last top-10 at Indy was an eighth place run in 2016. With Joe Gibbs Racing's recent strength at IMS, the 19 could be in the mix late on Sunday.
Be sure to not miss a lap of action as one of the biggest races of the year is on hand this weekend. Coverage of the 2020 Big Machine Hand Sanitizer 400 from the Brickyard will be Sunday at 4 pm EST on NBC. With the Playoff picture slowly taking shape, it will be interesting to see if one of the aforementioned drivers can add their name to the storied list of Brickyard 400 winners.
Written by Peter Stratta
Be sure to follow us on YouTube and Twitter.
Be sure to follow the writer on Twitter.
Photo credit to NASCARMedia