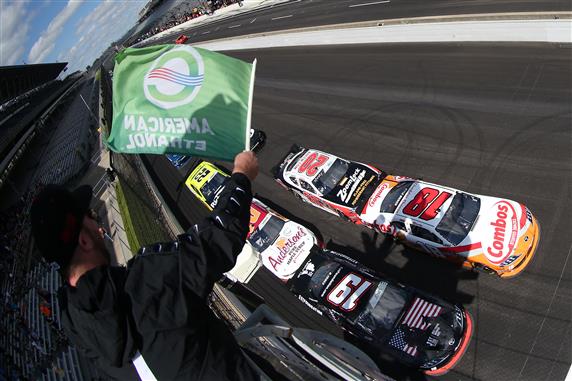 What to Expect in the Indianapolis Road Course Xfinity Race 
For the second consecutive weekend, NASCAR will make history. But this time, it will be the Xfinity Series. The Series will host the Pennzoil 150 at the Brickyard at the Indianapolis Motor Speedway Road Course for the first time.
The 14-turn, 2.439 road course has never hosted a NASCAR race, making this the inaugural race at the track. The race will be live Saturday, July 4 at 3 pm EST on NBC. While the Indy road course has never hosted a NASCAR race, it has been the site of the Indianapolis Grand Prix for the last six years in IndyCar.
Second-generation driver Jeb Burton will start on the pole after a random draw earned him the top spot. Running a part-time schedule, Burton will be making his first start since nearly winning at Talladega just two races ago. Joining him on the front row will be JR Motorsports driver Michael Annett.
Practice Makes Perfect at Indianapolis
Because this is the inaugural race at the track, NASCAR allowed teams to practice for the first time since returning from a 10-week hiatus due to COVID-19. AJ Allmendinger paced the first practice with a fast lap of 90.155. Austin Cindric put down the second-best fastest lap but was five-and-a-half tenths off Allmendinger's lap. The two swapped positions in practice two as Cindric ran a fast lap of 89.733, beating Allmendinger by nearly five tenths. Those two drivers along with a championship favorite should be at the top of the leaderboard come Saturday afternoon.
Road Course Expert and Championship Favorite?
When the Big Three exited the series after 2019, everyone was wondering who would take over as the top driver. Chase Briscoe has assumed that role and run with it. The driver of the No. 98 Ford has won four races in 2020 and also leads the point standings.
In six career starts at road courses, Briscoe has one win and five top-10s. This includes a win in the inaugural Xfinity race at the Charlotte Roval. Clearly, Briscoe knows a thing or two about winning races and running up front at road courses.
Will Austin Cindric Finally Break Through in 2020?
Despite being one the fastest cars in many races this season, Austin Cindric just has not been able to close to deal. His three stage wins and six top fives back up how strong he's been.
This may be hard to believe but Cindric has just three career wins across the Xfinity Series and Truck Series. Unsurprisingly, those three wins have come on road courses. His last five results on road courses? Third, first, first, second and third. Throw in the fast laps in practice and Cindric very well could end up in victory lane.
Has AJ Allmendinger Shed the 'Road Course Ringer' Label?
Throughout his career, AJ Allmendinger has primarily been known as a driver who excels on road courses but struggles everywhere else. He has shed that label in 2020 while running a part-time schedule. He has finished top-10 in all four of his starts this season, including his first career NASCAR win on an oval at Atlanta Motor Speedway.
Allmendinger has three wins in seven starts on road courses in the Xfinity Series. With him running a part-time schedule, points don't mean anything so he should be willing to take risks to win Saturday's race.
Be sure to stay tuned to NBC on Saturday to see who wins the inaugural running of the Pennzoil 150 from the Indianapolis Motor Speedway road course.
Written by Nicholas Sterling
Be sure to follow us on YouTube and Twitter.
Be sure to follow the writer on Twitter.
Photo credit to NASCARMedia