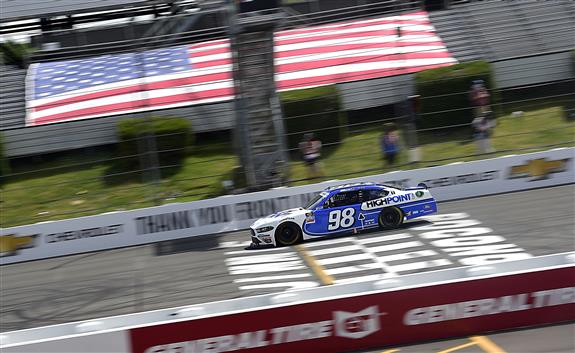 Is Chase Briscoe the Man to Beat in the 2020 Xfinity Series?
Through the first 12 races of the 2020 Xfinity Series, one driver has stepped up to the plate in a big way-Chase Briscoe. The driver of the Stewart-Haas Racing No. 98 Mustang has won four times, in a year where Briscoe said he thinks he needs eight wins. With the 'Big Three' of last year all moving onto the Cup Series for 2020, there were a few big questions going into this year's Xfinity season; Who will take over the series, start winning races consistently, and battle for the championship? Through the first third of the year, Briscoe has proven to be that driver.
Did Briscoe Call His Shot Back in February?
Back in Daytona, Briscoe told me that "(We're) still going to see the same thing, probably two or three or four guys seclude themselves from the rest of the field. Hopefully we're one of those guys. It's hard to say until we really get to the mile-and-a-half races. Whenever we get done with the West Coast Swing I think you're going to have a pretty good idea of who you're going to have to beat for the championship. Like I said, hopefully we're one of those people."
The West Coast Swing saw Briscoe open it with a win at Las Vegas. The following races at Auto Club and Phoenix went to teammates Harrison Burton and Brandon Jones, respectively. Both JGR Toyota drivers have proven themselves as championship-level talents this year. Burton earned another victory at Homestead, while Jones is riding a career-high average finish of 13.4.
In the weeks since the West Coast Swing, Briscoe has also picked up victories at Darlington, the second Homestead race, and this past Sunday at Pocono. The 98 team also has nine top-10s through the first 12 races, tied for second-most of all drivers.
Which is the Most Impressive Drive?
Briscoe and the 98 team have had herculean-effort recoveries in multiple races this year. At Darlington, Briscoe had the race of his life holding off a hard-charging Kyle Busch. The 98 and 54 would make contact with each other and the wall several times over the closing laps. In the end, Briscoe held off the Xfinity Series' all-time wins leader by just over a car-length. This was perhaps the biggest win of Briscoe's career, as less than two days prior, Briscoe and his wife Marissa learned of a miscarriage they suffered with their unborn daughter.
In the first Homestead race, Briscoe had ballast weight fall out of his car on pace laps. This sent the 98 six laps down for the start of the race, where Briscoe rallied to finish in seventh. The penalty for the lost ballast weight included Briscoe losing crew chief Richard Boswell for four races. The very next day, the 98 team silenced critics by winning the second Homestead race. This win came with interim crew chief Greg Zipaelli, who led Briscoe's childhood hero Tony Stewart to much of his success.
Briscoe's next impressive recovery came this past week at Pocono. While leading with just 22 laps to go, Briscoe suffered a flat left rear tire in turn two. The 98 would spin out, leading to a caution. This would be an Xfinity Series-record eighth yellow flag at the tricky triangle. While many though Briscoe's chances at the win were over, the 98 would retake the lead just 15 laps later. After passing Ross Chastain in turn two with just two laps left, Briscoe drove on to his fourth win of 2020.
What's Next for Briscoe?
Being solidly locked into the Playoffs with his four wins, the sky truly is the limit for Briscoe. The rest of the Regular Season is sure to see the 98 in Victory Lane again. Another win could come as soon as Saturday for Briscoe. The next stop for the Xfinity Series is Briscoe's home track of Indianapolis. Rather than the famed oval however, the Xfinity Series will run on the Indy road course. Briscoe is arguably more prepared than any driver to tackle this new course though, as he's been racing it on the simulator for months.
"I've been practicing on the simulator since February for the Indy race," Briscoe said after Pocono. "It means the world to me to win there, just with it being new nobody knows what to expect, so we're trying to be the best we can be. I go to the simulator every Wednesday and every Wednesday I've been running at least an hour-and-a-half to two hours at Indy, just trying to get prepared for the racetrack. I feel like I've got a pretty good idea of where to make speed. It's hard to really say how much the simulator will correlate over to the real-life thing, but I feel like I have a really good general idea of what to do and I'm not gonna be lost for those first couple of laps.
When I was doing the ARCA stuff I didn't have access to the simulator, but I at least had iRacing and iRacing doesn't even have the same track that we're gonna run, so I'm sure it's gonna be really hard for those guys, but we've been practicing a lot for it."
Briscoe Heads to Indy as Confident as Ever
"I'm really looking forward to it. It would mean the world to me to win at Indy. Growing up going there all the time. Growing up in Indiana and then for me to be a diehard Tony Stewart fan growing up to have Zippy on the box, to win at Indy would be one of the coolest things. So we definitely put a lot of significance on that race and hopefully we can get it done."
For those doubting Briscoe's abilities on a brand new road course, remember that his first Xfinity win came in the inaugural Roval race in 2018.
Briscoe enters Indianapolis as the Xfinity Series points leader, with just a three-point edge over Noah Gragson. Be sure to stay tuned to Briscoe throughout the Regular Season, as he chases his self-imposed goal of eight wins. The Indiana driver is halfway to this mark, as he appears to be the title favorite for the Xfinity Series.
Written by Peter Stratta
Be sure to follow us on YouTube and Twitter.
Be sure to follow the writer on Twitter.
Photo credit to NASCARMedia