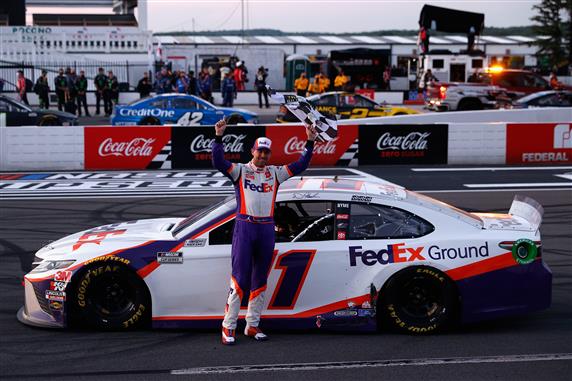 Denny Hamlin Earns Historic 6th Win at Pocono
Only a day removed from a close second-place run, Denny Hamlin came back to Pocono on a mission. The Joe Gibbs Racing Fedex No. 11 Toyota would dominate the second leg of the Pocono doubleheader, taking Hamlin's fourth victory of 2020. In addition, Sunday marked Hamlin's 6th Pocono win, tying the all-time win record at the tricky triangle.
Stage 1 Dampened by Weather
For the ninth time in 15 Cup races this year, weather was an issue. After only four laps of racing, rain would fall on turn three of the Pennsylvania track. Ultimately, a 50-minute delay would ensue as track drying efforts were relatively quick. Aside from the rain delay though, Stage 1 was largely status quo. Kurt Busch dominated the 30-lap run from the pole, taking his first Stage win of the year.
Hero to Zero for Blaney in Stage 2
On the restart for Stage 2, Ryan Blaney initially beat Kurt Busch, as the 1 had the oldest tires in the field. The 12 would lead for much of Stage 2, holding serve on two separate restarts. It was only after Blaney made a green flag pit stop where the Talladega winner's day would fall apart.
While racing Kyle Busch for position, Blaney would make contact with the 18, sending him spinning out of turn two. Busch was held up by a lapped car and Blaney came in at a high rate of speed, with almost nowhere to go. This caution with 10 to go in Stage 2 would be the end of the race for Busch, and also a big setback for Blaney. Blaney and Busch would finish 22nd and 38th, respectively. Meanwhile, Blaney's teammate Brad Keselowski would go on to win Stage 2. The Stage break came at a perfect time for Keselowski, as he had the lead on an alternate pit strategy from Hamlin, Harvick, and other leaders.
Traffic Makes the Difference for Hamlin, Harvick
As the final Stage quickly became a long green flag run with the threat of darkness, the race turned into a strategy match. Keselowski would pit with 46 laps to go, handing Harvick the lead. Harvick would come in for his final service ten laps later, giving Hamlin a wide lead. However Hamlin was not good on fuel, so he had to make up as much time as possible in the lead on old tires before his final stop. By the time the 11 hit pit road with 20 to go, his lead was nearly 19 seconds. More importantly though, Hamlin was 34 seconds ahead of Harvick. While Hamlin had a mostly-clean track ahead as the leader, Harvick was having to cut through heavy lapped traffic. As a result, Harvick lost time to the 11.
Once Hamlin emerged from the pits, he was roughly one second ahead of Harvick. When the pit cycle ended, the race for the win was on between the 4 and the 11. The winning move was Hamlin not having to deal with the traffic Harvick suffered through, as the 11 cruised to the victory by over three seconds. A day ago it was a flip flop of the top two, as Harvick took Saturday's victory over Hamlin.
Top 10 Results From Pocono 350
Coming a distant third behind Hamlin and Harvick was Erik Jones. Jones scores his best finish of the season in the Pocono 350, after a crash took him out of the Saturday race. With the strong result, Jones also moves back up into the Playoff picture. Consequently, the 20 is now 16th in points, 14 markers ahead of Austin Dillon.
After back-to-back poor finishes at Homestead and the first Pocono race, Chase Elliott brought the No. 9 home in fourth. Elliott leads the Chevrolet brigade with their best Pocono result, also his seventh top-five of 2020.
In the top five for a fourth-straight race was Aric Almirola in fifth. The 10 team has apparently discovered some speed and performance, as Almirola has been a contender in recent weeks. The four-race top-five streak is the longest of Almirola's career. This also includes two great results at Aric's self-described "worst racetrack."
Strong Finishes for Playoff Bubble Drivers
Matt Dibenedetto, William Byron, and Clint Bowyer would all cross the line sixth, seventh, and eighth respectively. With none of these three drivers yet finding victory lane this year, these results are huge in their quest to point race into the Playoffs. For Dibenedetto, a sixth is his best-career result at Pocono. Each of these drivers are currently in the top 15 in the standings.
Bowyer did make contact coming to the checkers, edging ahead of Alex Bowman. Though Bowman finished behind Bowyer in ninth, Sunday went much better than Saturday for him at Pocono. Bowman came home 27th on Saturday after making late wall contact. Sunday's result is Bowman's fifth top-10 of 2020.
Rounding out the top 10 would be Martin Truex, Jr. in 10th. Although Truex spent much of this race among the top five and even led a few laps, 10th is far from the result the two-time Pocono winner expected.
Hamlin's Winning Reaction
With a 6th Pocono win, Denny Hamlin ties Jeff Gordon as the all-time wins leader on the triangle. This win also puts him ahead of Mark Martin on the Cup Series all-time wins list, as Pocono marks Hamlin's 41st career win. Hamlin also now leads all drivers with four victories in 2020.
"We're doing a great job right now," Hamlin said. "I hate to feel disappointed in a second and first. Man, I really feel like we should have won both races. Just didn't work out."
On him being tied as the all-time best at Pocono after his 6th win, Hamlin joked "Maybe one day I'll get one of those black rocks they've got here for all the good guys that have won at Pocono, I don't know.
But, I mean, I don't think this is it. I don't think this will be the last one. Just the way we're going, the way things are going with us right now, where I feel like I'm at in my career, hopefully we continue to build on it." 
How to Watch the Next Race
The next stop for the NASCAR Cup Series is a crown jewel event-the Brickyard 400 from Indianapolis Motor Speedway. The Brickyard also marks the return of NASCAR On NBC, as they will broadcast this race. Coverage will be Sunday, July 5 at 4 pm EST on NBC, PRN, and SiriusXM NASCAR Radio Channel 90. Two of the best ever at the Brickyard are still winless in Kyle Busch and Jimmie Johnson, can either of them turn their seasons around by kissing the bricks?
Written by Peter Stratta
Be sure to follow us on YouTube and Twitter.
Be sure to follow the writer on Twitter.
Photo credit to NASCARMedia