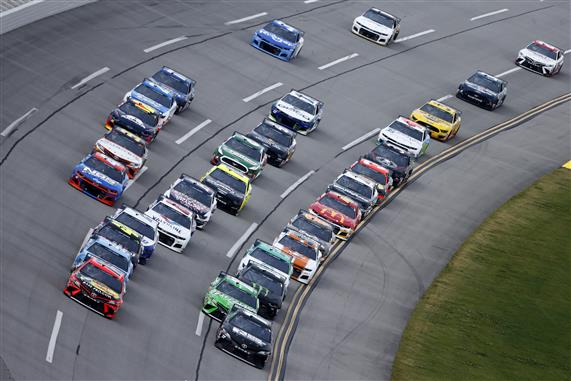 NASCAR Cup Series Playoff Picture as 2020 Regular Season Crosses Halfway
As hard as it may be to believe, last week's Talladega race marked the midpoint of the 2020 NASCAR Cup Series Regular Season. In a strange coincidence, half of the Playoffs are known at the halfway juncture of the Regular Season. With 13 races in the books, half of the 16-man Playoff picture is complete with winners. Some heavy hitters are still winless this far into 2020 though, so who has work yet to do in the summer months?
Those Locked into the Playoff Picture
The winners so far this year include three-time victor Denny Hamlin. The No. 11 team won their second-straight Daytona 500, as well as victories at Darlington and Homestead. After a defeat in the championship race last year, the 11 team is firing on all cylinders, appearing as strong and consistent as ever.
Three other drivers have multiple wins in 2020, and they all pilot Ford Mustangs. Kevin Harvick's two wins came in the first Darlington race and Atlanta. The 4 team leads the Regular Season standings and looks as strong as ever with 10 top-10s. Penske teammates Brad Keselowski and Joey Logano also each have two victories. Logano's wins came at Las Vegas and Phoenix prior to the hiatus. Meanwhile Keselowski's wins both came after the resumption, in the Coca-Cola 600 and at Bristol. Both trips to Victory Lane for the 2 came in circumstantial moments where Keselowski was not the dominant car.
Ryan Blaney, Chase Elliott, Martin Truex, Jr., and Alex Bowman are the other four winners so far in 2020. Blaney is off to the hottest start of his career, as he was the points leader early in the season. The 12 team's top-five speed finally translated into a victory last week at Talladega. Truex and the 19 team have been very hit-or-miss so far this year, but they scored a dominant Martinsville win. Lastly, the Hendrick duo of Bowman and Elliott have both been the class of the field at times this year. Bowman scored a very commanding win at Auto Club Speedway in March, while Elliott won the Charlotte 500k in May. With the increased speed of the Chevrolet Camaros though, expect both the 9 and 88 to contend for more victories.
Who's Best on Points?
The highest in points of those who have yet to win in 2020 is defending champion Kyle Busch. At ninth in the standings, the 18 team only has six top-fives on the year. Busch actually only has one lone victory in the past calendar year, his title-winning performance at Homestead last November. Though the 18 team has yet to put an entire race together, the coming weeks are some of Kyle's best tracks. One of those strong venues for Kyle Busch includes this weekend's stop at Pocono. Expect Busch to be a threat in both legs of the doubleheader.
Right behind his brother at 10th in points is Kurt Busch. The elder Busch brother has a second-best nine top-10s in 2020, with a best finish of third at Auto Club. In recent years Busch has gone on stretches of consistency where he's been able to knock off a victory, and that elusive win for 2020 could be in the near future. Busch has finished ninth or better in six of the last seven races, so the 1 is getting closer to the checkered flag.
Swan-Song for 7-Time
Hovering just outside of the top-10 at 11th in points is 7-time Champion Jimmie Johnson. Johnson has had a season's worth of drama in this first stretch of 2020. The 48 has shown great speed in multiple races and been in contention for several victories. With the success though has come some hardship; their second-place run in the Coke 600 led to a DQ and eventual last-place result. Johnson remains as steadfast as ever though through the ups and downs of 2020. Before being spun out late, the 48 was going for the lead at Talladega. With the increased performance from Hendrick and Chevrolet this year, the 48 can reel off a win given the right circumstances. Despite the bad luck, Johnson is still solidly in for his final Playoff push.
Stewart-Haas Slump?
At 12th and 13th in points are Stewart-Haas Racing teammates Aric Almirola and Clint Bowyer. In stark contrast to the 4 team, the 10 and 14 have been wildly inconsistent this year. Although Almirola has five top-fives, he also has five finishes of 20th or worse. At Homestead, Almirola led the SHR charge with a fifth-place result, and was also in contention down to the wire at Talladega. Meanwhile, Bowyer only has three top-fives so far in 2020, with a best finish of second at Bristol. The 14 has been mired in the teens, with an average finish of 16.5. With his varied results, Bowyer is at risk of missing the Playoffs unless he wins.
Points at the Playoff Bubble
William Byron (+14)
The Hendrick 24 team is currently 14th in the Playoff picture, oddly enough 14 markers above the cut line. William Byron has also had a wildly inconsistent year, failing to score a top-10 until race four. Since then the 24 has only earned three more top-10s. Ultimately, Byron's 2020 is off to a very similar start he had in 2019, as he was 15th in points this time a year ago. Byron has been plagued by bad luck this year, such as early crashes at Daytona and Darlington, or untimely flat tires like in Atlanta. As the man who was pegged coming into 2020 as likely the next first-time winner, Byron needs a better turn of fortune if he wants to put the 24 back in Victory Lane.
Matt DiBenedetto (+7)
The new man in the Wood Brothers Racing 21 car has been flirting with a Playoff position all year. Matt DiBenedetto was in the top-10 in the standings for several weeks at the beginning of the year, but has fallen to 15th. The season for 'Guido' has been highlighted so far by a runner-up at Las Vegas, currently his only top-five. Perhaps DiBenedetto's best chance of 2020 did not go to plan though, as he had mechanical issues at Bristol. The 21 team was hovering around 20th in the standings for much of the past two years with Paul Menard, so 2020 has shown improvements for them. However, the 21 only has one top-10 in the last seven races. DiBenedetto hopes to keep his position and earn his first career Playoff appearance.
Tyler Reddick (+1)
Leading the much-anticipated 2020 Rookie of the Year battle at 16th in points is Tyler Reddick. The RCR No. 8 team has taken a major step forward in 2020, as they were 25th in the standings at this time a year ago. Reddick's raw talent has led way to numerous breakout performances, capped off by a fourth-place run at Homestead. Last week at Talladega also saw Reddick's first career Stage win. With more laps and seat time under him, Reddick will only get better. It will be difficult but not impossible for Reddick to become the first rookie in the Playoffs since 2016. However, he has the likes of his veteran teammate Austin Dillon and Erik Jones right behind him in the Playoff picture. Both Dillon and Jones have past Playoff experience, so staying ahead of them will be an uphill battle.
After perhaps the most unconventional year in NASCAR history, half of the Playoffs are official 13 races in. Talladega marked the halfway point of the Regular Season, while drivers such as the Busch brothers and Jimmie Johnson are still searching for wins. Nothing will be final until the checkers wave at Daytona in August. The summer months are sure to shake up these standings, so be sure to follow along the race to the Playoffs.
Written by Peter Stratta
Be sure to follow us on YouTube and Twitter.
Be sure to follow the writer on Twitter.
Photo credit to NASCARMedia