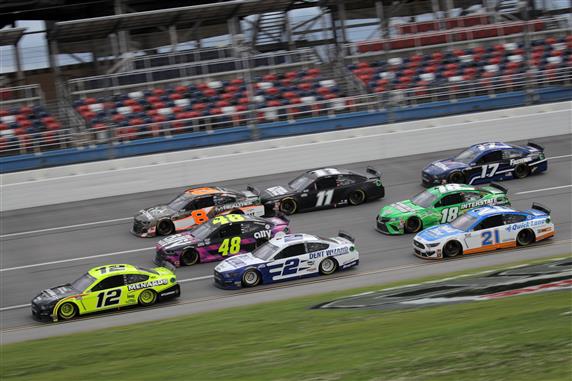 Ryan Blaney Goes Back to Back in Emotional Talladega Race
A day removed from one of the darkest moments in recent NASCAR memory, Ryan Blaney won a thriller of a race at Talladega. It's the Penske driver's second-straight win on the Alabama Superspeedway, and also his first victory of 2020. In this emotional race, Blaney led 63 laps en route to another photo-finish win. After being so close to numerous victories this year, Blaney can finally lay claim to Talladega.
Racing World Rocked Sunday Night
During the rain delay on Sunday at Talladega, an act of hatred fell upon the garage area. A noose was discovered hanging in the garage stall of Bubba Wallace, the lone African-American driver. This story broke late Sunday night, and NASCAR was quick to contact local authorities. As of this writing, the investigation is ongoing with the FBI. NASCAR President Steve Phelps addressed this atrocity on Monday afternoon, saying "(the perpetrator) will be banned from this sport for life. There is no room for this at all. We won't tolerate it. They won't be here. I don't care who they are, they will not be here."
Moment of Unity Prerace
In the wake of this terrible news, the racing community rallied around Wallace for a very touching prerace ceremonies. Prior to the invocation and National Anthem, every driver helped push the No. 43 Chevrolet to the front of the grid. Every man on every crew followed in a march of unity, showing great solidarity. During the anthem, each driver stood tall alongside Wallace. Wallace's car owner, Richard Petty, was even present. The 82-year old Hall of Famer had not attended any race since the COVID shutdown. Wallace went on to hug each driver before climbing aboard for the 500 mile race. Wallace would persevere despite his range of emotions for a career-best race at Talladega.
Race Versus Mother Nature in Stage 1
When the race finally began, it was a competition against the weather. With the race already pushed to Monday, more rain was in the forecast. Stage 1 began with no issues, but a 58-minute rain delay cut the 60-lap segment short.
Due to rain in turn one on lap 58, Stage 1 did end prematurely under green. After the rain delay, it would conclude under caution. Although the Penske trio of Ryan Blaney, Joey Logano, and Brad Keselowski dominated these opening laps, it was Tyler Reddick taking the Stage win. This marks the first Stage win in Reddick's young career. Reddick also led his first-ever laps last week at Homestead, so the rookie campaign for driver No. 8 is heading in the right direction.
Penske Power Persists in Stage 2
Once the race resumed for Stage 2, the Penske parade commenced again. Blaney quickly stormed back to the lead. The Penske train maintained position amongst the leaders for the remainder of the Stage, with Blaney just being edged out at the stripe by Ricky Stenhouse, Jr. Stenhouse's first Stage win of 2020 was also the third of his career, and first since 2018. Stenhouse seemed to be as strong as ever, as he seemed to be one of few who could break up the Penske stranglehold.
Stage 2 would end with a two-lap dash after a late debris yellow. Earlier in the Stage, a quick caution also came out for John Hunter Nemechek spinning off of turn four. Besides the Nemechek spin, both opening Stages at Talladega were ran without any on-track incident, a stark contrast from Daytona. For the debut of the modified Superspeedway package, Talladega certainly delivered on intensity yet also clean racing.
Elliott, Dillon See Early Exit
Amazingly, the first crash did not occur until lap 135. With the intensity at an all-race high midway through the final Stage, two contenders would see their days end early. Chase Elliott received a major push from Keselowski out of turn two. Keselowski shoved Elliott all the way into Joey Logano's rear bumper, sending the 9 spinning towards the outside wall. While Elliott was spinning, Austin Dillon clipped him. This would end a promising day for both Chevrolet drivers. Elliott and Dillon would finish 38th and 39th respectively.
Yellow Line Penalty Enforced
Brennan Poole and Joey Gase spinning would trigger another caution in quick succession. This led to a run to the checkers with only 42 to go. By virtue of staying out, rookie Christopher Bell and Erik Jones restarted up front. The rookie would learn a lesson quickly on the restart. NASCAR deemed that Bell forced Jones below the yellow line, thus incurring a black flag. Bell came in to serve a drive through penalty, and recovered to finish 29th. Jones being forced onto the apron also cost him track position, as he quickly lost the lead to Kevin Harvick.
Fuel Mileage Race Develops
With the Penske pack broken up, several different drivers led late while many were saving fuel. William Byron, Ryan Preece, Alex Bowman, and Tyler Reddick all led laps during this time. Also in the mix and leading a lap was Bubba Wallace, as the 43 showed great speed here. Two drivers in particular were holding back at the tail end of the lead pack in aggressive fuel-savings: Ryan Blaney and Aric Almirola.
A late yellow would change everything in regards to the fuel mileage race, as Jimmie Johnson spun off of Kevin Harvick while going for the lead on Blaney. The yellow would be triggered with just three laps left, setting up Overtime.
Overtime Leads to Photo Finish
On the Overtime restart, it was Blaney leading Harvick. None of the front running cars came in for fuel, as they were able to save ample gas under caution. On the jump, Harvick initially cleared Blaney with a big push from Chris Buescher. Harvick would also lead at the white flag over the 17. Going into turn three however, Blaney had a massive run with help from Stenhouse.
As the field wrecked behind them, the 12 ducked to the inside of the 4. The 4 would be shuffled back, as Stenhouse stormed his way through. By the finish line, Blaney had just a nose over Stenhouse as another wreck happened right behind them. Third-place Aric Almirola would actually cross the finish line in reverse. Fifth-place Erik Jones also rode the wall across the line, as he was turned from second in the trioval. The eventual margin of victory by Blaney was just 0.007 seconds over Stenhouse, equaling his gap over Newman at the checkers last fall.
Top 10 Results from Talladega
While Blaney was just mere inches ahead of Stenhouse at the line, Almirola took the checkers in reverse. The Smithfield No. 10 Mustang was turned after contact from Stenhouse in the final hundred yards of the race. For Almirola, this marks his eighth-straight Talladega top 10.
After having early wall contact, Denny Hamlin recovered to finish fourth. Hamlin raced with the National Civil Rights Museum aboard his Toyota rather than Fedex. The reigning Daytona 500 Champion now has three-straight top fives on Superspeedways.
Erik Jones would round out the top five, as his Camry crossed the line against the wall. Jones had a late run through the trioval for the win but got turned late. Talladega marks Jones' third top five of 2020.
Chris Buescher fell from second at the white flag to sixth at the checkers. This is Buescher's third top 10 of the year, as he was also third at Daytona.
Alex Bowman went from leading late to finishing in seventh, earning his fourth top 10 in 2020. Bowman led at Talladega on four different occasions for 12 laps.
Scoring his career-best result in eighth was rookie John Hunter Nemechek. Despite spinning on lap 96, the 38 rallied for his second career top 10.
Rounding out the top 10 would be Kurt Busch and Kevin Harvick. Busch now has nine top 10s on the year, while Harvick extends his points lead.
A Win for Wallace in Strong Result
Also deserving of mention is Bubba Wallace, who went from a top 10 spot late to finish in 14th. Had Wallace not run out of fuel, he would have been amongst the front contenders at the finish. Wallace celebrated his career-best Talladega result with fans after the race. It was certainly a very emotional race and 24 hours for driver No. 43.
Blaney's Winning Reaction
Winning just a day removed from a heinous act of violence against his best friend, Blaney was admittedly subdued in his celebrations. Blaney was certainly taking in a range of feelings from a long emotional race and weekend. "Definitely a good ending to the day for sure on our end, being able to inch them out there at the line. But the start of the day, all the drivers on pit road pushing Bubba's car, showing their support, it was just an honor to be a part of that. Not only the drivers, but the crew members and the fans that were in attendance as well, NASCAR. That's something I think everyone will remember for a long time.
There's a lot of stuff going through your head from how the race ended. We were fortunate to be the winner. What happened the last couple days, I was just thinking about that, too. With Bubba coming up beside me after the race, that meant a lot. It showed his support. It was cool to see him after I got done with the start/finish line deal."
Dash to the Checkers
Blaney also recapped the final run to the checkers and what he saw. "I just kind of blocked, just trying to block the best we good. Ride the top, ride the bottom. The 20 got to my outside and I tried to go up there to slow him down and I'm not sure, I don't know three-wide, I hate that I hit him, but just kind of trying to beat and bang to the line and things like that. We just edged it out, but I'm really proud of this whole Menards/Sylvania Ford Mustang team. It's been a cool year so far and I'm really excited to get our first win of the year at a cool place. That was a lot of fun."
How to Watch the Next Race
One of the most highly anticipated weekends of the year is next for the NASCAR Cup Series. For the first time ever, two points races will take place in consecutive days at Pocono Raceway. The Pocono Doubleheader will be this Saturday and Sunday, with the Pocono Organics 325 going green Saturday, June 27 at 3:30 PM EST. The Pocono 350 will then be green on Sunday at 4 PM EST. Coverage will be on the FOX family of networks, MRN, and SiriusXM NASCAR Radio Channel 90. Be sure to tune in for both races, as the starting lineup Sunday will be a top-20 invert from Saturday. With new race distances and a condensed schedule, this weekend could be pivotal for the future of NASCAR.
Written by Peter Stratta
Be sure to follow us on YouTube and Twitter.
Be sure to follow the writer on Twitter.
Photo credit to NASCARMedia