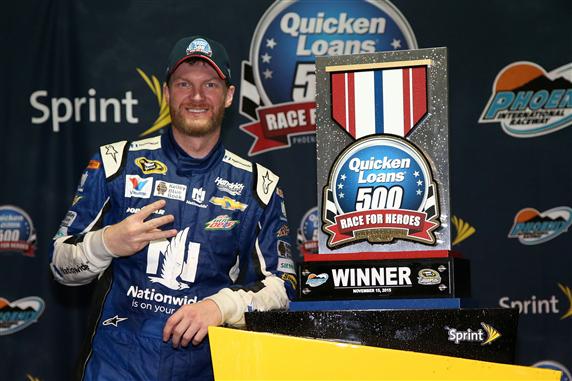 2021 Class of NASCAR Hall of Fame Features Earnhardt, Farmer, Stefanik
In the first year of a new voting system, the NASCAR Hall of Fame will induct its 12th class. Rather than the previous mark of five members from any generation, the 2021 class features just three members in total. Two were decided upon from a Modern Ballot, while the last one was from a Pioneer Ballot. After virtually voting last week, the 65-person committee decided to enshrine Red Farmer, Mike Stefanik, and Dale Earnhardt, Jr. In addition, the Landmark Award went to the man behind one of NASCAR's first major partnerships-Ralph Seagraves.
As in years past, this Hall of Fame class is a very diverse and accomplished group in American stock car racing lore. Much of the attention and focus will be on Earnhardt. However, the other two members are integral to the history of local short track racing.
Landmark Award Winner-Ralph Seagraves
For the seventh year, a pivotal figure in NASCAR history has been honored with the Landmark Award for Outstanding Contributions to NASCAR. Ralph Seagraves is the 2021 recipient of this honor. Seagraves was an entrepreneur who was pivotal behind the sponsorship from RJ Reynolds for the Winston Cup Series. Seagraves served as RJ Reynolds' President of Special Events Operations. Along with Junior Johnson, Seagraves helped forge the first title sponsorship for the Cup Series. Winston was the title sponsor from 1971 until 2003.
Seagraves truly helped elevate American motorsports into corporate entities through both NASCAR and the NHRA. A native of Wilkes County, North Carolina, Seagraves passed away in 1998. He was previously inducted into the International Motorsports Hall of Fame in 2008.
Pioneer Ballot-Red Farmer
The oldest man who will take the stage next year, Red Farmer represents the Pioneer Ballot for 2021. Farmer, 87, is one of the original members of the famed Alabama Gang. This group of drivers also included Bobby, Donnie and Davey Allison, Neil Bonnett, and Hut Stricklin.
Though Farmer had very little seat time in the Cup Series, his legacy is defined by his short track achievements. Farmer has an estimated 700 to 900 feature wins across all local series. Many of these victories came in the 1950s and 1960s, when he was dominant in the Late Model Sportsman Division. Farmer won three-straight titles in the modern-day Xfinity Series from 1969-1971, as well as the 1956 Modified title.
Even at his advanced age, Farmer is still a constant at the Talladega dirt track in Alabama. The octogenarian driver still races on the bullring across the street from Talladega Superspeedway. He also competes as if he's a fraction of his age. Red Farmer raced against the likes of Richard Petty, Ralph Earnhardt, Dale Earnhardt, and numerous other Hall of Famers. Farmer will turn 88 years young in October, and be immortalized in the NASCAR Hall of Fame not long after.
Modern Ballot-Mike Stefanik
One of only two men to have nine NASCAR-sanctioned titles, Mike Stefanik defined a generation of racing in the northeast. Stefanik, from Massachusetts, won seven titles in the Modified tour from 1989 to 2006. Stefanik also claimed the Busch North Series championship in 1997 and 1998. His two Busch North titles came in years where he also won Modified championships. As a result, he won four titles in a two year span. In total, Stefanik has 74 Modified tour wins, 12 wins in ARCA East, and the 1999 Truck Series Rookie of the Year. Stefanik's Modified win total is the most in the Modern Era.
Stefanik was tragically killed in a small plane crash last September in Connecticut. His aircraft was experiencing mechanical issues and crashed in some woods. He passed away from his injuries at a hospital in Rhode Island. Since his passing, there has been greater pressure on inducting him into the Hall of Fame. This is because he has been a nominee since 2015. In 2019, Stefanik was sixth in voting, the first to not be inducted. Unfortunately more than a year removed from his passing, Stefanik will earn the recognition he deserves as an all-time great in the Modifieds.
Modern Ballot-Dale Earnhardt, Jr.
The man who needs very little introduction to any diehard or casual fan, Dale Earnhardt, Jr. will go into the NASCAR Hall of Fame as a first-ballot vote. The 26-time Cup Series winner garnered 76% of the vote, making him the highest voted into this year's class. Earnhardt, Jr. will make the sixth father-son duo in the Hall of Fame. Dale Earnhardt was an inaugural class member back in 2010.
Although Jr. never won the coveted Cup Series title, his career accolades are more than deserving of a Hall of Fame spot. 26 Cup wins, 24 Xfinity wins and two championships, two Daytona 500 victories, four-straight Talladega wins, and 15 Most Popular Driver Awards are just some of Jr's achievements. The younger Earnhardt has also won five Xfinity Series titles as an owner, with Chance 2 Motorsports and JR Motorsports.
Since his retirement from the Cup Series in 2017, Earnhardt has remained ever-present for NASCAR fans. The Kannapolis, NC native is a weekly booth commentator for NBC Sports. He also hosts the popular 'Dale Jr. Download' podcast every week. Earnhardt can also be commonly found iRacing or playing other games on Twitch, being accessible to fans more than when he was racing.
In the three years he's not been racing full-time, Earnhardt has made one Xfinity start each season. His lone race for 2020 was last Saturday in Homestead, where he finished fifth. Earnhardt has earned a top five in each of these three races.
Jr. Shoulders Impossible Burden in 2001
In just his second year of Cup Series racing, Jr. had to help the sport of racing move on after his father's tragic accident. Jr. came back to Daytona that summer with retribution, and dominated the Pepsi 400. That July night in Florida is among the best feelgood moments in sports, and arguably the pinnacle of Dale Jr's career.
In the wake of Dale Sr's passing, Jr. would go on to win the Most Popular Driver Award for fifteen consecutive seasons. Jr's personable attitude and demeanor made him very relatable for many fans, thus his popularity to this day. This has shown in his late entrance to social media as well. Earnhardt's 2.5 million Twitter followers are among the most for anyone in NASCAR today.
Overall, Earnhardt Jr. is a great advocate for the sport's history, its place in mainstream culture, and its future. Jr. has been arguably the biggest catalyst for virtual racing as well, as he was a beta tester for iRacing. He was the first winner in NASCAR's eSports arm on iRacing. Dale's impact on NASCAR for two decades has been unparalleled, and he will certainly lead it into the future.
The Class of 2021 will be inducted into the NASCAR Hall of Fame in January. Be sure to stay tuned for further information regarding the Hall of Fame ceremony. This ceremony is part of the buildup to Daytona Speedweeks every season, and is a highlight of the year for the inductees.
Written by Peter Stratta
Be sure to follow us on YouTube and Twitter.
Be sure to follow the writer on Twitter.
Photo credit to NASCARMedia