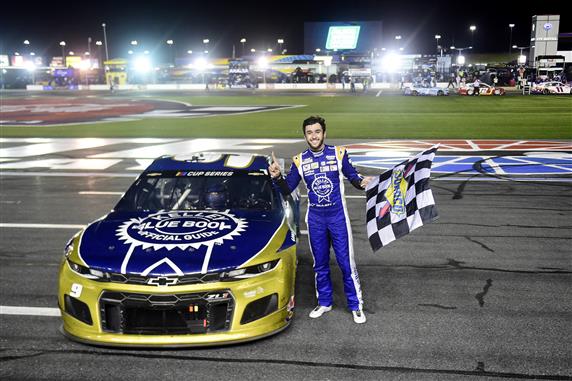 After Two Devastating Losses, Chase Elliott Earns Charlotte Victory
"It's not the Coca-Cola 600, but any win in the Cup Series is really hard to get," Chase Elliott said in victory lane. Coming off of arguably the roughest week of his career, Chase Elliott fought off all competition for his first win of 2020. Only four days after the late pit road blunder in the Coca-Cola 600, Elliott came back to Charlotte Motor Speedway eyeing the trophy. Along with the the Charlotte win, Elliott earns his fifth Playoff appearance. Elliott would lead 28 laps en route to the Charlotte win, erasing any doubt his team had after their narrow losses in the past two races.
New Contenders Up Front Early
Even though William Byron started on the pole for Thursday's 500 kilometer race, the 24 would fail to lead lap one. That distinction would go to fourth-place starter Matt Dibenedetto, who cleared Byron going into turn three on the opening lap. The 21 and 24 would trade the lead back and forth numerous times, as they seemed to be evenly matched. Byron only earned the lead after a big push from teammate Alex Bowman. The 24 would lead until the competition caution, which was actually the second yellow flag of the night. Back on the opening lap, two cars back in the pack took each other out while racing four-wide.
Rain Dampens Stage 1…Again
Under the lap 20 competition yellow, Joey Logano would stay on track and inherit the lead. Much like Sunday's Coca-Cola 600 however, rain would descend upon Charlotte Motor Speedway. The race would be halted after just 30 laps as lightning struck in the area. In the end, the rain delay would last just under 75 minutes.
Penske Power On Display for Stage 1
When the race did resume, Logano would hold serve out front. The Fords of Ryan Blaney and Dibenedetto would comprise the top three positions for Team Penske. They would hold their positions for the end of Stage 1, as Penske was going for a Charlotte sweep. This marked Logano's second Stage win of 2020, as he also took Stage 3 last Sunday. With his two wins as well, Logano is racking up Playoff bonus points.
Busch Falls Out of Contention Early in Stage 2
When racing restarted for Stage 2, one of the favorites ran into trouble on the opening lap. After Ricky Stenhouse, Jr. made a bold four-wide pass in the high lane, Aric Almirola had to check up, making contact with Kyle Busch. Busch would suffer a flat left rear tire, and came to pit road for repairs. This put the 18 behind the eight-ball for the rest of the night. By pitting, Busch lost two laps on track, and would only recover to finish 29th. The defending series champion has had a less-than-stellar opening to 2020, as he only has four top-10s.
After starting deep in the field in 16th, Kevin Harvick methodically marched his way forward. The 4 would take the lead for the first time on lap 66, and began to pull away. Less than 10 laps later however, Harvick pitted from the lead under a caution, while many stayed out. This exchange would bury Harvick in the field once again, and gave the lead to Alex Bowman.
Hendrick Power Defines Stage 2
As Stage 2 crossed its halfway point, Bowman was well in command. The 88 led the 22 by half a second, meanwhile his teammate was making great time further back. After restarting 18th, Chase Elliott was up to sixth after just 10 laps. Bowman would take Stage 2 by nearly two seconds, while Elliott would race his way up to fourth. This marked Bowman's series-high fourth Stage win of 2020.
Even though Bowman started the final Stage as the leader, it was not long before Harvick stormed on by. The 4 would take the lead from the 88 on lap 126, and began to drive off into the night. Bowman was not letting Harvick out of his sights though, as he kept the lead steady at a few tenths.
Night Unravels for Bowman
Unfortunately for Bowman, he had a moment while running second, eagerly pursuing Harvick. The 88 got loose in turn four and slapped the outside wall, causing major right side damage. Bowman immediately came to the pits for repair, and his shot at the win was over. At the finish, Bowman was 31st, two laps off the pace. After being arguably the strongest car again in Charlotte, Bowman only leaves with the Stage 2 win.
With Bowman now out of the picture, second place was handed to Ryan Blaney. Harvick led the 12 by over two seconds when Timmy Hill triggered a caution with 65 to go. In spite of the lead being gone, Harvick held serve both on pit road and on the coming restart. Behind him though, there were some newcomers in the top five. Stenhouse used a three-wide elevator move to take fifth, while Elliott would take over second from Blaney. With 50 laps left, the race was on between Elliott and Harvick.
A Rare Mistake by Harvick
With the laps winding down, Harvick began to moderately save fuel yet hold onto his slim lead. This allowed Elliott to close in by a few tenths, but the 4 still held position. With 28 to go though, that would change as Elliott went to Harvick's inside in turn two. Harvick went wide and allowed the 9 to capitalize, as his short run car was falling off. Harvick began to fall like a rock among the leaders, as Blaney, Stenhouse, Hamlin, and more passed the 4. Elliott now led over Blaney by over a second, but the 12 put on a late charge.
Over the last 15 laps, Elliott simply had to manage his gap and hope a caution didn't come. In a very similar fashion as last Sunday, Elliott held on and the lead was stable. No caution ever came, allowing Elliott to cruise to a Charlotte win by over two seconds.
Top 10 Results from Charlotte 500k
While Elliott took a commanding win after Harvick's blunder, second did change hands late. Denny Hamlin got by Ryan Blaney to take the runner up spot. The top five was rounded out by Ricky Stenhouse, Jr. and Kurt Busch. For Stenhouse, a fourth at Charlotte is his best finish all year, and will hopefully carry momentum into his best track.
The remainder of the top 10 were Joey Logano, Brad Keselowski, Austin Dillon, Martin Truex, Jr., and Kevin Harvick. Logano and Keselowski make it a top-seven sweep for all three Penske cars. Dillon also earns a his best finish of 2020, recovering from a late error in the 600. Truex was uncharacteristically outside of the top-10 much of the night, and finishes in his best spot. Lastly, Harvick's handling fell off far enough for him to slip all the way to 10th.
Elliott's Winning Reaction
"Man, it was a tough week, for sure," Elliott said. "We've had some tough losses, but that deal on Sunday night was a heartbreaker." Elliott's heartbreaker was losing the Coca-Cola 600 after pitting for tires from the lead under an Overtime finish and coming home in second.
"I was just waiting for the caution to come out, to be honest with you. I thought either the caution was going to come out, I was going to break something or I was going to crash. Just after the last couple of weeks, I just thought surely it wasn't going to go green until the end. Just glad it did and glad we're hopefully back on the right path.
I think the biggest thing is if we can continue to put ourselves in position and give ourselves chances and we do a good job at controlling the things that are in our control, that's all we can ask for. We can't control when a caution comes out two laps to go and you're kind of in a lose-lose situation there. We've got to keep doing things that are in our hands and keep doing those well.
With the Charlotte win, Elliott earns his seventh career Cup Series victory in his 157th start. In each of the last two years, Elliott has won three times, so can he score another win in the coming races?
How to Watch the Next Race
Up next for the NASCAR Cup Series is the annual spring race at Bristol. 500 laps around The Last Great Coliseum will determine the next victor, as this will be the second appearance of the revised short track package. Be sure to tune into the Food City Presents the Supermarket Heroes 500 this Sunday at 3:30 pm EST. Coverage will be on FS1, PRN, and SiriusXM NASCAR Radio Channel 90. Can Elliott keep the momentum rolling, or can Busch turn around his year at arguably his best track?
Written by Peter Stratta
Be sure to follow us on YouTube and Twitter.
Be sure to follow the writer on Twitter.
Photo credit to NASCARMedia