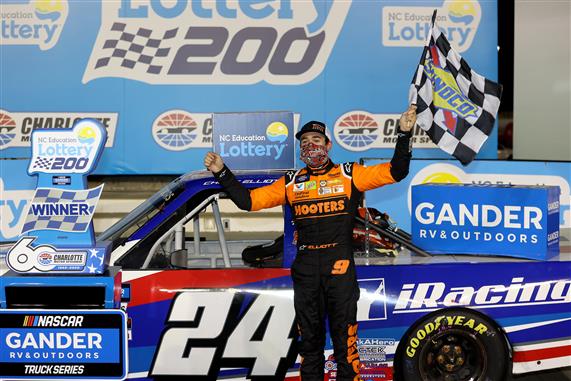 Bounty Claimed as Elliott Beats Busch in Truck Series at Charlotte
Prior to the racing hiatus there was an added intrigue in the Truck Series. After Kyle Busch's seventh-consecutive win earlier this year at Las Vegas, Kevin Harvick and Marcus Lemonis issued a challenge. Any full-time Cup Series driver who could beat Busch in a Truck race would pocket a $100,000 bonus. The bounty contenders for Charlotte were Chase Elliott, Brennan Poole, and John Hunter Nemechek. Chase Elliott was able to take the cash payout at Charlotte. The GMS Racing No. 24 took the checkers by six tenths over Busch. In his first start in over three years, Elliott scored his third Truck Series win. However, the bounty cash bonus went to a COVID-19 charity.
Busch Enters With Incredible Momentum
To say that Kyle Busch entered Wednesday night's race as the favorite would be an understatement. Busch has competed in every NASCAR national series race since the resumption, including twice earlier this week at Charlotte. Busch came home fourth in Sunday's Coca-Cola 600, and then won a thrilling Xfinity race on Monday. In short, Busch had 900 miles of practice for the Truck race.
Early Setbacks for Both Bounty Contenders
Due to a random draw in place of qualifying, Busch and Elliott would start 16th and 26th respectively. In Kyle Busch fashion, the 51 was on the move from the start. Busch would be in the top ten by lap three. Meanwhile, Elliott had a slower trek up towards the front, as the 24 would be stuck in 15th on lap 10.
By the conclusion of Stage 1, Busch was 14th after having to stop and fix a suspension issue. On the flip side of the bounty, Elliott had made it into the top 10 at the Stage end, in the sixth position.
Elliott's first taste of the lead came on lap 44, as he had a prime restart position for Stage 2. Meanwhile, the 51 restarted 27th and was also storming towards the front. Elliott would take the Stage 2 win, while Busch was not far behind in fifth.
In spite of restarting ahead of Busch, Elliott lost ground to the 51 at the start of the final Stage. Busch would take the lead for the first time all night on lap 69. With clean air, the 51 began to pull away from Elliott and the field. Many thought the bounty was in jeopardy now that Busch had a commanding lead.
Cautions Don't Phase Busch's Bounty Hunt
In spite of a rash of yellows for some major incidents, Busch still retained position over Elliott to take the bounty. Busch would only give up the lead to put on his last set of new tires on lap 97 under a debris caution. With roughly 30 laps to go, the race for the bounty was on. Busch would have to fight his way through the field for the third time, while Elliott would restart in the top five.
Race Intensifies Late
When the green flag dropped on lap 101, Busch was a man on a mission. The 51 went from 23rd to 13th in a span of just two laps, before another caution. By 25 to go, Elliott and Busch were both racing in the top five. Oddly enough with 24 to go, the 24 of Elliott would pass Johnny Sauter for the lead. Behind him, Busch had his hands full racing against rookie Zane Smith. It was this battle which cost Busch valuable time, and allowed Elliott to scoot away.
With just 20 laps left, Elliott held a lead of one second over Busch. Kyle would get this gap as close as three tenths, but lapped traffic and limited time were not on his side. At the white flag, Elliott had smooth sailing as his advantage was nearly a full second. For the first time in two years, Kyle Busch would not win a Truck Series race as Elliott held off the 57-time winner.
Elliott Pays Homage to Busch
One of the trademarks of any Kyle Busch victory is his Showman's Bow with the checkered flag. As a Las Vegas native, Kyle does this celebration as an ode to his hometown and the show he typically puts on. After taking the checkers, Chase had a spur of the moment idea to do a bow himself in front of the broadcast camera. "Imitation is the strongest form of flattery," Busch said in response to this, "that's cute."
Elliott's Winning Reaction
"It was a lot of fun," Elliott said post race. "The truck was really good from the get-go, for having no practice laps. It doesn't make up for Sunday, but it was still a really good night. Glad to win and glad to do some good for the relief effort for this virus."
Not only did Charlotte mark Elliott's first Truck start since 2017, it's also his second-consecutive win. His last appearance in the Truck was an April 2017 victory at Martinsville.
On whether or not he'll run more Truck races in the future, Elliott was brief. "It was all about beating Kyle Busch," he said with a chuckle. "I guess we can quit now." Elliott's Truck Series record stands at three victories in 13 starts, including his last two.
Busch Doesn't Mince Words
As expected, Kyle Busch was not happy to be runner up to Elliott. Due to language, his interview with Fox Sports was not able to be edited in time for the broadcast.
Busch went on to say that their issues were "Self inflicted. (We) had six months to prepare and we screwed it up. Our truck was just really bad and poor handling. Our pit strategy, we got off on that. Basically handed Chase 20 positions on that so it'll seal your fate too."
Even though Kyle Busch is the Truck Series' all-time wins leader, he was unable to ward off the challenge from Elliott for the bounty. Busch's win total in the Truck Series stands at 57, as he will have three more starts in 2020. Busch's next Truck start will be in Atlanta on June 6.
Where Does the Elliott-Busch Rivalry Go from Here?
After last Wednesday night's Darlington race, a bit of a rivalry has sparked between Kyle Busch and Chase Elliott. Elliott certainly got the most recent laugh with the Truck win. However, don't expect the 9 and 18 to race each other with any ease in the coming Cup races. With upcoming events at Bristol and Martinsville, tempers can definitely flare once again.
One thing is for sure, Chase Elliott toppled one of the best ever in the Truck Series. Amazingly, those in need due to the virus are the biggest winners. Marcus Lemonis has already voiced his interest for yet another Truck Series bounty. If another driver can beat Busch in a Truck, then their crew will walk away $25,000 richer. Be sure to tune into the Atlanta race to see if Busch can retake the mantle or if another driver will fight him off.
Written by Peter Stratta
Be sure to follow us on YouTube and Twitter.
Be sure to follow the writer on Twitter.
Photo credit to NASCARMedia