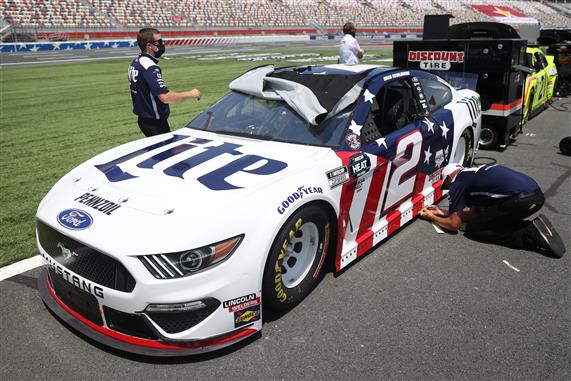 A Possible Requiem for Miller Lite in NASCAR
With his Coca-Cola 600 win, Brad Keselowski took the Penske No. 2 Mustang to victory lane one more time with Miller Lite colors. The Memorial Day classic was to be the only time this season that the Wisconsin brewing company adorned the Penske car in 2020. After a history of nearly four decades in the sport, the future is uncertain for Miller Lite. Let's take a look back at one of racing's iconic partnerships, especially their relationship with Roger Penske's team.
Bobby Allison Ends Career with Miller Genuine Draft
Miller Lite first entered the NASCAR Cup Series as a partner with Bobby Allison in 1983. In their first season together, Allison would deliver the lone Cup Series championship of his Hall of Fame career. Miller Genuine Draft would stick with Allison through his final season in 1988. In total, Allison and Miller Brewing Company would score 11 victories.
Allison's career was cut short after a lap one crash in 1988 at Pocono, oddly enough in the Miller High Life 500. The 84-time winner would narrowly survive a head-on impact with the outside wall and subsequent driver's side T-bone. Allison would be replaced in the Stavola Brothers Racing No. 12 by Mike Alexander for the rest of 1988.
Allison's gold Miller High Life Buick would also be the first of many paint schemes designed by motorsports artist Sam Bass. This scheme would be one of the most iconic cars of NASCAR in the 1980s.
NASCAR's Oldest Rookie-Dick Trickle
With Allison retiring after the Pocono crash, Dick Trickle would pilot the newly-numbered 84 Miller Buick in 1989. This would be the short track legend's rookie season in the Cup Series, at only 48 years young. Trickle would win Rookie of the Year honors with six top fives, nine top-10s, and an average finish of 17.5.
Miller Lite's Most Iconic Driver-Rusty Wallace
For the start of the 1990s, Miller would shift their sponsorship to one of the hottest drivers in the sport, defending Cup Series champion Rusty Wallace. While Wallace and Miller Lite are synonymous with Team Penske, their partnership started at Blue Max Racing, the team Wallace took to the 1989 title. Their first year together would see Wallace win twice, at the Coca-Cola 600 and at Sonoma.
1991 would see both Wallace and Miller move over to Penske Racing, now in the No. 2 Pontiac. The early 1990s were the peak of Wallace's career, as he won a personal-best ten races in 1993. Wallace and Penske were title contenders throughout the decade, only having one year outside of the top 10 in points. Though the black MGD car never won a title, Wallace was a weekly threat for wins against the likes of Earnhardt and Gordon.
The Blue Deuce is Born
For the 1997 season, the Penske 2 team had a radical makeover. The iconic black and gold livery was replaced with a blue and white scheme, as the sponsorship shifted to Miller Lite. The 'Blue Deuce' would be the ride Wallace drove for the remainder of his career, as he took the blue Miller Lite colors to his final nine victories. When Wallace retired after 2005, it was time to hand over the Blue Deuce to another young star.
Kurt Busch Adds to Miller's Legacy
Only two years removed from his 2004 title, Kurt Busch left Roush Racing for Penske in 2006. Busch would retain the Blue Deuce colors that became iconic over the past nine years. However, a driver change also saw a manufacturer change for the 2, as Penske switched to Dodge. Busch would go on to win eight races across five years in the 2. In three of these years, Busch would be a contender in the Chase for the Cup. While Busch did stay at Penske for 2011, he moved over to the No. 22 car, allowing a new prospect to take over the Blue Deuce.
Brad Keselowski Becomes Penske's Greatest Driver
After being released from his developmental deal at Hendrick Motorsports, Brad Keselowski signed with Penske to take over the Blue Deuce. In addition to being in the Cup Series, Keselowski would also compete in the Xfinity Series for Penske. Keselowski would give Roger Penske his first NASCAR title in 2010 by taking the Xfinity Series championship on the strength of six wins. While Keselowski won the Xfinity title, he had some growing pains in his first full-time Cup Series campaign. The 2 would only get two top-10s in 2010 with the Michigan native.
2011 would be a breakout year for Keselowski, as he would win three times in the Cup Series. The Blue Deuce would also make its fourth Playoff appearance, eventually finishing fifth in points.
Miller Lite Fuels Penske to First Cup Series Title
While 2011 was a breakout year for Keselowski and the 2 team, 2012 only saw greater successes. On the strength of three wins again, Keselowski entered the Playoffs tied for the second seed. Keselowski would take the checkers in two of the first three Playoff races, and consistency delivered the Penske team their first championship. For the first time since 1983, Miller Lite was adorning the Cup Series champion's ride. 2012 would also be the final year for Dodge in the Cup Series, so they went out on top. Dodge's departure would see Penske switch back to Ford as a manufacturer.
Since 2012, Keselowski has been a perennial title contender, winning in each of the last ten seasons and making deep Playoff runs. In the elimination-style Playoffs that debuted in 2014, Keselowski has made the final four once in 2017. Though Keselowski has yet to win another title, he now has victories in the Southern 500, Brickyard 400, Coca-Cola 600, and is a future Hall of Famer. Since his title, Keselowski has also become the winningest driver in Roger Penske's illustrious history as a car owner.
What's Next for Miller Lite?
After dwindling appearances on the No. 2 in recent years, Miller Lite only had one race scheduled for 2020. That lone start was last Sunday's Coca-Cola 600. Keselowski took the victory after a late pit stop by Chase Elliott gave the 2 the lead.
Was this win the last time we will see Miller Lite on a NASCAR Cup car? Perhaps, as their status as well as Keselowski's for next year are currently unknown. Keselowski even addressed this uncertainty in victory lane.
"I'm really happy for Miller Lite," Keselowski said. "I don't know what's gonna happen with them, if they're gonna come back on the car or what, but it's been a great 10-year ride with them and this is their only race of 2020 and we're in victory lane. I know they're really happy because Miller Lite goes with Memorial Day."
After being synonymous with numerous current and future Hall of Fame drivers, the almost four-decade history of Miller Lite in NASCAR may be over. Whether black, blue, or white, the Miller Lite car has helped define each era of stock car racing it has competed in. If this was the last ride for Miller Lite, they went out in extraordinary fashion by winning a crown jewel race.
Written by Peter Stratta
Be sure to follow us on YouTube and Twitter.
Be sure to follow the writer on Twitter.
Photo credit to NASCARMedia