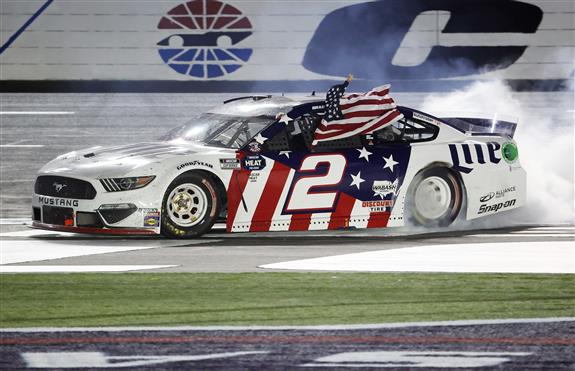 Brad Keselowski Hangs on in Overtime for Coca-Cola 600 Triumph
NASCAR's longest race came down to a late strategy call under an Overtime caution. After Chase Elliott pitted from the lead for tires, this put the Memorial Day Classic in the hands of Brad Keselowski. Thanks to this call by the No. 9 team, the Penske driver was able to hold on for his first Coca-Cola 600 win. This victory also marks Keselowski's first in over a year, and first with crew chief Jeremy Bullins. With Keselowski still being a free agent, a win in a crown jewel event could do marvels for his future.
Huge Mistake for Hamlin
Prior to the green flag under pace laps, one contender's night would take an abrupt pause. Denny Hamlin's Toyota would have two pieces of tungsten weight fall out of the rear end. Joey Gase would evidently hit this weight, causing some damage to his car. With the major safety issues stemming from such a dense material being on track, the penalty is very heavy. The 11 team's crew chief, car chief, and lead engineer will all be suspended four races, per the NASCAR rulebook. Hamlin would only enter the race on lap six, quickly lose more laps, and would finish in 29th. As someone who has yet to win the Coca-Cola 600, Hamlin had a long night but was able to regain some ground thanks to attrition.
Chevrolet Performance on Display Early
Once the green flag did fall, it was evident early on that Chevrolet teams were very strong. Polesitter Kurt Busch led the opening 54 laps, with much of the top 10 also being from the bow-tie brigade. Six of the top 10 in the opening laps were comprise of Camaros, with the 2010 Coca-Cola 600 winner leading the way.
Rain Dampens Stage 1
Stage 1 would be effectively cut in half when a caution flew for rain on lap 49. The ensuing weather delay red flag lasted just over one hour, as track drying crews made efficient time. Once the red flag lifted, the leaders made a trip to pit road. Under this cycle, a two-tire call by Alex Bowman's team would give the No. 88 the top spot.
Racing would resume for Stage 1 on lap 58 at roughly 8:30 PM EST. Bowman was seemingly on rails as his Hendrick Motorsports Chevrolet left the competition in the dust. As the lap 100 Stage break loomed ever-closer, it became evident that Bowman would get a commanding Stage win.
Bowyer Wrecks Out Early
Stage 1 would end a few laps prematurely under caution on lap 98. Clint Bowyer would blow a tire on the No. 14 Mustang and hit the turn two wall hard. The hit "knocked the wind out of me," Bowyer said. Afterwards, it was reported that Bowyer's car had a control arm break, resulting in the blown tire. With the early exit, Bowyer would finish the Coca-Cola 600 in a dismal 39th. This yellow to end Stage 1 would give the win to Bowman over Martin Truex, Jr.
Mid-Race Strategy Battle Between Bowman, Truex
When racing resumed in Stage 2, it was a chess match between the top two of Bowman and Truex. Initially, Truex seemed able to keep pace with the NOCO Chevrolet, but he faded back after awhile. Bowman would hold a lead of roughly a second and a half before pitting midway through Stage 2. Bowman and Truex would exit pit road at a similar interval. However, the 88 turned of the afterburners in the closing laps of the Stage, as his lead exploded to six seconds over the 19. Bowman can give credit for this monster lead to no cautions in Stage 2, as well as a big save by Truex when he got loose. Bowman would take both Stages in the first half of the Coca-Cola 600, earning his second and third Stage wins of 2020.
Stage 3 was much of the same to start off, as Bowman and Truex retained position up front. Kyle Busch would have restarted Stage 3 in second, but the 18 had a speeding penalty exiting pit road. In addition, Chase Elliott also had to restart from the rear after making a second pit stop. Both drivers involved in the late-race altercation from Darlington on Wednesday would spend the second half of the Coca-Cola 600 marching through the field.
Tighter Fight Up Front in Stage 3
Stage 3 was a much closer battle for the lead, as Bowman could not shake Truex off his rear bumper. On lap 225, Truex would use a lapped car as a pick to take the lead away from Bowman. Truex has arguably been the best driver in the Coca-Cola 600 in recent years, and the defending winner began to set sail. Not even ten laps later, the 19's lead was well over a second. As pit stops occurred midway through this Stage, Brad Keselowski would lead briefly after staying out. With no caution to save him however, Keselowski dove the 2 onto pit road on lap 263. Truex would once again take control, and it appeared as though he would take Stage 3.
Old Tires Gamble Wins Stage 3
Stage 3 would be halted by a caution when Matt Kenseth hit the outside wall on lap 277. The 42 blew a tire in turn two while running in 25th. This would set up an interesting strategy play for the end of the Stage. With roughly 20 laps of racing left, most of the leaders hit pit road for fresh tires. However Joey Logano, Kevin Harvick, and Chase Elliott would restart in the top three spots after staying out. Truex, Bowman, and others would start right behind them on two new tires.
When the green flew, Harvick and Elliott quickly fell backwards on their disadvantaged tires, but Logano would hold serve up front. Truex would get up to second, but he had nothing he could do to pass the 22. The 19 would eventually fade to finish fifth in Stage 3. On his 30th birthday, Joey Logano would steal the Stage 3 win in the Coca-Cola 600. Logano was hoping to become only the fourth birthday race winner in NASCAR history.
Even though he restarted fourth for the final Stage, Truex would retake the lead on the opening lap. After a short battle with Matt Dibenedetto, the 19 began to once again ride off into the night. Right in his tire tracks however was four-time Coca-Cola 600 winner Jimmie Johnson. The Ally 48 was trying to erase his notable winless streak, which stood at 101 races. As the laps wound down, the 48 was keeping tabs with the 19 but was unable to close in.
Late Cautions Shake Up Running Order
A quick caution for a spinning Joey Gase would see the leaders on pit road for seemingly the final time. Johnson would take the lead over Keselowski, Truex, Elliott, and William Byron. Though the 48 restarted as the leader, he would not hold off the 2's charge. Keselowski would take the lead and Elliott would take over second.
With just 38 laps to go, Chase Elliott sent it into turn three to take the lead for the first time all night. As the laps wound down, the 9 began to drive away and seemed more untouchable with every moment. After a heartbreaking loss last week, Elliott was in position to steal the Coca-Cola 600. That would all change however with a late caution with only two laps left.
After running in the top five late, the tire rub on William Byron's No. 24 Chevy finally gave way and he blew a tire. Byron was stopped on the apron in turn two, forcing a late yellow. This would set up overtime in the Coca-Cola 600, making it the longest-distance NASCAR race in history. Under caution Elliott was a sitting duck, as those behind him would do the opposite of his strategy in terms of pitting or staying out.
9 Team Gives Up Prime Track Position
Crew chief Alan Gustafson would call the 9 down pit road for tires, making him one of only three leaders to pit. Kyle Busch and Truex would follow Elliott in, giving the front row for the two-lap dash to Keselowski and Johnson. Elliott would restart in 11th, all but erasing his shot at the Coca-Cola 600 win.
Up front, Keselowski got a near-perfect restart and was clear for the lead by turn three. By the checkers, Keselowski held a lead over Johnson by a few car lengths to win his first Coca-Cola 600.
Drama in Post-Race Inspection
The night's drama from the Coca-Cola 600 did not end at the checkered flag. In post-race laser inspection, Jimmie Johnson's second-place finishing No. 48 car failed rear alignment requirements. As a result, Johnson was disqualified, giving the runner up spot to Chase Elliott. After earning 46 points, Johnson's DQ meant that he would be scored in last place. Johnson also drops from eighth to 15th in the points standings.
Top 10 Results from Coca-Cola 600
With Johnson's DQ, the official top 10 from the Coca-Cola 600 were Keselowski, Elliott, Ryan Blaney, Kyle Busch, Harvick, Truex, Kurt Busch, Tyler Reddick, Christopher Bell, and Chris Buescher. This is the first top 10 in Bell's young career, after he was a then-best 11th last week at Darlington.
Keselowski's Winning Reaction
"It means a lot to me, but I can't help but think about the Reep family and Donovan, I hope they're watching," Keselowski said, acknowledging the service member's name on his car. "The race ran really late, but Memorial Day is about a lot more than racing. We're glad to be able to do cool things like racing because of the freedom provided by those willing to make the sacrifices.
I feel like I've thrown this race away a handful of times and I felt we were gonna lose it today. We've lost it the way Chase lost it and that really stinks, and today we finally won it that way and I'm so happy for my team. I wish my wife was here. I wish my daughters were here. It's a major. It's the Coke 600 and this leaves only one major left for me, the Daytona 500, so we're checking them off.
I'm really happy for Miller Lite. I don't know what's gonna happen with them, if they're gonna come back on the car or what, but it's been a great 10-year ride with them and this is their only race of 2020 and we're in victory lane. I know they're really happy because Miller Lite goes with Memorial Day, but I'm happy for Ford and everybody who just works their butt off at Team Penske. We might not have been the fastest car today, but, wow, did we grind this one out. The pit crew at the end, the yellow right before the last had a blazing stop to get us up front and put us in position. All these things just came together and I'm tickled to death. It's a little overwhelming to be honest."
Keselowski's Uncertain Future
In a free agency season for Keselowski, winning one of the biggest races of the year will certainly put more attention on his contract status. Keselowski began his career as a developmental driver for Hendrick Motorsports before moving to Penske in 2010. Together, Keselowski and Penske have won an Xfinity and Cup title, as well as 30 races now in the premier division. Keselowski's name has been linked to the open seat at Hendrick being vacated by Jimmie Johnson, but there is no official word yet. Stay tuned for any silly season updates.
How to Watch the Next Race
Up next for the Cup Series will be a Wednesday night return to Charlotte. The Alsco Uniforms 500 will go green at 8 PM EST. Coverage will be on Fox Sports 1, PRN, and SiriusXM NASCAR Radio Channel 90. With very similar conditions to the Coca-Cola 600, can Keselowski, Johnson, Elliott, or other contenders from Sunday repeat their performance on Wednesday?
Written by Peter Stratta
Be sure to follow us on YouTube and Twitter.
Be sure to follow the writer on Twitter.
Photo credit to NASCARMedia