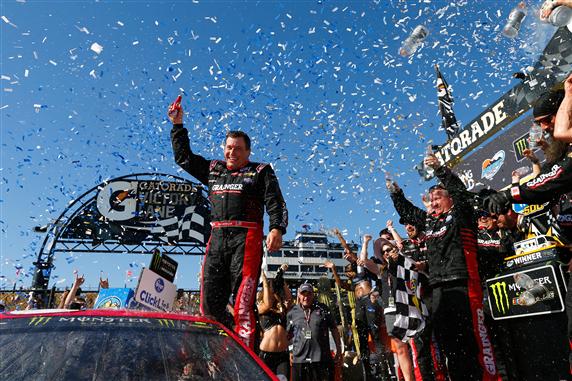 Ryan Newman Will Make Racing Return after Daytona 500 Crash
Only two months removed from a death-defying accident, The Rocketman is cleared for takeoff. After suffering a brain bruise in one of the nastiest NASCAR crashes in recent memory, Ryan Newman will make his return to racing. Newman was mere feet from winning the Daytona 500 when his No. 6 Mustang went airborne, a moment Newman does not currently remember. After several weeks off, Newman will race once again when NASCAR returns from the coronavirus break. This announcement came on FOX and FS1 ahead of the Talladega iRacing event.
Remembering Newman's Crash
In the closing laps of this year's Daytona 500, Ryan Newman was in prime position. The No. 6 Koch Industries Ford was up front, in contention for Newman's second Daytona 500 win. Newman had the lead on the last lap. Going down the backstretch, Newman passed Denny Hamlin with a big push from Ryan Blaney. Through turns three and four, the race would appear to be in Newman's hands. That is where it all went wrong on that February night.
With a big push from Hamlin, Blaney caught Newman's bumper. Hamlin nearly sent the No. 12 Menards Mustang around. The 12 quickly darted to the bottom, and Newman tried blocking his position. However, Blaney came with far too much momentum to be stopped. Blaney made contact with Newman, sending the 6 hard into the outside wall at near-terminal velocity. The immense G-forces of the head-on wall impact sent Newman up in the air and upside down. With the 6 suspended, the 32 car of Corey Lajoie hit him in the driver's side window at 194 mph. This further impact sent Newman skidding for nearly 1/4 mile on his roof. A shower of sparks and eventual flames erupted as the 6 came to a halt.
Medical personnel were quickly on the scene to help extract Newman from the inferno. In what should have been a moment of immense celebration for Hamlin, Newman was rushed to Halifax Medical Center. Later that night, reports said that Newman's condition was serious but non-life threatening. Less than 48 hours after the crash, Ryan Newman was released from the hospital. He would walk out embracing his two daughters.
Chastain Takes Control of the 6
While Newman was in stable condition, he did suffer a brain bruise. This injury had the 18-time Cup Series winner sidelined for the foreseeable future. Driving the Roush-Fenway 6 in his place was Ross Chastain. Chastain's duration in the 6 would last three races. During this time, Chastain would see a best finish of 17th at Auto Club.
If there is any silver lining to the racing pause for the coronavirus pandemic, Ryan Newman was allowed more time to heal and missed fewer races. His time away after what everyone thought to be a catastrophic accident will only be three races.
Newman Gains Medical Clearance, Playoff Waiver
Prior to the shutdown of NASCAR for the coronavirus, Ryan Newman did conduct a medical reevaluation test at Darlington Raceway. Newman passed the test with flying colors, saying that he feels at home in the car and 100% healed. Newman's first race back will also come at Darlington, as NASCAR will run a 400-mile Cup race at the South Carolina track on May 17.
In the days after announcing his plans to return, NASCAR also gave Newman a Playoff eligibility waiver. Per NASCAR rules, Playoff drivers must attempt to start each Regular Season race. Due to the circumstances of Newman's absence, NASCAR will give him a Playoff spot if he wins or makes the top 16 in points. Newman is still 29th in points, despite the lone start in 2020. Newman has made the 16-driver postseason in four of the last six seasons.
What is next for Newman in 2020? In his first season with Roush-Fenway Racing a year ago, Newman was able to point his way into the Playoffs on consistency. Newman's return to the seat of a stock car will be an overarching story for the rest of 2020, as many thought his career ended on February 17. Should he repeat that Playoff effort in 2020, it would only add to the already tough reputation the Indiana native holds.
Written by Peter Stratta
Be sure to follow us on YouTube and Twitter.
Be sure to follow the writer on Twitter.
Photo credit to NASCARMedia