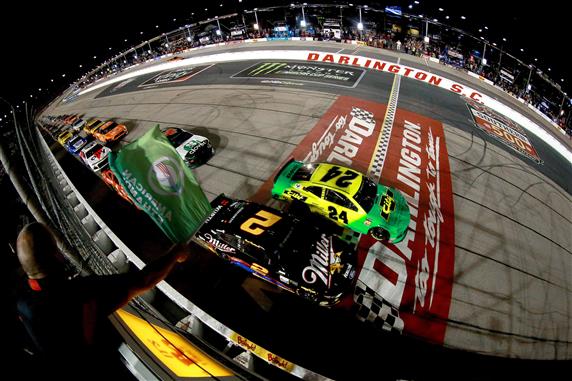 NASCAR Will Return to Racing at Darlington, Charlotte in Revised May Schedule
In less than three weeks, NASCAR will return. Two of the most historic tracks will play host to the first live sports since the coronavirus pandemic. Darlington Raceway and Charlotte Motor Speedway will have the Cup, Xfinity, and Truck Series on hand. This new schedule for the month of May will be a departure from usual event procedures. However, it is a step in the right direction towards normal. All of these races on the new schedule will be run with zero fans in attendance, as they will be 'made-for-TV' events.
Darlington Schedule for Cup, Xfinity Series
As shown above, the 2020 NASCAR season will resume with a 400-mile Cup Series race at Darlington on May 17. It will be at 3:30 PM EST on FOX, MRN, and SiriusXM NASCAR Radio Channel 90. This race will not replace the Southern 500, scheduled for Labor Day weekend. Rather, this allows for a return race only two hours away from many race team's shops in the Charlotte area. Immediately following the 400-mile event on Tuesday, May 19 will be a 200-mile Xfinity Series race. That Wednesday will also have another Cup race at Darlington at 8 PM EST.
Charlotte Race Week
Charlotte Motor Speedway usually hosts a lot of races in May. Typically, over ten days of on-track action span between the All-Star Race and the Coca-Cola 600. In the new schedule however, Charlotte's week of racing will kick off with the Memorial Day weekend classic. The three following days will all feature Xfinity, Trucks, and another Cup race respectively. Each of the four Charlotte races will be in prime time on either FOX or FS1.
Procedural Changes
Executive Vice President Steve O'Donnell laid out a laundry list of event changes for the upcoming races. "Our return in Darlington is going to be an environment that we need to make sure we're taking all measures available to us for the safety of our competitors and certainly for the local community," said O'Donnell.
"Everybody going into the infield is going to be wearing cloth masks as they move about. Since there will be no spectators, no fans in the infield, we'll be able to use the entire infield to space out and socially distance. We'll be able to space out the car garages, not just the Cup garage, but the Xfinity and Gander Outdoor garage as well. We'll have drivers' motor coaches there, but not in a driver/owner lot. We're spreading those out to provide a place for drivers to self-isolate during the day.
Temperatures will be taken randomly throughout the event of people as needed. Symptomatic patients will be processed and removed from the event and given medical attention if needed. We'll be doing that outside the infield care center to protect the integrity of the infield care center for emergency operations during the race.
Our two big things are social distancing and the other is compartmentalization. With social distancing, we're going to have one-way walkways for people, our rules strictly enforced. If people aren't complying with our rules for masks and social distancing, they will be removed from the premises."
Pit Stops Will Remain
Live pit stops will still be a part of race days, as each pit crew member will be required to wear their usual fireproof clothes. In addition, they will have to wear a face screen or a neck sock. Either item covers the entire face to prevent any contamination. In total, Cup Series teams will be allowed a 16-man roster. This roster includes the driver, team owner, spotter, and pit crew.
Winner's Celebration Changes
Another obvious change will be post-race winner's procedures. Rather than have the winning team in Victory Lane, a trophy presentation celebration will take place at the start-finish line. Post-race media obligations will likely be via teleconference, as they have been for iRacing events.
The primary focus of having these races will be to hold one-day shows. As a result, there will be no practices or qualifying procedures, except for the 600. The May 24 event at Charlotte will have normal qualifying. With these races being no more than two hours from most team's shops, drivers, crew members, and other personnel will not have to travel by air or stay in hotels.
Schedule Past May
As this stretch of races nears its end, NASCAR will announce the following schedule for future races. For the Cup Series, O'Donnell said that he wants at least the first seven events within driving distance of Charlotte. Beyond that, NASCAR hopes to expand the schedule to other racetracks across America. However, this is a very fluid situation, as evidenced by O'Donnell saying "we started about seven pencils and a lot of erasers and have moved to pen now in terms of saying to our broadcast partners and tracks that this is what we believe we can collectively do." We will give any updates on the schedule as soon as they are released.
The countdown is on for Darlington. While nobody wants to race in front of empty grandstands, this will hopefully be a short-term solution for the pandemic. With countless medical professionals hard at work on developing widespread testing or a vaccine, NASCAR will hopefully be in front of throngs of roaring fans again in the near future. Be sure to tune into the upcoming races on TV, as everyone is eager to get racing once again.
Written by Peter Stratta
Be sure to follow us on YouTube and Twitter.
Be sure to follow the writer on Twitter.
Photo credit to NASCARMedia