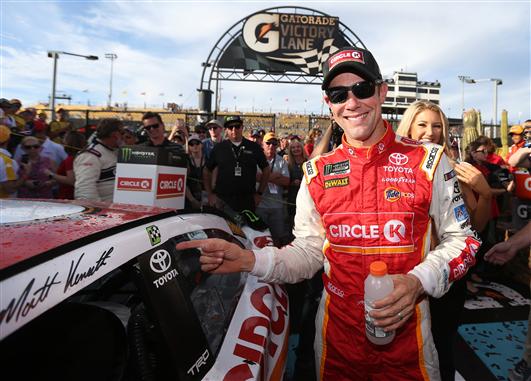 Matt Kenseth Will Takeover As Driver Of The No. 42 Car
Matt Kenseth will be the new driver of the No. 42 car at Chip Ganassi Racing. The 48-year-old Wisconsin native last strapped into a race car back in 2018, driving a 15 race schedule for Roush Fenway Racing. The move is a result of Kyle Larson being fired for using a racial slur a few weeks ago.
"This was an unexpected opportunity for sure," Kenseth said in a statement. "I can't say racing was even on my radar two weeks ago. After spending some time thinking about it and all the unique circumstances surrounding all of us right now, it just seemed the timing and the opportunity was perfect to come back. I know I have a lot of work ahead of me to get up to speed in a relatively short period of time, but I'm looking forward to the challenge.
I'm excited to work with Kurt again and to meet all my new CGR team members, and I'm really looking forward to getting back in a Chevrolet. In 1988, I started my career in a Camaro and I can't wait to finally race a Chevy in the Cup Series. I also need to thank Chip and all his partners for this opportunity. Hopefully, we will be on the track soon."
Chip Ganassi is Excited to Have Matt Kenseth in His Car
Team owner Chip Ganassi has stated he wanted a driver that can run for the championship. However, with the selection of Kenseth, it's still unclear if NASCAR will provide a waiver for the team to do so. Due to the circumstances, Ganassi has requested a Playoff eligibility waiver for Kenseth.
"I have always said that when we have to fill a driver spot, that I owe it to our team, our partners and our fans to put the best available driver in the car, Ganassi said. We are doing exactly that with Matt. Throughout my time in NASCAR, I have always admired the way Matt Kenseth raced. He has proven to be a consistent winner, strong competitor, and respectful driver. I'm glad we are able to add another NASCAR champion to the team for the remainder of this season."
Matt Kenseth's Cup Series Stats
There's no doubt that Matt Kenseth is a solid pick for any top tier team. In 665 Cup Series starts, Kenseth has 39 wins, two of which in the Daytona 500. Adding to that, he has 181 top-fives and 329 top-tens. His average start is 17.1 and average finish is 14.2. He was the winner of the 2003 NASCAR Cup Series championship. Kenseth's last race victory also came at Phoenix in November, 2017.
Could Kenseth Win at Chip Ganassi Racing?
Would Kenseth have a chance of winning in CGR equipment? Absolutely. The 48-year-old has kept himself in shape by training and also running marathons. He's also going to be in arguably the best equipment since his final season at Joe Gibbs Racing in 2017. It may take a few races to shake the rust off, but competition beware, Kenseth will certainly show up with his game face on.
Written by Noah Lewis
Be sure to follow us on YouTube and Twitter.
Be sure to follow the writer on Twitter.
Photo credit to NASCARMedia.