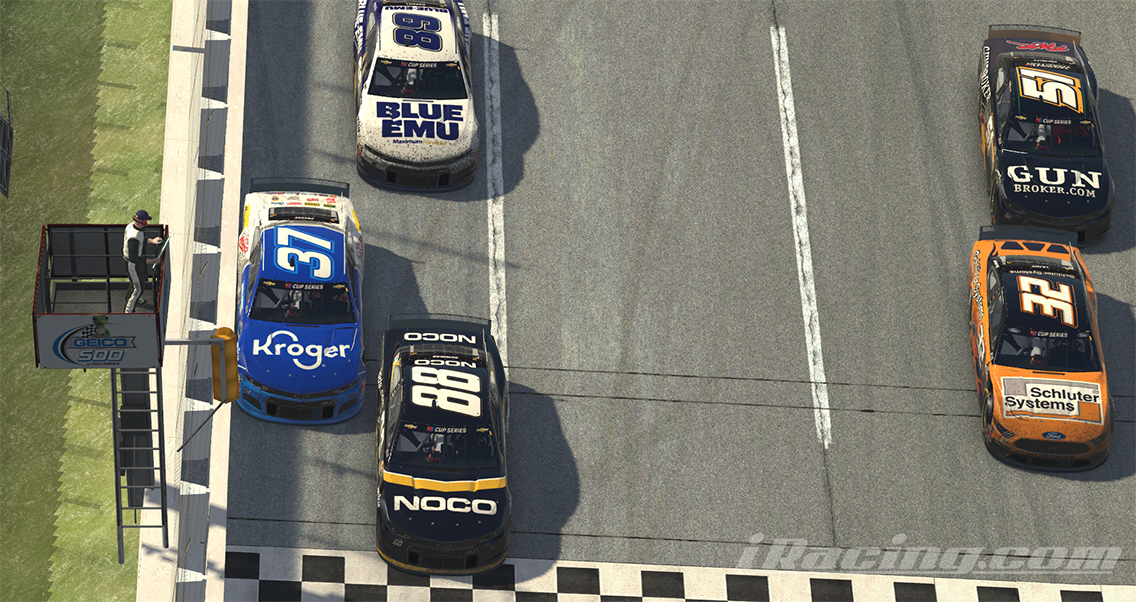 Alex Bowman Amazed at Winning Virtual Talladega iRacing Event
Moments after taking the checkered flag in the Geico 70 at the virtual Talladega Superspeedway, Alex Bowman took to Twitter and voiced his surprise at holding off the pack. Coming just a day after his 27th birthday, Bowman earned his first victory in the iRacing Pro Invitational Series. This also marks the third-straight win for Hendrick Motorsports. In a field that included Hall of Famer Jeff Gordon, the drama was pegged for this fifth virtual event.
Due to the lack of a yellow line out-of-bounds rule in iRacing, many thought Sunday would result in a drastically different race. At the start, things were relatively normal. The virtual Talladega lead swapped hands between Corey Lajoie and Ty Dillon. The race would see an early and abrupt pause for the first caution on lap 16.
The Big One Strikes Early
Real-life or virtual, the ultimate danger at Talladega Superspeedway is getting involved in 'The Big One.' The first major incident of the day happened quickly. At the head of the pack, Ricky Stenhouse, Jr. spun from the lead. Stenhouse's NOS Energy Drink No. 47 Camaro would collect most of the front two packs. This exchange resulted in significant damage across the field. Everyone would pit under this yellow, resulting in many fast repairs.
Apollo 24 Hampers Gordon's Strong Effort
One of the contenders taken out in this melee was Jeff Gordon, who had piloted his No. 24 Pepsi Camaro up into the top ten. The throwback livery went skyward, as he hit the wall at nearly full speed. Thanks to the fast repair however, this takeoff was not the end of the 24's day. In his iRacing debut, Jeff Gordon proved to be a quick learner. The air-time though was a less-than-optimal welcoming to the virtual racing world for the legendary driver.
Byron Takes Command
When racing resumed on lap 21, Brad Keselowski quickly took command. As a five-time Talladega winner, Keselowski hoped to repeat his success on the virtual superspeedway. However, Keselowski's time out front was short-lived due to a lap 29 slide by Brennan Poole. Poole had made it to Keselowski's outside before making contact. This sent both drivers sliding towards the apron, where they both amazingly saved it. Keselowski lost the lead, but was still among the front pack. This exchange handed the lead to William Byron. Byron, who won the last two virtual races, hoped for a Talladega three-peat. Byron would hold serve up front until green flag pit stops began on lap 35.
Bowyer Blows Up While Leading
Green flag pit stops would cycle Clint Bowyer to the head of the pack. This would mark his first laps led in iRacing competition. While drafting behind the nearly-lapped Alex Bowman though, Bowyer's chances went up in smoke. The motor overheated on his No. 14 Barstool Sports Mustang, causing him to fall back. Luckily for Bowyer, his engine issues were not terminal, and he came home in 33rd. Bowyer bettered his in-studio rival Jeff Gordon, as Gordon would only finish 38th.
Hamlin Disqualified Due to His Daughter
After having a lackluster day, Denny Hamlin's Toyota would crash hard into the wall and be disqualified on lap 53. In a later Twitter video, Hamlin revealed that his monitor went black after his daughter, Taylor, accidentally turned it off. Hamlin's day would be done early, as he would finish in 39th. While far from the result Hamlin wanted, it did provide a very humorous video.
Caution Sets Up Chaotic Restart
A brief caution brought out by Jeff Gordon spinning would bunch the field together with just 14 laps left. The 24 Pepsi machine was involved in a crash with Chase Elliott and Brennan Poole. This caution would lead to a restart with just nine laps to go.
On the break William Byron would be shoved wide into turn three. This would end any chance of the trifecta, as Byron only recovered to sixth. The lead changed hands between John Hunter Nemechek, Ty Dillon, Garrett Smithley, and Ryan Preece. As the laps wound down, the leader was susceptible to a run on the outside taking the position. Alex Bowman utilized this to his advantage, thanks to a monster shove from Dillon. Right as Bowman cleared for the top spot though, another major crash would bring out a yellow.
The second big one of the day happened going into turn one. Joey Logano went sideways after contact with Nemechek. Logano came down right into Keselowski, blocking the track and sending many cars spinning. Ryan Blaney also went skyward in another airborne incident. Since this crash happened with just two laps to go, it would put the virtual Talladega race into Overtime.
Bowman Unsure on Fuel Under Caution
While riding around under caution ahead of the Overtime finish, race leader Alex Bowman sent out an ominous Tweet. "Might run out of fuel. That'll be bad. Not pitting though."
On his pit stop under the day's first caution, Bowman's car did not take any fuel. This meant he made a much earlier green flag pit stop. Under regulation time, this would leave him roughly one lap to the good on fuel. In Overtime however, it was hit or miss on whether Bowman had enough fuel. The 88 would lead the field back to the green without issue though.
Overtime Restart Leads to Photo Finish
On the restart, Bowman initially got the jump on Ty Dillon. However, the 13 cut to the bottom and had the inside lane through turns one and two. With a push from Ryan Preece however, Bowman was ahead at the white flag, but Dillon didn't subside. Going into turn three on the last lap, the 13 had a run to the inside with a big push from Lajoie. Through turn four, Dillon edged ahead and moved up to block Bowman. When Dillon came back down to block Lajoie, the 13 spun into the infield grass. A disorganized pack of just seven cars came roaring towards the checkers. Bowman had position on Lajoie by just 0.036 seconds at the stripe.
Top Ten Results From Virtual Talladega
The very unusual top ten results from the virtual Talladega Superspeedway once again had a mix of iRacing veterans and newcomers. Behind Bowman and Lajoie were Ryan Preece, Garrett Smithley, Landon Cassill, William Byron, Brennan Poole, Kurt Busch, Kyle Busch, and Daniel Suarez. The leaders came across the stripe three abreast in the closest Pro Invitational Series finish to date.
Bowman's Winning Reaction
"I guess just right place, right time, kind of the normal speedway racing deal," Bowman said after the win. "I felt like the bottom wasn't the place to be, so kind of let Ty have the bottom on that restart and got up, and just tried to keep the run timed well and knew that most of the time the top was leading there at the start‑finish line. So really just got to thank Preece for pushing me because that's what made the difference at that point. When you're that lead car, it's really the guy behind you making the difference. Glad it worked out."
Bowman went on to describe how he approaches iRacing. "It's been a learning curve for sure, and I've kept myself busy in other ways, so probably haven't put the same amount of time into it as some of the other guys have. Probably take it a little more lighthearted than some of the others do, as well, but that's just kind of my approach to it.
I think Talladega was the one that I think you could get away with running minimally, so that was good. Last week at Richmond, we didn't run very well, and that came down to a lack of practice, but I think this week I ran a little bit, and it ended up being enough, so that was good."
How to Watch the Next Race
The scheduled finale for the Pro Invitational Series will be next Sunday at Dover. Tune into FOX and FS1 to see the stars of NASCAR take their turn at the virtual Monster Mile. The list of potential winners is large. Race format and time is TBD, so follow along with our writers on Twitter for updates later this week. The resumption of the 2020 NASCAR season is also in the near future, as it seems that more optimistic news is breaking daily. Stay tuned for any news regarding the hectic schedule once real-life racing comes back.
Written by Peter Stratta
Be sure to follow us on YouTube and Twitter.
Be sure to follow the writer on Twitter.
Photo credit to Seth Eggert / iRacing