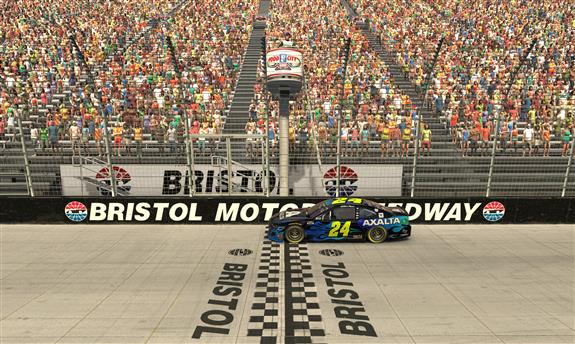 William Byron Dominates at the Virtual Bristol Motor Speedway
It's no surprise that William Byron has arguably been the fastest driver in the iRacing Pro Invitational Series. For a Charlotte-born kid who got his start on a computer, sim racing has played a big role in his career. Sunday's events at Bristol Motor Speedway showed he has not lost his winning touch.
There was a new element prior to Bristol's main event. The 32-car field was set by two 50 laps heat races. William Byron took the pole position by winning heat #1 and John Hunter Nemechek started second with his heat #2 victory. Both drivers would ultimately finish the race in positions one and two. Byron would end the day leading 116 of the 150 laps run.
"I thought we had a pretty solid race," Byron told media via teleconference. "We had the one tire strategy call that got us back to the top five and then we just had to work through the top five methodically after that. I was really proud of how we kind of did things and thankful for Nick Ottinger, who kind of helps me on my esports team, and Axalta for letting us run this cool paint scheme. It looks awesome. Hopefully, we can run it sometime in the real Cup car. I had a lot of fun."
Chaos From Lap One
Bristol Motor Speedway. Need I say more? Whether on a simulator or the real concrete half-mile, this race is sure to have chaos. In total, the race was plagued with 12 cautions for 66 of the 150 laps. And just like last week, we saw a few drivers show their displeasure.
The first purposeful driver-altercation came on lap ten. Bubba Wallace and Clint Bowyer made contact racing for a position, which got Bowyer a bit out of shape. Going into the corner, Bowyer decided to door-slam Wallace, causing both to spin. Bowyer told FOX: "I got Bubba'd, that was payback." Wallace, already involved in his second wreck, told his twitch stream: "All right, ya'll have a good one. That was it, that's why I don't take this (expletive) serious."
But wait! There's more. Following the race, Wallace made a post on social media addressing the fan's reaction to him quitting. Likewise, this did not sit well with Wallace's sponsor Blue-Emu who replied to the post, "GTK where you stand. Bye bye Bubba. We're interested in drivers, not quitters." That's right. A sponsor ended a partnership because of a virtual race incident. Who saw that one coming?
GTK where you stand. Bye bye Bubba. We're interested in drivers, not quitters.

— Blue-Emu (@BlueEmu1) April 5, 2020
Even More Chaos
On lap 71 of the race, a caution came out for Kyle Larson and Daniel Suárez. The two had made contact early in the run and Larson was seeking revenge. He waited for Suárez to get alongside him and dumped the 96 car. The two continued to run into each other following the yellow flag and as a result, were parked for the remainder of the event. This is consequently the second week in a row Suárez has been disqualified.
Suárez did comment on the altercation after the race.
I was waiting for @iRacing to get him disqualified like i was last weekend in 5 seconds, but they never did… and by the way our "racing incident" was him pushing me to the apron… if this was real life my amigo would get his but kicked 🍑🤷🏻‍♂️ https://t.co/2Lyj7Xf53j

— Daniel Suárez (@Daniel_SuarezG) April 5, 2020
Crossing the line three-wide for second place were Nemechek, Timmy Hill, and Denny Hamlin. Hill and Hamlin are both winners of previous Pro Invitational Series events, while Nemechek won his Heat race at Bristol. Lastly, rounding out the top five from virtual Bristol would be Matt Dibenedetto in the 21 car.
Can William Byron Go Back-To-Back?
Though we don't have the exact details on when the next Pro Invitational Series race will be, we can assume it will be at Richmond Raceway.  When things do get going, will we see William Byron back in victory lane? Or maybe another new winner? In addition to them, Garrett Smithley and Parker Kligerman have each been knocking on the door. Dale Earnhardt, Jr. will likely have a strong chance too. Whatever the outcome, we're sure to have an exciting competition to temporarily escape reality.
Stay up to date on all NASCAR announcements by following us on Twitter.
Written by Noah Lewis
Be sure to follow us on YouTube and Twitter.
Be sure to follow the writer on Twitter.
Photo credit to NASCARMedia.