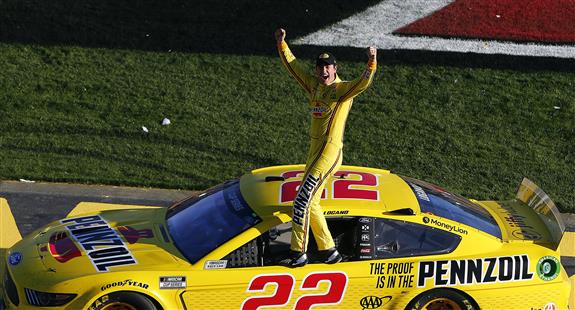 Joey Logano Earns Second Consecutive Pennzoil 400 Win at Las Vegas
After a strong day all around for the No. 22 Pennzoil Mustang, Joey Logano held off the field on a restart with two laps remaining in Las Vegas. As Logano took the white flag, a wreck ensued behind him, ending the Pennzoil 400 under a caution. For Logano, Sunday marked a second-straight Pennzoil 40 win, and first win with new crew chief Paul Wolfe. Logano was not the fastest man in Vegas all day though, as early contender Chase Elliott ran into issues late.
Suarez Faces Early Adversity
What would be the only Stage 1 yellow for an on-track incident occurred on lap one. As the field was taking the green flag, the No. 96 Toyota of Daniel Suarez would not accelerate. Suarez came to a stop just shy of the starting line, and the caution flag flew. The Gaunt Brothers Racing machine would go behind the wall for a few laps with an ignition issue. The 96 would return to the race by lap 12, but several laps down. Suarez would only recover to finish in 30th. After missing the Daytona 500 last week, the 96 team is off to a very troublesome start to 2020.
Suarez was far from the only Toyota to start off of the wrong foot. After inspection issues, Kyle Busch, Denny Hamlin, and Christopher Bell would all be sent to the rear for the start. None of the Toyota teams had the Vegas run they were anticipating, with their best result being Busch in 15th. At one point Hamlin was off of the lead lap, at his self-described worst venue. The Daytona 500 champion is still winless in his career at Las Vegas.
Harvick Rises, Then Falls
Although the Toyota of Martin Truex, Jr. did start up front, the No. 19 failed to lead any of the opening laps. Prior to Suarez's lap one incident, Kevin Harvick's Ford edged ahead. The No. 4 Mustang would be dominant early, after reasserting control from Joey Logano on lap 12. Harvick would hold serve at the head of the pack until lap 67. At this time, Chase Elliott's lightning-fast No. 9 Chevrolet rocketed by the 4 to take over. Elliott would hold on to win Stage 1. Elliott also won a Stage last week at Daytona, so he is positioning himself nicely with Playoff bonus points. Meanwhile Harvick dropped back to third as Truex got by him late in the opening Stage.
For the beginning of Stage 2, Harvick would again take over after a daring three-wide pass on Elliott and Truex. The 4 seemed to be pulling away in clean air, but the short-run burst of speed in that Mustang ran out 15 laps later. Elliott took back over, and would hold the lead until his green flag pit stop on lap 123.
Daring Strategy Gamble
As green flag pit stops cycled through, the No. 47 Chevrolet of Ricky Stenhouse, Jr. climbed up the running order. Stenhouse and crew chief Brian Pattie were hoping on a caution coming out, as they were short on fuel. This yellow would have trapped many contenders a lap off the pace, but it never came. Stenhouse's gamble was a bust, and he relinquished the lead to pit on lap 145. When Stenhouse made his fuel stop, only 15 laps remained in Stage 2. By taking only right side tires, the 47 was able to stay on the lead lap.
Although Truex was second behind Stenhouse for awhile, Elliott made his way by the 19 and retook the lead. Stage 2 would end prematurely when Christopher Bell spun, triggering a caution. Elliott would hold on to sweep both Stages of the Pennzoil 400.
Setback For Truex
While on pit road following Stage 2, the crew for Martin Truex, Jr. had a blistering-fast stop that got the 19 out first. However, Truex would have to come in again for loose lug nuts on his left side tires. This costly mistake would put the 19 back to 27th. This issue for Truex would put Elliott and Ryan Blaney on the front row for the restart to kick off the final stage.
On the restart Blaney would get the jump over Elliott with a push from Logano. However the 12's time out front was short-lived, as Logano made the pass by turn three. As the pack was five wide at times, the 38 of John Hunter Nemechek would spin, bringing out a quick yellow.
Compounded Issues for the 19
The restart following Nemechek's issue would also kick off a very brief green flag run. Just five circuits later on lap 176, the 19 of Truex found the turn four wall. Truex had cut his tires after contact from Kurt Busch. A promising day for the entire No. 19 team was eradicated, as Truex would only recover to finish 20th.
Logano would fall back on the ensuing restart, as a big push from Jimmie Johnson gave Ryan Blaney the lead. Blaney would hold the top of the pylon for two laps until Harvick came blasting by again. Harvick's short-run car would only have control until lap 200, when Blaney got by the 4 again.
Near-Crash While Racing for the Lead
Blaney was not the only fast car on the rise, as Chase Elliott was right in the 12's tire tracks. The two best friends battling for the lead nearly turned catastrophic on lap 205, as Elliott got into Blaney's left rear in turn two and just about sent the 12 spinning. Both drivers remained pointed forward though, as the 9 sped off into the distance. As green flag pit stops neared, the 9 looked untouchable.
Elliott's Wining Chances Dashed
Shortly after coming in for his service, Elliott was racing hard against Logano for what would eventually be the lead. Going into turn one, the 9 felt he had an issue and spun on lap 221. A flat left rear tire from a broken valve stem was the culprit. With under 50 laps left, the dominant car of the day had his shot at the win eliminated. Elliott did his best to stay out of the wall, and would be able to continue. Though far from the win the 9 team expected, Elliott did bring his Napa machine home in 26th.
New Faces Up Front
Elliott's spin occurring in the midst of green flag pit stops set up an interesting restart lineup. Stenhouse, Nemechek, and free-pass Blaney would be the leaders when the green fell with 40 to go. With inexperienced drivers up front, Joey Logano and Kevin Harvick easily took the top two positions. Harvick's quick burst of speed would again fade away, as Blaney got by the 4 for second inside of 20 to go. However, the fastest man in town at this point would be the No. 88 of Alex Bowman. Bowman, on an alternate strategy, had the freshest tires among the front runners, and was chasing down the Penske duo.
Blaney would take the lead from Logano thanks to a slide job in turn three with just 12 to go. With nine to go, Bowman took second from Logano and set his sights on the 12. This run by Bowman would come to a screeching halt with a caution.
In his substitution role in the Roush-Fenway 6 car, Ross Chastain looped it out of turn two with just five laps to go. After a day that saw the 6 in the tenth to fifteenth range, Chastain's strong showing was over. This caution would set up a restart with two laps to go in regulation.
Miscommunication Gives Logano Position
Under this caution, Logano was told to pit if everyone else came in. As the field hit pit entry though, Logano was the first of seven to stay out, as most of the leaders came in. This miscommunication gave Logano the lead, but on much older tires. The defending winner of the Pennzoil 400 would have to use every trick in his book to hold on for a second-straight win.
Madness Restart Gives Logano Win
On the restart, second place William Byron began smoking as they took the green. Stenhouse gave Logano enough of a push for the 22 to clear for the lead in turn one. By the time the field roared to the white flag, a large crash ensued behind Logano. Erik Jones would pinch off the free-falling Byron into Blaney while in a four-wide situation. Multiple cars piled into the melee, forcing NASCAR to throw the yellow flag. The leaders were in turn one, but the race was over. Joey Logano would secure his second-straight victory in the Pennzoil 400.
Logano's Reaction to the Win
"There was a little confusion, but it worked out really well," Logano said. "A lot of cars stayed out and that was key to that move. Winning the Pennzoil 400 with the Pennzoil car, this is huge. It means a lot to be able to do this two years in a row winning this race. I'm proud of the effort everybody here behind me did today. They prepared a great car and executed the race perfectly and that's what we wanted. We fought hard and tried to keep every spot we possibly could and then ultimately, oh man, being able to pull it into Victory Lane here."
This win for Logano is the first of 2020, second at Las Vegas, and 24th victory of his career. Logano has now won at least one race in each of the last nine seasons, and is locked into his seventh Playoffs. The Pennzoil 400 also marks Logano's first win since Michigan last June, a span of 23 races. This Las Vegas win for Team Penske also comes just days after 'The Captain' Roger Penske turned 83-years-old.
Top 10 Results from Pennzoil 400
Career-Best Again for Matty D
Tying his career-best result immediately behind Logano was Matt Dibenedetto. In only his second start with Wood Brothers Racing, Dibenedetto has already-equaled his best finish of second. A win in the near future would be huge for Dibenedetto and the 21 team, as it would be Wood Brothers Racing's 100th win.
Gamble Pays off Partly for Stenhouse
After leading laps under two separate pit stop cycles, Ricky Stenhouse, Jr. came home in the third position. While it's not the Playoff-securing win that the 47 team was aiming for, this result is still a step in the right direction for JTG. Stenhouse and Pattie will be cunning all season long, trying to steal a win and a postseason berth.
Dillon Leads Strong Day for RCR
A strong day for both RCR cars ends up with Austin Dillon in the fourth spot. This marks the elder Dillon's best result at Las Vegas, and first top five since Michigan in 2018. After major off-season personnel changes, this result is a win for RCR.
Top Five a Sign of Things to Come for 7-Time?
Despite scrubbing the wall late, Jimmie Johnson was able to rebound to a fifth place result in the Pennzoil 400. This is Johnson's first top five since Daytona last July. With a strong run at both Daytona and Las Vegas, can the 48 of old return and give Johnson another win? Johnson will hope to continue this momentum next week at his home track.
A Win for Wallace, 43 Team
A nice surprise in the top 10 at the finish was Bubba Wallace in sixth. The Petty 43 Camaro was the beneficiary of many leaders pitting under the last caution, and came home with one of their best results. For Wallace, this marks only his fifth top 10 in the Cup Series.
Keselowski Comes Up Short
While his teammates battled for the win, Brad Keselowski had a myriad of issues throughout the day. Over the course of the final run in Stage 1, the 2 went from running sixth to 17th. Keselowski spent much of the remainder of the Pennzoil 400 recovering his lost position, and only came home in seventh. This was far from the finish the three-time Vegas winner wanted.
Status-Quo for Larson
Kyle Larson brought his Chevrolet home eighth after a solid race for the 42. Larson was one of six Camaros in the top ten, as the newly designed car seems to be paying off already.
Harvick Fades Late
After fading late, Kevin Harvick dropped all the way to ninth. Harvick led a race-high 92 laps, but suffered from a car setup for shorter runs. The 4 team seems to be firing on all cylinders, as they had tons of speed to kick off stints.
Upset Top Ten for Ty Dillon
Another upset in the top ten was tenth place Ty Dillon. The No. 13 Geico Camaro also gained spots when most of the leaders came in, and held on for a great result. For Dillon, this is his fifth career top ten and first not on a superspeedway.
Championship Points Standings
After two weeks of the Regular Season, Ryan Blaney is the points leader by three markers over Logano. Logano and Hamlin are also both virtually locked into the Playoffs with their wins. Harvick, Larson, and Stenhouse round out the top five in the standings after the Pennzoil 400.
How to Watch the Next Race
Race three of the 2020 NASCAR Cup Series season will be the Auto Club 400, from southern California's two-mile Auto Club Speedway. Coverage will be next Sunday, March 1, at 3:30 PM EST on FOX, MRN, and SiriusXM NASCAR Radio Channel 90. Kyle Busch is the defending winner of this event, as he looks to rebound from an unusually-off Pennzoil 400. The rest of the contenders will have something to say though, as everyone wants to be California dreaming in victory lane.
Written by Peter Stratta
Be sure to follow us on YouTube and Twitter.
Be sure to follow the writer on Twitter.
Photo credit to NASCARMedia