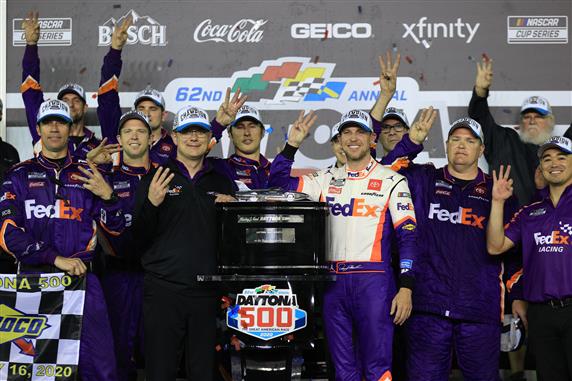 Ryan Newman's Scary Crash Overshadows Denny Hamlin's Third Daytona 500 Triumph
Even though Denny Hamlin made history with his third Daytona 500 win, the focus of the racing world was not on him. Coming to the checkers, Ryan Newman got turned from the lead and hit while airborne. Amazingly, Newman is out of Halifax Medical Center in Daytona as of Wednesday night. While Newman's crash and condition is certainly at the forefront of everyone's mind, we will recap the 62nd Daytona 500 and give full context of the crash involving Newman's No. 6 car.
Rain Pushes 500 to Monday Evening
A chamber of commerce day and near-capacity crowd were present on Sunday at Daytona International Speedway. History was made pre-race, as President Donald J. Trump gave the command and paced a lap in 'The Beast' limousine. Once all of the pomp and circumstance was over, the green flag finally fell over Ricky Stenhouse, Jr. The polesitter in the No. 47 Chevrolet led for all 20 laps raced before rain came. After multiple attempts to dry the track, it was announced that the 500 would resume on Monday evening at 4 PM.
Ford, Chevrolet Lead Way in Stage 1
When racing finally resumed almost 24 hours later, Stenhouse lost the lead after a lengthy pit stop. As Stage 1 wound down, it was a back-and-forth battle between Brad Keselowski and Aric Almirola. In spite of the Ford teamwork at the front of the pack, the Chevrolets of Hendrick Motorsports started marching forward. The Chevrolet strategy was slightly derailed with a caution on lap 60. William Byron's No. 24 turned off of Stenhouse's nose going down the backstretch. One bullet was gone from the Camaro teams. Stage 1 would then end with a three-lap shootout. Chase Elliott's Napa No. 9 would hold off all challengers to take the Stage 1 win.
Toyota Teams Take Charge in Stage 2
When the race restarted for Stage 2, defending Daytona 500 Champion Denny Hamlin was on point. Hamlin would end up leading all but one lap in Stage 2, as he had Toyota teammates helping hold the competition at bay. The four Joe Gibbs Racing Toyotas along with the Leavine Family Racing No. 95 were up front and in contention. At one point all five Toyotas made up a five-car breakaway leading the field. At the end of Stage 2, Hamlin held on over Kyle Busch.
Kyle Busch Joins the Melee Up Front
When the final Stage went green, it was Kyle Busch who quickly took the lead. Busch, looking for his first Daytona 500 win, came to life at the start of the last Stage. Busch was able to inherit the lead after the pack went three-by-three wide. The No. 18 M&M's Toyota held a spot among the front-running pack with help from Denny Hamlin. Busch and Hamlin were helping each other in tandem, and more Toyotas quickly lined up behind them.
Busch's time up front would end on lap 148, as Brad Keselowski retook the lead with a monster push from Ryan Blaney. With 50 laps left, it was a race between Keselowski and Busch.
Penalty for Pre-race Favorite
Lap 157 would see one of the fastest men in Daytona incur a penalty, and wipe away his shot at the win. Ricky Stenhouse, Jr. dipped his left side tires below the yellow line to pass a slower Ryan Blaney entering turn three. Stenhouse would make his way onto pit road to serve his pass-through penalty on lap 163, as he would only rebound to finish 20th.
With the fuel-window for the finish open on lap 170, everyone made their way into the pits for their final planned service. All of the Fords and Toyotas would stop on lap 170, while the Chevrolet bow tie brigade came in three laps later. This cycle of pit stops would see Kyle Busch regain the top spot. Busch led a 14-car breakaway up front who only took two tires, while the remainder of the lead lap cars all had four fresh tires.
Also during this pit stop cycle, Stenhouse's issues compounded as he was rammed into on pit entry. Erik Jones plowed into the No. 47 at full speed, causing the polesitter to spin out. However, this exchange would not trigger a yellow flag.
Busch Loses Lead, Engine Expiration Soon Follows
When the four-tire pack caught the leaders, Keselowski found his way back to the front. The pack went four-wide as the race was on and drama was at an all-race high. Keselowski regaining the lead shuffled Busch out of the lead draft. Unluckily for the No. 18, he suffered a crippling engine as smoke billowed from his exhaust pipes. With 18 laps to go, the 18 car was about to go behind the wall.
First Big One Strikes Between Ford Leaders
The lap after Busch's engine issues started, the first major wreck of the night happened. Going into turn three, Brad Keselowski spun sideways after a bad bump from Aric Almirola. Keselowski's sliding Mustang would collect 15 other cars. This list included Jimmie Johnson, Kurt Busch, Martin Truex, Jr., Austin Dillon, and many more. Just prior to the yellow, Ryan Newman's No. 6 Mustang took the lead by a nose. This first big one would cause a brief red flag for cleanup.
Rash of Cautions Split Up Final 10 Laps
Racing would resume with nine laps left in regulation, and Ryan Newman's sights were clear for the restart. Newman's Ford would maintain the lead, but this run would only last three laps before a caution for a crash involving Reed Sorenson and Timmy Hill. Hill was the underdog driver of the week, qualifying through the Duels for the 500, as well as finishing third in Saturday's Xfinity race.
When the race restarted again with just four laps left, Denny Hamlin would pass Newman for the lead coming to two to go. By the time the pack hit turn one though, another big one struck. Ross Chastain's already-wounded No. 77 Chevrolet clipped the apron entering the corner, sending him sideways. Chastain would nail Ryan Preece and Joey Logano. Also collected were Tyler Reddick, Christopher Bell, Michael McDowell, and others. This crash would send the Daytona 500 into Overtime.
Restart Accident Triggers Second Overtime
In an incident reminiscent of last week's Busch Clash, a crash occurred when the field was roaring to life on a restart. Clint Bowyer shot right from the bottom lane after a bump from Michael McDowell. Bowyer would make contact with Justin Haley, and Haley turned back down into Bowyer. Bowyer would spin into the infield grass, also taking McDowell. This restart gone bad would lead into a second Overtime attempt.
Drama Unfolds Over Final Two Laps
On what would be the final Overtime restart, leader Denny Hamlin chose the outside line. This put Ryan Blaney behind him, while the Roush teammates of Newman and Chris Buescher would line up on the inside. On the restart, a big push from Blaney had Hamlin clear by turn two. However the race was far from over, as Hamlin pulled away from Blaney heading into turn three. This allowed Newman to catch back up to Hamlin's bumper at the white flag.
Heading into turn one for the final time, Chase Elliott tried to move up in front of Justin Haley. Elliott was not clear though, and spun himself off the 16's bumper. The 9 was able to get righted and continue though, so no yellow flag waved.
By turn two, Newman backed off of Hamlin to get a push from third-place Blaney. The Ford tandem had a huge run down the backstretch, as the 6 cleared before turn three.
Entering turn three, Blaney fell back from Newman and got a push from Hamlin. Even though Hamlin just about pushed Blaney hard enough to spin out the No. 12, the tandem caught Newman's bumper by the exit of turn four.
Contact Between Blaney and Newman
With less than a hundred yards left in the race, Blaney caught Newman with a surge of momentum. Newman threw a block on the 12, which in turn caused Blaney to make contact with the 6. The 6 was sent perpendicular across the track, and made heavy contact with the outside wall on the driver's side. This contact was massive enough to send the 6 airborne, into the path of innocent-bystander Corey Lajoie. Lajoie's No. 32 Ford made contact with Newman at full speed, hitting the No. 6 in the driver's side window. This sent Newman skidding down the track upside-down, with a shower of sparks and flames. Newman finally came to rest past pit exit, as he slid for a distance greater than a quarter-mile.
After contact with Newman, Blaney lifted off the gas, expecting a yellow. The yellow never came, and Hamlin beat Blaney to the line by just 0.014 seconds. For Hamlin, this win was his second-consecutive in the Daytona 500, and third in the last five years. This marks the second-closest margin of victory in the Daytona 500, only trailing Hamlin's 2016 victory over Martin Truex, Jr.
Hamlin's Reaction to Win, Concern for Newman
While Hamlin was initially celebrating his historic triumph, he was quickly subdued once he learned of Newman's condition. Hamlin and team owner Joe Gibbs both immediately apologized for the celebration, and voiced their thoughts and prayers for Newman. After being extricated from the car, Ryan Newman was rushed to Halifax Medical Center.
"I think we take for granted sometimes how safe these cars are," Hamlin said post race. "We're praying for Ryan (Newman). Worked really well with Ryan through this whole race. Obviously, he got turned right there. Proud of our whole FedEx team. I don't even know what to say, so unexpected."
Top 10 Results in the Daytona 500
The top 10 results from the 62nd annual Daytona 500 behind Hamlin were Blaney, Chris Buescher, David Ragan, Kevin Harvick, Clint Bowyer, Brendan Gaughan, Corey Lajoie, Ryan Newman, and Kyle Larson. Each driver this reporter talked to post race were voicing their concerns for Newman, as the race obviously took a backseat.
Denny Hamlin's third Daytona 500 win certainly has historical implications. He is the first driver to win 'The Great American Race' in consecutive years since Sterling Marlin in 1995. This marks Hamlin's 38th career win, his fourteenth winning season, and also his fourteenth Playoff appearance.
Latest Update on Newman
At the time of this writing, Newman is out of Halifax Medical Center. Monday night at the track was certainly a somber time, as news of Newman's status was not released until several hours after the race. Ross Chastain will be driving the Roush-Fenway No. 6 in place of Ryan Newman, as there is no timetable for his return. Continued thoughts and prayers should still be sent towards Ryan Newman, his family, and his team.
How to Watch the Next Race
Race two of the 2020 NASCAR Cup Series season will be this Sunday, February 23 at 2:30 PM EST on FOX from Las Vegas Motor Speedway. The first mile-and-a-half race of the season will be a true showcase of who is getting off to a strong start and who needs more work. The defending winner of the Pennzoil 400 is Joey Logano, as he won this event over teammate Brad Keselowski a season ago. Can Logano go back-to-back in Vegas? Tune in Sunday to find out, or follow TSJNASCAR on our social media channels. Also stay tuned for continued updates on Ryan Newman's health.
Written by Peter Stratta
Be sure to follow us on YouTube and Twitter.
Be sure to follow the writer on Twitter.
Photo credit to NASCARMedia