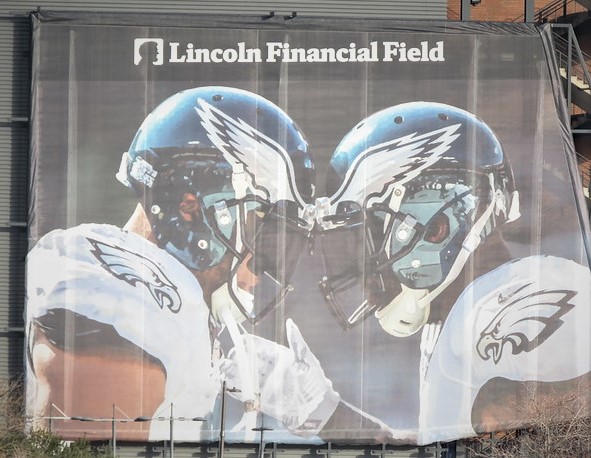 Ideal WR Targets For Philadelphia Eagles Entering the 2020 NFL Draft
The 2020 NFL Draft will display one of the highest-rated receiver classes of all-time. There have been five or six given first-round grades and several others deemed early second and third-day picks. It boasts quality throughout the draft. Today, we'll highlight some that are the best fits for the Philadelphia Eagles.
On paper, this was one of the strongest receiving core's in the NFL
Desean Jackson came home to Philly and lit the world on fire in his first game. He was injured and tried to return but was deemed out for the rest of the season. Desean had a monster game against Washington in the opener, suffered a core injury the following week.
Desean played just four snaps the rest of the way. Getting 65 offensive snaps all season out of Jackson was another scenario the Eagles couldn't have anticipated. Jackson also hasn't played a full 16-game slate since 2013. Desean may be the only one of the three of Carson Wentz's receivers that return for 2020.
Two Super Bowl Heroes On Their Way Out?
Nelson Agholor was showing signs of being a special player during the Eagles' Super Bowl run. He regressed to a time when he was simply in his own way and effected his overall play. Agholor became the brunt of fans alike for dropping passes, even being mocked by former firefighter Hakim Laws after rescuing a family from a 3 am. blaze.
His contract is up after Howie Roseman unwisely handed him an extension, which made him the 26th highest-paid receiver for the 2019 season. It's extremely unlikely that he will return.
Alshon Jeffrey was a model citizen upon signing with Philadelphia after leaving the Chicago Bears. Oft-injured but one of the best 50/50 ball receivers in the game. After leading the Eagles to their first Super Bowl Victory, reports came out that it was allegedly Alshon, who was the anonymous sounding board for members of the media ripping play calling, coaching, and more importantly, his star quarterback Carson Wentz.
Jeffrey's play declined in 2019 but there is definitely uncertainty that the Eagles' brass will bring Alshon back after Roseman gave him a fully guaranteed extension a season before. The Eagles may look to trade Alshon heading into the 2020 NFL season.
Philadelphia will look to add some depth and future starter and here are solid fits:
Denzel Mims
Mims was a star in the Big 12 after playing and contributing in all four years while at Baylor. He amassed 2,925 yards receiving on 186 catches over his collegiate career. He is a strong Day 2 candidate for a team looking to develop a starter at the X or Z receiver position. Talk about a huge catch radius, great release off the line and is a solid vertical threat.
One of the most explosive athletes in college football who also has strength throughout his frame and would be a steal in the middle rounds.
Please watch Denzel Mims tear it up at the Senior Bowl
Jalen Reagor
What can we say about Reagor? He's been a star ever since he's stepped on the field at Amon G. Carter Stadium for Texas Christian University. He was used on gadget plays, end around, screens…any way to get this man the ball as a true freshman. Coach Gary Patterson recognized Reagor's speed and ability early on and Jalen became a legit playmaker for the years to come.
Coming out of high school in 2017, Jalen Reagor was ranked as the number six receiver in the nation per ESPN, earning a four-star rating from 24/7 Sports. As a freshman with the Horned Frogs in 2017, Reagor saw modest production with 33 receptions for 576 yards and eight touchdowns. The following year, he broke out with 72 receptions for 1061 yards and nine touchdowns. Reagor earned Second-Team All-Big 12 Honors and the attention of draft scouts.
Now, imagine getting the upside of what we saw from Nelson Agholor during the Super Bowl run consistently out of Reagor? The possibilities are endless and can seem to be a perfect pairing. Reagor saw his production drop during his Junior campaign due to borderline subpar quarterback play but this young man will be productive for years to come and would be an ideal fit for Carson Wentz.
The Philadelphia Eagles stand to add value throughout the draft. They have seven selections (projected to be 10 with the Comp picks added for veterans lost). Howie Roseman has the daunting task of adding contributors right away.
Written by John Monroe, Jr.
Follow John and TSJ101Sports on Twitter!
Photo credit to Glenn Davis via Flickr

Follow TSJ on YouTube and Twitter