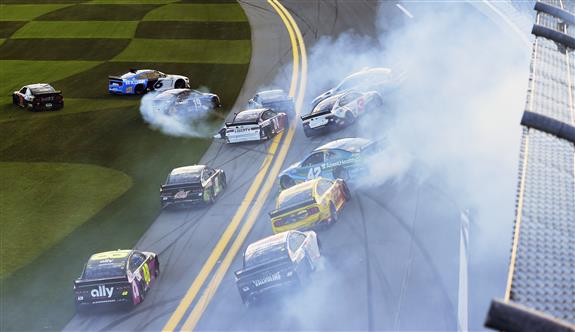 Erik Jones Wins Attrition-Filled Busch Clash at Daytona to Kick Off 2020 Season
After Sunday's Busch Clash, the infield at Daytona looked more like a junkyard than a racetrack. After an exhibition race that saw all 18 drivers involved in at least one accident, Erik Jones stood tall as the winner. Jones won after a last-lap push from his teammate Denny Hamlin, although the #11 was a lap down. Jones did deliver Joe Gibbs Racing their record-extending ninth Busch Clash win. However, this race will be remembered more for the carnage that ensued.
Calm Before the Storm
For the opening 65 circuits of the Busch Clash, the only caution was a lap 25 competition yellow. Erik Jones would also slide through his pit stall under an early stop. This would leave him as the only car off of the lead lap at this time. Thanks to well-timed yellows though, Jones would get back in the lead pack.
With 10 laps to go the field was split into two separate packs: the lead group who pitted on lap 24 prior to the yellow, and the second group who was trying to stretch their fuel. Brad Keselowski led for much of the early duration. However Joey Logano was leading a train of Chevrolets when Keselowski's pack caught back up on lap 66.
With Keselowski charging hard to regain lost ground, Denny Hamlin hooked together with his teammate Kyle Busch. As Busch and Hamlin caught Logano for the lead, the #22 tried blocking each of the #18's runs. This turned costly for Logano, as his block on Busch went bad in turn 3. Logano spun from the lead, collecting Busch, Keselowski, and damaging others.
Afterwards, Keselowski called this exchange "Just a dumb move. There is no reason to make that move. It was never going to work and it didn't. Here we are. We are wrecked out of the race." Keselowski was less than pleased with his teammate Logano, he called the 22's defensive driving "Dumb, dumb racing. Dumb moves being thrown out there. Guys don't know what they are doing so they throw crazy blocks. It is just ridiculous." The coming days will certainly be interesting to see if the tensions between Keselowski and Logano diffuse.
Restart Gone Array Further Slashes Contenders
Coming to the green to restart on lap 73, another major crash would take place. Both Ryan Newman and William Byron took synchronized spins. Since the #6 and #24 were second and third in the outside lane, their sliding cars tagged several others. Martin Truex, Jr., Alex Bowman, and many more innocent bystanders were involved. This restart would only be the precursor to the chaos that would strike the next time the field hit turn 3.
Tire Lets go at Worst Moment
The botched restart would set up a first attempt at NASCAR Overtime. When the field roared into turn 3 on lap 78, leader Denny Hamlin's left rear tire gave way. The Fedex #11 went spinning ahead of the pack, tagging ten more competitors. Hamlin was being shoved aggressively down the backstretch by Chase Elliott. The heavy shove could have cut Hamlin's tire. This incident would trigger a seven-and-a-half minute red flag. After the major carnage cleanup concluded, a second attempt at Overtime was underway.
Overtime Attempt #2 Doesn't Last Long
With the field even further reduced, the green flag fell on Overtime attempt #2 on lap 83. Once again, the race would not last under green flag conditions for a lap. Another crash would strike in turn 3. After a huge shove to the front by Chase Elliott, Kyle Larson spun. Larson would collect Elliott and Erik Jones in the fray. Amazingly, Larson's car suffered minimal damage and the #42 continued onward.
Third Time's the Charm for Finish
For the third and final attempt at Overtime, Austin Dillon's nearly-spotless #3 Chevrolet led the five other remaining cars to the green. Ryan Newman quickly passed Dillon, and the #6 held on to lead as the white flag fell. Behind Newman and Dillon, the heavily damaged #20 of Erik Jones found help from the lap-down Denny Hamlin. Hamlin pushed Jones all the way down the backstretch and into turn 3, clearing Newman and Dillon. Even with his nose punched in and taped together, Erik Jones held on to win with the assist from Hamlin.
Jones' Reaction to Hectic Race
"Well, not what I would've thought we'd want," Erik Jones said after the race. "It was an awesome race. I've got to give a huge thanks to Denny (Hamlin) there in the 11. He stuck with us there that whole last lap. This thing wasn't the fastest car, I don't think, left in the race, but we brought it home. I owe him one for that one for sure. Really cool though. I mean Busch Clash first year back, to win that, that feels good and with SportClips again. These guys have been really loyal to me the last few years, so it's cool to get them another win and hopefully next Sunday, we cap off another one right here."
Top 10 Results
Behind Erik Jones at the checkers would be Austin Dillon, in the cleanest car at the finish. Clint Bowyer, Kyle Larson, and Ryan Newman would round out the five cars on the lead lap. Denny Hamlin would finish in sixth despite taking the checkers right behind Jones, as he was a lap down. Chase Elliott, Ryan Blaney, Joey Logano, and Aric Almirola would round out the top 10 positions in the Busch Clash.
The first weekend of Daytona Speedweeks was capped off with the Busch Clash, but it was not the only racing of the weekend. On Saturday night, Michael Self won the season-opening race in the ARCA Menards Series for the second time. Hailie Deegan would also finish a close second in her Daytona debut. Also on Sunday, Ricky Stenhouse, Jr., and Alex Bowman locked up their front row positions for the Daytona 500. Brendan Gaughan and Justin Haley also clinched two of the open spots. The next time cars hit the track at Daytona will be Thursday night for the Duel races, which TSJNASCAR will be covering on-location. Be sure to stay tuned to all of our channels for all things Daytona Speedweeks, as the 500 gets ever closer.
Written by Peter Stratta
Be sure to follow us on YouTube and Twitter.
Be sure to follow the writer on Twitter.
Photo credit to NASCARMedia