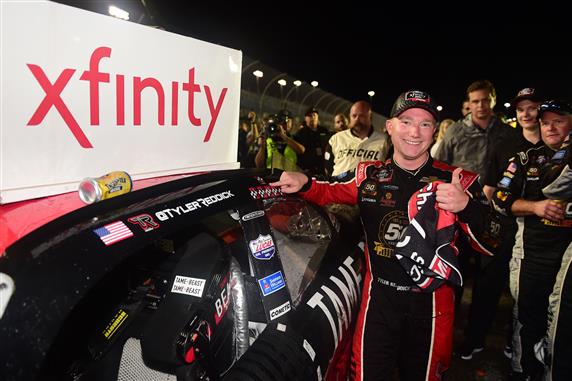 New Faces in New Places as we Enter Daytona Speedweeks
This weekend marks the start of the 2020 NASCAR season. As the haulers file into Daytona International Speedway, many Cup Series teams have been shaken up. Before cars hit the track on Saturday, here is a final look at the new faces in new places. With 2020 being an especially pivotal year for NASCAR, how will the silly season shuffling of drivers, crew chiefs, and teams pan out? Can any one new combination have even more success than others?
New Drivers in the Cup Series
Christopher Bell
Fresh off another highly successful NASCAR Xfinity Series season, Christopher Bell is finally moving to the Cup Series. Bell will take over the No. 95 Toyota Camry for Leavine Family Racing as Matt Dibenedetto was released from the team. With this move, LFR gains a stronger relationship with Joe Gibbs Racing. This should help improve consistency in finishing races for the team. Bell comes into the Cup Series with a lot of focus, but can he parlay his hype into a successful rookie year?
Cole Custer
Cole Custer is another driver making the jump from Xfinity to Cup in 2020. Custer takes over the No. 41 Ford Mustang for Stewart-Haas Racing, replacing Daniel Suarez. With a career-high seven wins in last year's Xfinity campaign, Custer will be in optimal equipment to go for his first Cup win this season.
Tyler Reddick
Fresh off his second Xfinity Series championship, Tyler Reddick also makes the leap into the Cup Series. Reddick will drive the No. 8 Chevrolet Camaro for Richard Childress Racing as Daniel Hemric moves back into the Xfinity ranks. It will be interesting to see if Reddick can help improve the Cup Series performance for RCR this season.
Along with Bell and Custer, Reddick completes the trifecta of hotshot rookies in the 2020 Cup Series. A year ago these three drivers made up the 'Big Three' in Xfinity, as they all won multiple races. One of these new faces will win Rookie of the Year at season's end, it should be a hard fought battle all year. 2020 is shaping up to be the most stacked and hyped rookie class in nearly 20 years.
John Hunter Nemechek
After just one full-time Xfinity Series season, John Hunter Nemechek will join Front Row Motorsports in 2020. Nemechek ran the final three races of 2019 with the team as Matt Tifft was sidelined after suffering a seizure. Nemechek will pilot the No. 38 Ford Mustang.
Brennan Poole
Brennan Poole will make his first Cup Series start in Daytona 500. He will drive the No. 15 Chevrolet for Premium Motorsports full-time this season. Poole has several years of past experience in both the Xfinity and Truck Series, as he finished second in the Charlotte Truck race in 2019.
Drivers On The Move
Matt Dibenedetto
As mentioned, Matt Dibenedetto was released from Leavine Family Racing following the 2019 season. Last season was Dibenedetto's best year to date. He led the most laps in the Daytona 500 and also finished second in the fall Bristol race. However, as one opportunity closed for the Grass Valley, California driver, another opened. This season Dibenedetto will pilot the iconic No. 21 Ford Mustang for Wood Brothers Racing. With a healthy Penske alliance, Matt is arguably in the best equipment of his Cup Series career.
Daniel Suarez
Daniel Suarez was another driver released following the 2019 season. As Daniel moves on from Stewart-Haas Racing, he will find his new home with Gaunt Brothers Racing. This will be the first time GBR will attempt a full season and the team doesn't have a charter.  Maybe Suarez, now in his 4th Cup Series season, will help shape this team into contenders.
Chris Buescher
Chris Buescher has joined Roush-Fenway Racing for the 2020 season. Buescher replaces Ricky Stenhouse, Jr. in the No. 17 Ford Mustang after racing with JTG-Daugherty Racing for three years. The switch reunites Buescher with his 2015 Xfinity Series championship-winning team. With the underrated performance Buescher brought the 37 team, can he have likewise results at Roush?
Ricky Stenhouse, Jr.
Ricky Stenhouse, Jr. will make his first-team switch since 2008. After climbing the NASCAR ranks with Roush-Fenway Racing, Stenhouse was released by the team following the 2019 season. With the door open at JTG-Daugherty Racing, Buescher and Stenhouse did a seat swap. Now Stenhouse will compete in the No. 47 Chevrolet Camaro for the team.
Other Notables
Joey Gase and J.J. Yeley will each compete full-time with Rick Ware Racing. Timmy Hill also plans to race full-time with MBM Motorsports. In addition to the stacked rookie class, Quin Houff will run full-time with StarCom Racing. Ryan Preece will also stay with JTG-Daugherty, but switch from the No. 47 to the No. 37.
Crew Chief Changes
Drivers aren't the only new faces in new places. Many crew chief roles have also been shaken up ahead of Daytona. Several teams will likewise have new faces calling the shots from atop the pit box.
Justin Alexander
Justin Alexander and Austin Dillon have reunited for the 2020 NASCAR Cup Series season. The duo was together for the 2017 and 2018 seasons before Danny Stockman took the helm in 2019 but resigned from the role following the season. Now as they are once again paired up, both are looking to further their previous success. Dillon won in his first outing with Alexander in both Xfinity and Cup.
Jerry Baxter
Jerry Baxter moves from the Gander RV & Outdoors Truck Series pit box at GMS Racing to the NASCAR Cup Series pit box for Richard Petty Motorsports. Furthering the reunion trend, Baxter and Darrell Wallace, Jr. are working together for the second time in their careers. Baxter once called the shots for Wallace in the Truck Series and now looks to improve upon that success in Cup.
Mike Bugarewicz & Johnny Klausmeier
Stewart-Haas Racing is the first of a few major teams to have internal crew chief swaps. Mike Bugarewicz and Johnny Klausmeier will swap drivers for the 2020 season. Bugarewicz, formally with Clint Bowyer, will now call the shots for Aric Almirola. Likewise Klausmeier, formerly with Almirola, will now call the shots for Bowyer.
Todd Gordon, Jeremy Bullins, & Paul Wolfe
Similarly to SHR, Team Penske has decided to completely shake up their driver-crew chief pairings. Gordon, formerly with Joey Logano, will now call the shots for Ryan Blaney. Wolfe, formerly with Keselowski, will now call the shots for Joey Logano. Bullins, previously with Blaney, will now call the shots for Keselowski.
James Small
One of the bigger shocks of the NASCAR off-season was the retirement of Cole Pearn. Pearn was crew chief for Martin Truex, Jr. for five NASCAR Cup seasons but has decided to step away for more family time. This leaves very big shoes to fill and James Small is up for the challenge. Small previously served as the lead engineer for the No. 19.
Dave Winston
Dave Winston was most recently a race engineer for Richard Childress Racing. He will now take on the role of crew chief for Daniel Suarez at Gaunt Brothers Racing. With a new full-time team, Winston and Suarez certainly have their work cut out for them.
Ryan Sparks
Ryan Sparks was also a past race engineer for Richard Childress Racing but will now serve as crew chief for Corey Lajoie at Go Fas Racing. The team will be one to watch as they begin a new alliance with Stewart-Haas Racing.
Mike Shiplett
Mike Shiplett served as crew chief for Cole Custer in the 2019 NASCAR Xfinity Series season. This season he will make the jump to NASCAR's Cup Series with Custer by serving as crew chief for the No. 41. Shiplett is another highly successful Xfinity crew chief getting a shot in the Cup Series for 2020.
Jason Ratcliffe
Jason Ratcliffe will re-enter the Cup Series as crew chief for Christopher Bell. Ratcliffe served as crew chief for Bell over the past two Xfinity Series seasons. Ratcliffe's veteran knowledge in the Cup Series will be in contrast to Bell's inexperience. The two have had much success that they hope to expand upon. Ratcliffe's previous tenure in the Cup Series was with driver Matt Kenseth.
Brian Pattie
Brian Pattie will move to JTG-Daugherty Racing with Ricky Stenhouse, Jr. this season. The two have been paired up since 2017. Pattie has been at the helm for each of Stenhouse's wins at Talladega and Daytona.
Luke Lambert
Luke Lambert was most recently the crew chief for Daniel Hemric at Richard Childress Racing. Lambert will now call Roush-Fenway Racing home since he now sits atop the pit box for Chris Buescher.
Randall Burnett
Randall Burnett will move into NASCAR's top level with Tyler Reddick. The two look to continue success following a championship season in the 2019 Xfinity Series season. Along with Burnett, Reddick's entire Xfinity Series pit crew will also move with him to the #8. This is part of a major restructuring at RCR.
Who is the Magic Combination for 2020?
With all of these noteworthy changes, who do you think will strike gold in 2020? Will it be the defending Xfinity Series champion Tyler Reddick? Can success go to the seasoned driver of Matt Dibenedetto? No matter who, we're in for what's leading up to certainly be a great season of racing.
Written by Noah Lewis
Be sure to follow us on YouTube and Twitter.
Be sure to follow the writer on Twitter.
Photo credit to NASCARMedia.