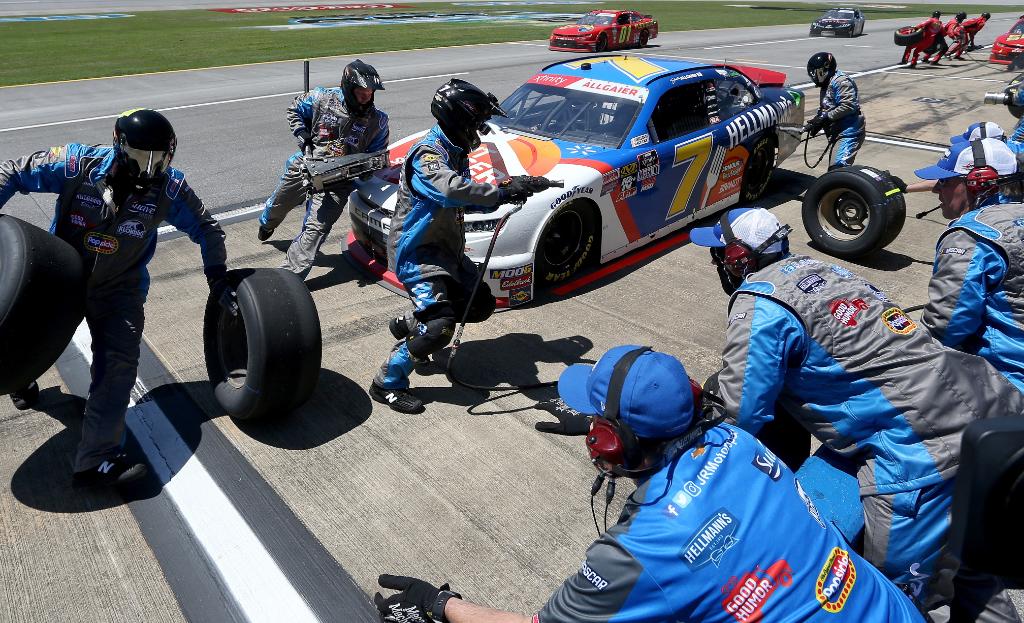 No More Live Pit Stops for Select Standalone Xfinity and Truck Series Races in 2020
On Tuesday NASCAR announced major changes for a few races in 2020. In four Xfinity and three Gander Outdoors Truck Series races, teams will not engage in live pit stops. Rather the field will freeze under caution flags, and teams will have a time allotment to complete service. This move will curb spending teams face by flying pit crews to standalone events. In addition, these changes will hopefully level the playing field for smaller teams and help them earn better results.
Which Races will Not See Live Pit Stops
The Xfinity races which will be affected by these changes are: Mid-Ohio Sports Car Course (May 30), both races at Iowa Speedway (June 13 and Aug. 1) and the event at Road America on Aug. 8. For the Truck Series, these changes will take place at Iowa on June 12, Aug. 21 at Gateway, and Sep. 6 at Canadian Tire Motorsports Park. The latter two races for the Truck Series are also the opening races of the Playoffs.
Procedural Changes Explained
Under caution flag conditions, all teams may elect to pit under frozen-field conditions. Positions will not change on pit road, as each team will have a certain time limit to perform service. Allowed over the wall will be six crew members: four to service the car, a fueler and a driver assist. Each of these crew members will come from the team's eight-man roster.
While on pit road at ovals under stage breaks, teams can elect to either get fuel and two tires or just four tires. Teams will have the option to pit again to complete service. For road courses, pit stops may be for four tires or to refuel. Non-stage break cautions will also offer two opportunities for teams to pit. Optional quickie yellows however will have only one designated lap for pitting. All pit stops must be completed in a designated time period. The time will begin and end at each yellow line on pit road. This time period will vary by each track and length of pit road.
For restart lineup orders, teams who do not pit will inherit the top positions. Up next will be teams who pitted once, then cars that pitted multiple times. Behind them will be the free pass recipient, wave arounds, and lastly any penalty vehicles.
Green Flag Pitting Circumstances
Teams will only be able to pit under green flag conditions at NASCAR's discretion. NASCAR will have to determine if a car has sufficient damage in order to change tires. "Under green, if you have a tire issue, you will be allowed to come in and pit under green and change tires," said Xfinity Series Technical Manager Eric Peterson. "NASCAR will just verify the fact that you did have a tire issue. But if any sort of tire issues arise or damage or a loose wheel, you will be allowed to change tires under green for any of those scenarios." At each of these races, stage lengths will be adjusted to eliminate the need to pit for fuel under green. Green flag pit stops will have no time limit. This excludes teams on the six-minute Damaged Vehicle Policy clock.
Purpose Behind These New Rules
"The standalone events, any events for the Gander Truck Series and the Xfinity Series that are not with Cup present some challenges from a logistical end on doing a pit stop," Peterson stated. "This is a way to alleviate the burden the teams have with performing pit stops at the races that are not companion events to the Cup Series. And both the Gander Trucks and the Xfinity Series share the same issues at those events, so that's why it included certain events for both series instead of just doing it in one of the series."
JR Motorsports Competition Director Ryan Pemberton had the following outlook on how these changes will influence parity. "I think from a strategic point, from a crew chief's point of view, it puts more people in play, and it should be broadened — the competition, how many guys could be in the top 10 on a regular basis and have more opportunities. And then from a logistics standpoint, it helps out, too, as far as the people and moving people across the country."
Can More Races See These New Rules?
While these new pit stops are featured at each standalone Xfinity race, there are two exceptions in the Truck Series. Texas in June and Eldora in July will have normal operating procedures. "We're definitely using it as a trial and something that we can take a look at with these events and analyze it and go from there," Peterson says. "There's no imminent plans to do anything beyond what we're doing right now, but just like everything, we try to look all the time at how we can make it better for our fans and we're going to use these events to see how it plays out and analyze the results to look at for the future."
While all of these changes do sound confusing on paper, the execution of these changes will be much more simpler. The Mid-Ohio race in May for the Xfinity Series is the first race for these new pit stops. TSJNASCAR will hopefully be on-location to provide coverage of all of the action that day. These pit stop changes will only effect a total of seven of 56 combined Xfinity and Truck Series races for 2020, so their impact will be minimal. With the new year, racing is certainly getting ever closer on the horizon. Be sure to stay tuned to TSJNASCAR for all continued off-season news.
Written by Peter Stratta
Be sure to follow us on Youtube and Twitter.
Be sure to follow the writer on Twitter.
Photo credit to NASCAR via Twitter