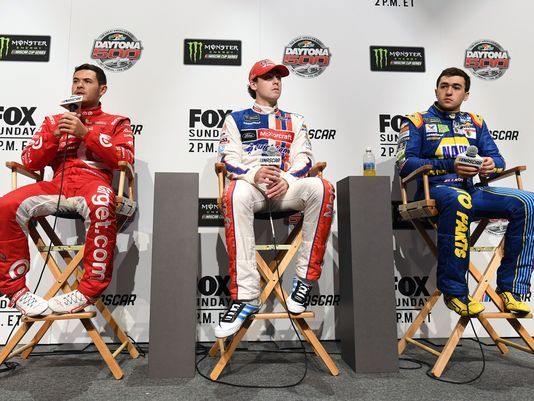 10 Cup Drivers to Watch out for in the Next Decade of NASCAR
A new decade of racing is on the horizon. A chance is here for one or several young drivers to define this era of NASCAR Cup Series racing. The past decade was certainly the era of Johnson, Busch, Harvick, Keselowski, and others. Will part of NASCAR's newest generation of talent make the 2020s their own time to shine? Let's take a look at ten young drivers who could elevate their game to all-star levels in the coming seasons.
Chase Elliott
In some aspects, Chase Elliott already is a superstar-level driver. He is already a six-time Cup Series race winner, two-time Most Popular Driver, and has made deep Playoff runs in each of his four seasons. What is keeping the second-generation driver from the next stage, contending for championships? In the 2019 Playoffs it was certainly a case of bad luck. In the Round of 8, mechanical issues and self-inflicted errors caused the #9 team to have three-straight sub-30th place finishes. With so few bonus points to fall back on from the Regular Season, Elliott exited the Playoffs after this round.
Can Chase Elliott rise up to the challenge and contend for Cup Series titles in the coming years? With more experience under the 24-year-old's belt, his prowess and ability at managing a full season will only improve. He has fought tooth and nail for a Championship 4 spot in previous seasons. This Hendrick Motorsports team is more than capable of mounting title runs throughout the next decade.
Kyle Larson
The other six-time Cup Series winner on this list, Kyle Larson reemerged in 2019 after ending his long losing streak at Dover in October. This timeliest of wins helped propel Larson to a career-best sixth-place points finish for 2019. As questions surround Larson's future with Chip Ganassi Racing after 2020, can the #42 team have another breakout season like 2017? Two years ago, Larson scored four wins, 20 top-10s, and over 1300 laps led. Larson was a strong title contender until the Round of 12.
If Larson's team can continue to bring fast cars to the track on a weekly basis, then expect the #42 to visit victory lane regularly in 2020. The addition of Kurt Busch's veteran presence to Ganassi has elevated both teams. The elder Busch has helped refine Larson's raw talent. Larson came into the Cup Series with a lot of hype and excitement back in 2014. However, he has yet to deliver regular consistency. With the same rules package in place for 2020, Larson's adjustment to this style of racing should pay dividends on tracks such as Bristol or Chicagoland.
Bubba Wallace
Perhaps the most controversial name on this list, Bubba Wallace is a driver whose talent has not been on full display in the Cup Series. Wallace, 26, has been mired in the back half of the pack most weeks over the past two years in the underfunded Richard Petty Motorsports #43 Chevrolet. However, he has had a few breakout performances. This includes a runner-up in the 2018 Daytona 500, and a third-place run this past year at Indianapolis.
With sponsorship news coming in January, Wallace will likely have newer cars to race for 2020. It was in a brand-new car that Wallace placed third in this year's Brickyard 400. While Wallace will not become a race-winning driver overnight, this is a big step in the right direction for RPM.
Erik Jones
Already with three years of Cup experience behind him, Erik Jones seems primed to take the leap into a consistent winner. With one victory in each of the last two seasons, Jones has established himself as a regular Playoff threat. However, he's lacking in consistency and laps led against his three Joe Gibbs Racing teammates.
Can 'That Jones Boy' take the next step towards Cup Series stardom in 2020? The #20 Toyota is in desperate need of a more constant presence in the top-10. Jones scored 17 top-10s in 2019. That mark is only one off of his career-best season from 2018, as the 20 became consistent in the second half of the year. Jones also needs to stay out of trouble in the opening round of the Playoffs. Crashes in the opening race at Las Vegas have led to his elimination in each of the last two years. More consistency and just a little bit of luck will turn this 20 team back towards its winning ways.
Ryan Blaney
Despite setting career highs in top-fives (11) and top-10s (18), Ryan Blaney still only scored the lone win at Talladega in 2019. Since joining the Cup Series, Blaney has earned a single win in three of the last four seasons, with a best points finish of seventh this year. Blaney is distanced from his Penske teammates Keselowski and Logano though, as the two of them are consistent multi-race winners and championship threats. What is keeping Blaney from joining his teammates at this elite status? While Blaney's last two victories have come in the Playoffs, they have preceded rounds that the #12 team did not survive. Blaney is in need of more regularity throughout the early weeks and months of the year, to build up more of a points cushion. Should the #12 earn a win early in the Regular Season, that would only up their Playoff chances.
William Byron
One of the hottest young talents in recent memory, William Byron did everything but win in 2019. The 22-year-old sophomore driver made his first career Playoff appearance with new crew chief Chad Knaus. Byron's 2019 stats also included five top-fives, 13 top-10s, and five poles. What's next for the young Charlotte native and his seven-time champion crew chief? Wins. William Byron should enter 2020 with loads of confidence and speed, both of which should give him ample opportunity for his first career win. Byron was especially strong in last year's Daytona 500, so his first victory could be a matter of weeks away.
Alex Bowman
In his first year taking over the Hendrick #88 from Dale Earnhardt, Jr., Alex Bowman surprised many. He would make the 2018 Playoffs and the Round of 12. 2019 was much of the same, except the #88 went back to victory lane for the Arizona native's first career win at Chicagoland. Once again, Bowman made the Round of 12, only eliminated due to a Talladega crash while leading. Can the 88 team achieve even greater heights in 2020? If Bowman can continually improve at Hendrick, then along with Byron and Elliott he should help lead this organization to prominence again in the next decade.
Christopher Bell
The only driver on this list without a single Cup Series start, Christopher Bell enters the 2020 Rookie of the Year battle at a slight disadvantage. He will be making his Cup debut in under seven weeks in the Daytona 500. Bell feels as if he has as good of a shot as anyone to win the 500. But beyond that, Bell knows that there will be a steep learning curve adjusting to longer races at downforce tracks. Bell has set blistering paces over the past four years in both the Truck and Xfinity Series. He has a combined 23 wins and four-straight Championship 4 appearances.
In spite of this, Bell still might struggle to start off the next decade. His high crash frequency, adjusting to longer Cup races and the rules package all go against him potentially taking ROTY honors. Bell is a very bright young talent who will likely be a superstar within the decade, but he may be slow to show off any promising results.
Tyler Reddick
The two-time defending Xfinity Series champion, Tyler Reddick will make the jump into the Cup Series as a rookie. Reddick won nine times over three seasons in the second-tier series. This includes both of the last two trips to Homestead-Miami Speedway. Reddick made NASCAR history by winning back-to-back titles for different teams, and now is part of Richard Childress Racing's two-car Cup Series operation. Can the #8 team win two-straight ROTY titles? Reddick may be heading into 2020 as the favorite for this honor, as he already scored a top-10 in one of his Cup starts last season. With his wild and daring driving style, Reddick will likely be an entertaining driver to watch throughout the coming decade.
Cole Custer
Taking over Stewart-Haas Racing's #41 Mustang, Cole Custer ends his three year Xfinity career after nine victories. Custer steps into perhaps the best car of any rookie contender for 2020. Expect him to be in the mix weekly for strong results and the Rookie of the Year Award. As Custer matures into a Cup driver, his talent will be great to watch against the best of the sport for years to come. As the third man from the Xfinity Series' 'Big 3,' Custer makes the move up into Cup alongside both Bell and Reddick.
Honorable Mentions
While the ten aforementioned drivers will all be fun to watch grow and develop, there are some others to note. Matt Dibenedetto, Corey Lajoie and John Hunter Nemechek all fall into the young driver category too, but their equipment may hold them back.
For Matt Dibenedetto, he is taking over the famed Wood Brothers Racing #21 vacated by Paul Menard. This team last went to victory lane in 2017 with Ryan Blaney. They look to continue their streak of winning in each decade into the 2020s, as Dibenedetto hopes to earn the Wood Brothers their 100th victory.
Corey Lajoie will return to Go FAS Racing and the #32 Mustang for a second year. This time however, the 32 team will have a technical alliance with Stewart-Haas. With more advanced racecars, Lajoie's talent will be on better display as this team contends for top-20s.
Lastly, John Hunter Nemechek will be taking over Front Row Motorsport's #38 Mustang. Nemechek, 22, will be joining the Cup Series as a rookie, in an already-stacked class. While FRM is an underfunded team, Nemechek piloted an FRM car into the top-20 multiple times over the last three races of 2019. With Nemechek's talent for out-driving his equipment, he could upset in the #38.
The coming decade of NASCAR Cup Series racing is sure to be filled with great moments, talented drivers, and loads of career-making moments. Nobody is quite sure what the Next-Gen car will make racing look like past 2020. However, these young drivers are sure to make it a fun time to be involved in racing.
Written by Peter Stratta
Be sure to follow us on Youtube and Twitter.
Be sure to follow the writer on Twitter.
Photo credit to r/NASCAR via Reddit.