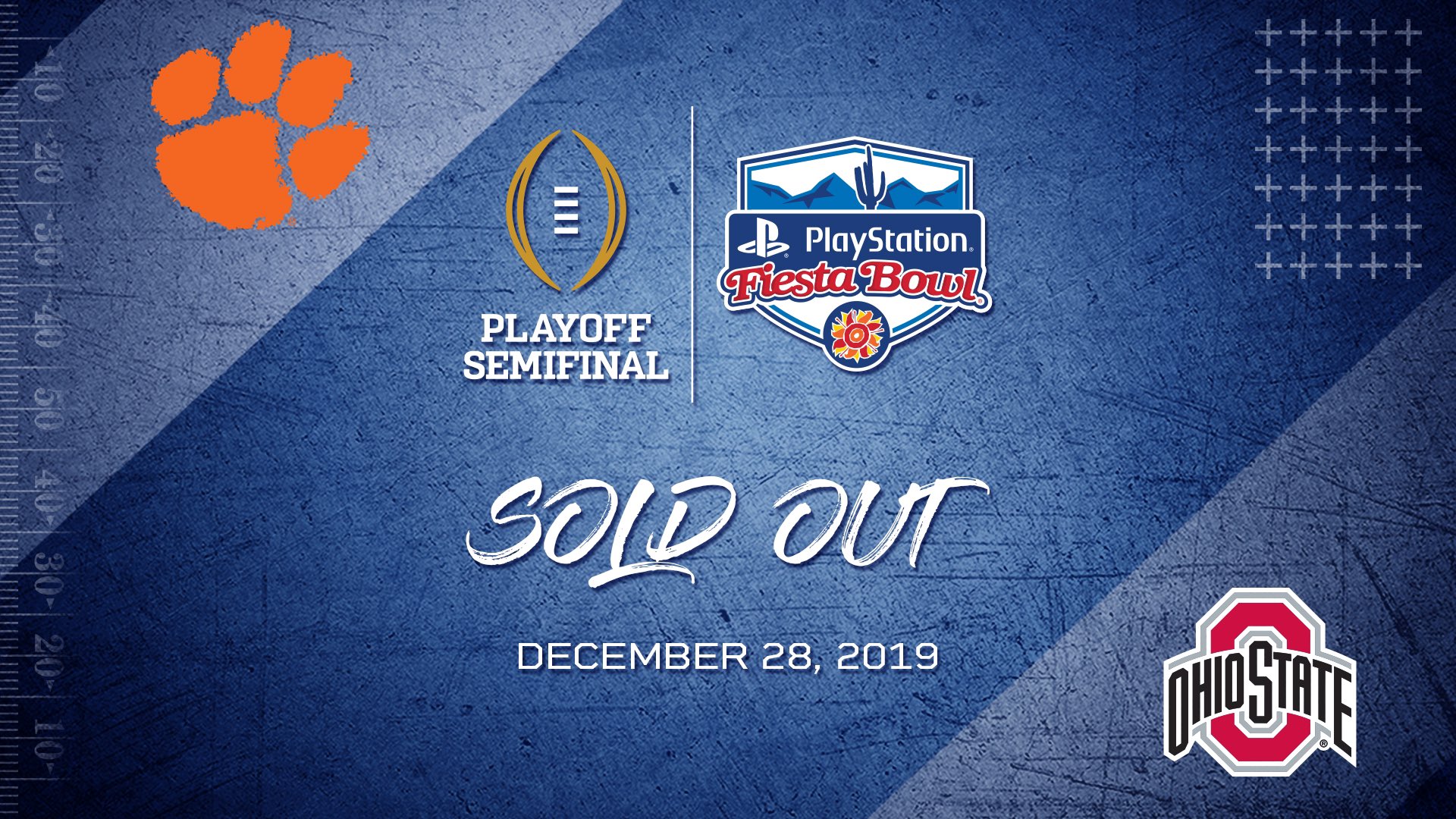 College Football Playoff: #2 Ohio State vs #3 Clemson Preview
Matchup: #2 Ohio State Buckeyes (13-0, 9-0 Big Ten) vs #3 Clemson Tigers (13-0, 8-0 ACC)
Date: Saturday, Dec. 28, 2019
Time: 8:00 p.m. (est)
Network: ESPN
Location: Glendale, Arizona
Venue: State Farm Stadium
Seating Capacity: Standing room to at least 78,600
Get hyped folks, the College Football Playoffs are officially here!
The ever interesting PlayStation Fiesta Bowl features two undefeated powerhouses in #2 Ohio State and #3 Clemson.
To get you pepped and prepped for Saturday's massive semi-final tilt, I thought I'd single out some key story-lines and match-ups to get you fired up:
#2 Ohio State Buckeyes
The reigning Big Ten champs roll in as confident as ever and why wouldn't they? Not only are they undefeated, but they boast a top 5 offense (531.0) and defense (247.6) in terms of yardage. Though they deserve to be bumping their chests, they definitely have their work cut out for them versus this Tigers defense. Clemson is best in the country in yardage (244.7) and points allowed (10.6).
In my opinion, the Buckeyes' season will be decided by the right arm of stud sophomore QB Justin Fields. Fields has had a great year in his first season as a starter, but this Clemson pass defense, which is tops in the nation, is downright scary. Fields needs to stay composed in his first taste of playoff football and continue to play the turnover-free ball he's played all year, throwing only one interception all season.
He and the Buckeye offense should also rely on star junior RB J.K. Dobbins, as his 2019 has showed why he's a surefire top two-round pick in next year's NFL Draft. If those two things go right and Fields isn't limited by his left knee injury, then Ohio State can definitely punch their ticket to the final.
Ohio State Defense
The Ohio State defense needs to step up. In the Big Ten final, they got a bit exposed as Wisconsin was able to move the ball quite effectively for large parts of the game. They still were dominant throughout the season though and will need to rekindle the flame that led them to finishing second in the country in points allowed at 12.5. A key match-up I'm looking at is the Buckeye defensive backs versus the Tiger receivers.
Clemson boasts the tremendous duo of junior Tee Higgins and sophomore Justyn Ross who have torched it this season. The Buckeyes will need to slow them down to have any chance and may just have the antidote. According to PFF, "Ohio State's outside cornerbacks have allowed just 18.6% of their targets to be caught for a first down, which is the lowest in the FBS by over 3.5%." Superstar junior CB Jeffrey Okudah and company may decide the game at some point.
The Battle
This battle should be what you watch for on every snap. Oh, and that other dude as well…some guy named Chase Young. Joking aside, not only is he the best defensive player in the nation, but he's very much in the discussion to go #1 overall come April. The superb junior finished as the highest graded defender PFF has ever seen. You read that right. He will need to be usual amazing self to push forward to the final.
#3 Clemson Tigers
The Tigers come in fresh off an ACC title win and will now look to officially sprint to the finish line and repeat as national champs. They'll obviously get their toughest foe of the season in this one and will look to quell the whispers that they've cake-walked through the regular season.
Sophomore QB Trevor Lawrence has been looking amazing down the stretch after his rough start to the year and has the same vibe as last season when he went bonkers at the end of the year; culminating in a title. He's got his duo of receivers to help him, but he'll also need help from trustee junior RB Travis Etienne. Etienne has had another spectacular year, but will need to help throw off Chase Young and friends by running the ball well. It's going to be tough though, as Ohio State has allowed a sizzling 2.8 yards per carry all year.
Aiding Etienne will be the Clemson offensive line, anchored by sophomore powerhouse and Ohio native Jackson Carman. Carman will be tasked with blocking Young in what is a scout's dream. Carman has been a force this season, as he didn't allow a sack and totaled just 10 pressures on 345 pass-blocking snaps, while finishing with a top-four run-blocking grade among tackles, according to PFF. This will be something to keep two eyes on.
Clemson Defense
The Clemson defense is statistically the best in the nation and will need to be that again come Saturday. I'll be looking at how redshirt junior LB Isaiah Simmons can get after Dobbins and even redshirt freshman RB and former 4-star recruit, Master Teague III, who has also been heavily involved this year. Simmons is such an interesting player though that since he can play inside linebacker, outside linebacker, safety, and nickel corner all in the same drive, he will also be in a chess match with Fields. I feel that he may have his big moment in this one and be the difference. I've got him picking off Fields to ice it.
Prediction: Ohio State 37 – 41 Clemson
Written by Samit Bariana
Follow Samit and TSJ: College Football on Twitter!

Photo credit to Fiesta_Bowl via Twitter

Follow TSJ on YouTube and Twitter