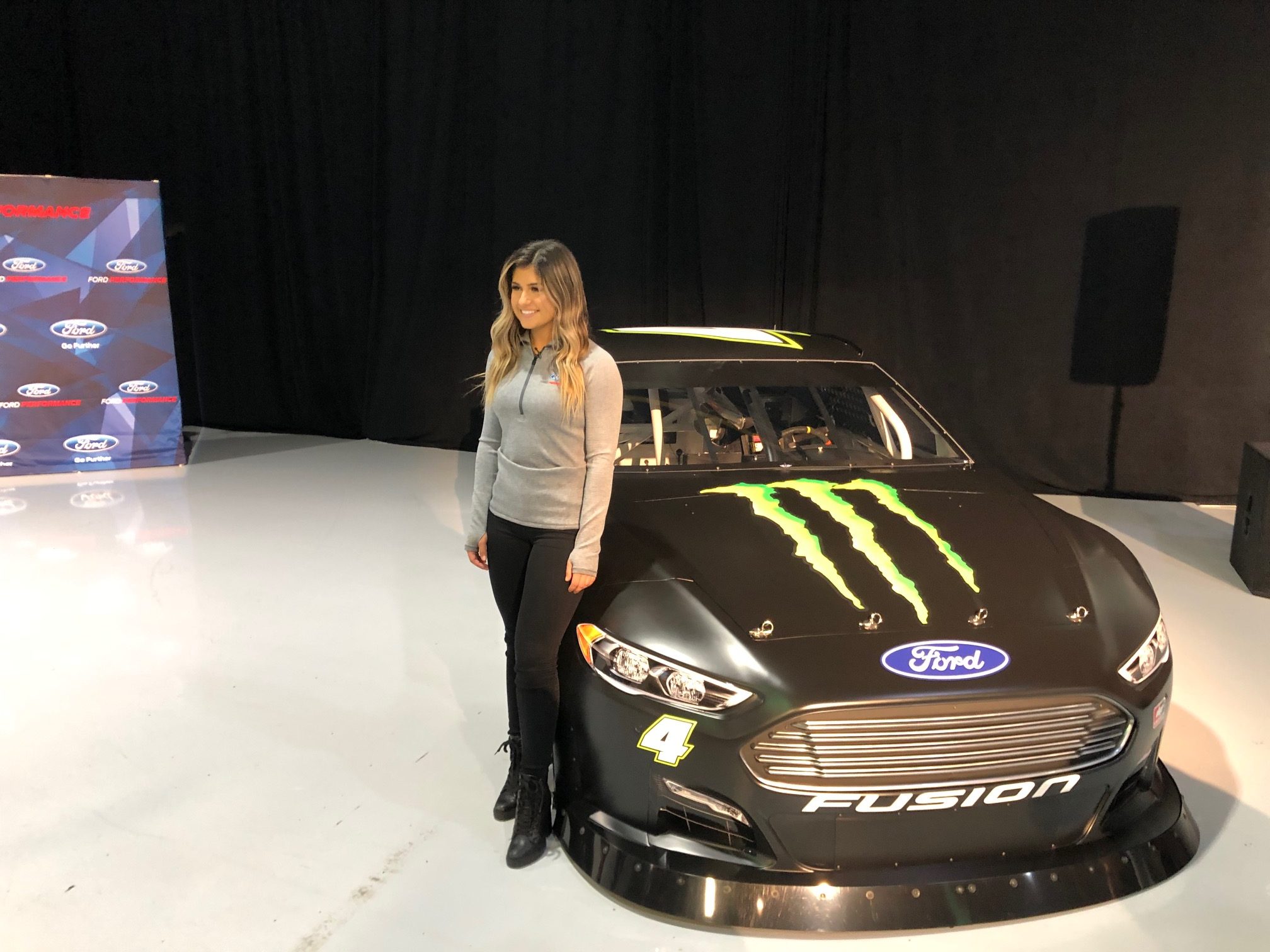 Hailie Deegan Switches to Ford Development and Joins DGR-Crosley
One of stock car racing's brightest young stars will have a new home for the coming years. Ford Development announced Tuesday the addition of Hailie Deegan to their roster. She will join DGR-Crosley for the 2020 ARCA Menards Racing Series season. Deegan, 18, makes the switch following a two-year NASCAR K&N West Series run with Toyota Racing Development and Bill McAnally Racing. Deegan will also make select starts in the IMSA Michelin Pilot Challenge Series. Bringing on board the Temecula, California native could be huge for the Ford stable.
"I definitely want to win an ARCA race, maybe two, and doing well in IMSA will make or break this year," Deegan said when asked of her expectations for the coming season.
In her young career, Hailie Deegan has already become a fan favorite. Sports Business Daily journalist Adam Stern reported in September that Deegan is ranked third of all drivers in social media value this year. She is also No. 1 in total social media engagement by over 1.5 million. These numbers are astronomical for a driver that hasn't even made a national series start.
'@HailieDeegan is drawing major attention in @NASCAR and has the industry wondering whether she can become the sport's next superstar.

➖ Deegan is ranked No. 3 out of all drivers in social media value this year, and she's No. 1 in total engagement.

📰: https://t.co/MXxmQGbV4t pic.twitter.com/Lgto9BlAm9

— Adam Stern (@A_S12) September 23, 2019
https://platform.twitter.com/widgets.js
Hailie Deegan Has The Stats To Back Her Up
Some may infer that Deegan's popularity stems from being one of few female drivers in NASCAR. However, she has proven that she can get the job done on track. In her 28 K&N West Series starts, Deegan has accounted for three wins, 13 top-fives, 23 top-tens, and five poles. Her aggressive driving in each of her three wins has been very appealing to some fans.
"That's something that's not going away anytime soon," Deegan said when asked of her aggressive driving style. "I will still be racing off-road trucks, and I think the aggression is what's helped myself and others make the transition into stock cars."
In her brief ARCA career to date, she has six starts. This includes two races on superspeedways, Pocono and Kansas. Her best result was fifth at Indianapolis Raceway Park. In her two superspeedway races, she was seventh at Pocono and eighth at Kansas. Her next on-track appearance will be in the IMSA Mustang on January 24 at Daytona International Speedway. Deegan will make her full-time ARCA debut also at Daytona the following month, on February 9. If Deegan does well in her ARCA schedule and funding is available, then we may also see her race in the Gander Outdoors Truck Series this year.
Written by Noah Lewis
Be sure to follow us on Youtube and Twitter.
Be sure to follow the writer on Twitter.
Photo credit to TSJ101Sports.