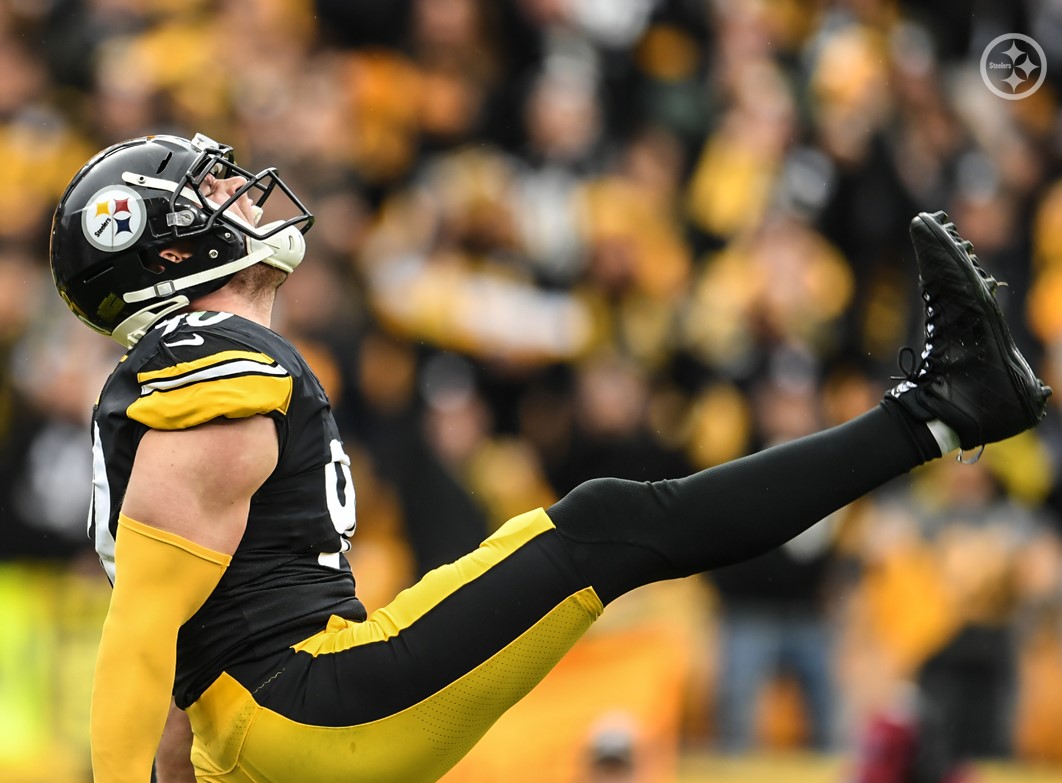 Predicting the Fate of 6 NFL Postseason Bubble Teams
Oh, December: snowflakes falling in droves, time off for the holidays rapidly approaching, and, of course, NFL postseason nearing.
Entering Week 17 a year ago, several playoff spots were still undecided. Baltimore, Seattle, and Indianapolis emerged victorious and thus ensured their status in the 2018 bracket.
And just a few weeks from now, similar madness could unfold.
There is no shortage of teams who are in contention for a playoff spot, especially in the AFC. Even in the powerhouse-laden NFC, a few squads who have come on late are making surges for the #6 seed.
Today, we will discuss teams on the bubble—meaning that their spot in the playoffs is not clinched and that they are either inside their conference's top 6 or just outside of it—and make predictions regarding their season finish based on their current record and seed, remaining schedule, and Upset Potential (how capable are they of defeating a higher-seeded opponent if they do make the postseason?).
Which of these fringe playoff contingents will earn the chance to hoist the Lombardi Trophy in Miami? Buckle up and read below.
AFC
Pittsburgh Steelers
Current Record: 7-5 (6th Seed)
Remaining Schedule: @Arizona, Buffalo, @New York Jets, @Baltimore
Final Record Prediction: 10-6
Upset Potential: 6.5/10
The turnaround for this Steelers squad has been nothing but incredible.
Pittsburgh started the season 0-3, and, frankly, it looked as if they had traded away the potential #1 overall pick in exchange for Dolphins safety Minkah Fitzpatrick. Several games later, Fitzpatrick hastily emerged as a turnover machine and a potential Defensive Player of the Year Candidate. More importantly, he catalyzed his new team to win 7 of their next 10 contests.
Moreover, Mike Tomlin has made a name for himself in the Coach of the Year race. Not only did the Steelers lose future Hall-of-Famer Ben Roethlisberger to elbow surgery Week 2, but Tomlin had to overcome additional gunslinger controversy after Mason Rudolph's promising start halted in a bizarre Thursday Night Football showdown with the Cleveland Browns. Throw in mitigating wounds to JuJu Smith-Schuster, James Conner and Stephon Tuitt, and Tomlin's resume this year grows even more ludicrous.
There are some stereotypical "trap games" for the Steelers that remain on their slate, but I see them prevailing in both.
Though Pittsburgh has had plenty of offensive woes, undrafted rookie (and folk hero) Devlin "Duck" Hodges has sparked this offense and should continue to find his rhythm against a Cardinals defense that ranks last in yards allowed per game, second-worst in points surrendered per contest and 28th with just 12 takeaways. Moreover, Jets running back Le'Veon Bell will be seeking vengeance in his Week 16 matchup with his former team, but he should find scarce open space against this vaunted Steeler defense—which has not yet allowed 100 yards to an individual runner.
Hodges & co. will face great challenges versus Buffalo and in Baltimore, though I think they can muster a win versus the former at home next week under the lights of Sunday Night Football—especially considering that, if the Bills falter to the Ravens, the Steelers could jump to the 5th seed with a win at home next Sunday.
If this team makes the postseason, I could see them performing better than expected due to their stout defense—led by superstars T.J. Watt, Bud Dupree, Cam Heyward and Fitzpatrick paired with standouts Devin Bush, Joe Haden, Steve Nelson and Mike Hilton. However, their lack of offensive production would likely keep them past advancing to the Divisional round.
Tennessee Titans
Current Record: 7-5 (7th Seed)
Remaining Schedule: @Oakland, Houston, New Orleans, @Houston
Final Record Prediction: 9-7
Upset Potential: 7/10
All seemed lost after the Titans faltered in Denver Week 6.
Enter Ryan Tannehill.
Since he relieved Marcus Mariota in that very game, Tannehill has been superb. The former Dolphin has a 5-1 record as a starter this year and possesses a phenomenal 12-4 touchdown-to-interception ratio.
Additionally, Tennessee workhorse Derrick Henry has emerged as one of the premier running backs in football. The 2015 Heisman winner has already eclipsed his number of rushing yards from a breakout 2018 campaign—in 4 fewer games.
The Titans have a much harder schedule than the Steelers, a litmus test that may hinder them from making the postseason.
The Raiders have played horrifically the past 2 weeks, losing by 30+ points at the hands of the Jets (!) and the Chiefs. But I feel that Jon Gruden will regain his mojo at home this week and barely upend Mike Vrabel's team.
The Titans could easily lose to Houston (twice) and New Orleans. But I think their solid 4-2 play at Nissan Stadium will help them beat Deshaun Watson and Drew Brees, respectively. In a game that could decide the AFC South, I see Watson exacting revenge and knocking out his division foe Week 17.
If the Titans somehow get in to the postseason, they may emerge victorious in the Wild Card game if Henry continues his scalding play. The Texans and Chiefs, two potential first round opponents, have each struggled against plays on the ground. At the same time, I don't think they can keep up with fellow elite offenses, especially Baltimore.
Oakland Raiders
Current Record: 6-6 (8th Seed)
Remaining Schedule: Tennessee, Jacksonville, @Los Angeles Chargers, @Denver
Final Record Prediction: 8-8
Upset Potential: 5/10
The Raiders, like the Titans, have had a turnaround season. But, as mentioned above, momentum has halted in recent weeks.
All season, rookie running back Josh Jacobs has been marvelous. The Alabama product ranks 5th in the league with 1,061 yards on the ground and is the front-runner for Offensive Rookie of the Year.
However, Oakland's receiving corps has not been the same since free agent acquisition Tyrell Williams incurred plantar fasciitis, not to mention their defense having lapses against the aforementioned Jets and Chiefs.
I think the Raiders can defeat the Titans and should tame the Jaguars at home. Yet right as their momentum will have augmented at 8-6, I prognosticate that they will lose to a somewhat rejuvenated Chargers team—especially with the return of star Derwin James—and with a Drew Lock-guided Denver team. Both units would love to play spoiler to their AFC West competition.
Jacobs could pose difficulties for AFC competition, but opposing coaches won't have much else to fear from this Oakland offense. If Gruden's defense—which, ironically, ranks 5th-worst allowing an average of 27 points per game—doesn't shut down other offenses, their chances are all for naught.
Indianapolis Colts
Current Record: 6-6 (9th Seed)
Remaining Schedule: @Tampa Bay, @New Orleans, Carolina, @Jacksonville
Predicted Final Record: 7-9
Upset Potential: 4/10
The Colts, like the Titans, have quite a formidable schedule coming up.
Despite Jameis Winston's abounding turnovers, I think the Colts' offense will not be able to keep up with the dynamic duo of Chris Godwin and Mike Evans this Sunday. Moreover, Drew Brees and the Saints—who are ravenous for the #1 seed in the NFC—should prevail in Mercedes-Benz Superdome against Indy.
The Colts should defeat the inconsistent Panthers at home. But by the time they board their flight to TIAA Bank Field—where they haven't won in four years—their postseason hopes will have likely faded.
Frank Reich's team has undergone enormous changes and challenges this season, including losing quarterback Andrew Luck and offensive firepower T.Y. Hilton and Eric Ebron to injury.
The Colts are unlikely to be among the top 6 AFC teams come December 30th. Even if they do sneak in, I don't think their offense—which has scored 30 points just twice—can sufficiently match other AFC units.
NFC
Los Angeles Rams
Current Record: 7-5 (7th Seed)
Remaining Schedule: Seattle, @Dallas, @San Francisco, Arizona
Predicted Final Record: 9-7
Upset Potential: 7/10
The Rams seemed to overcome a Super Bowl hangover, enjoying a 3-0 start. However, Sean McVay's hysteria came to a halt as his team dropped 3 straight.
Since then, Los Angeles has gone 4-2, though the Rams have looked inconsistent at times. After extending Jared Goff to a 4 year, $134 million deal, the 2018 Pro Bowler has regressed with 13 touchdowns and 12 picks in 2019.
In the AFC, L.A. would be in the thick of the postseason hunt. However, it finds itself one game behind the Minnesota Vikings entering Week 14.
The Rams could beat MVP contender Russell Wilson at home Sunday night, but I think Seattle is playing with enormous momentum and will eke out a win. On the other hand, the languid Cowboys have inched their way to a subpar 6-7 record—Goff & co. should win in Dallas.
Playing in San Francisco has been a tall task for opposing teams all season, where Jimmy Garopplo and the Niners have performed at a stellar 5-1 mark. Considering that Los Angeles lost 20-7 against the 49ers at home, I don't envision them emerging victorious at Levi's Stadium.
The good news for the Rams is that they will meet Kyler Murray and the Cardinals in Week 17, who they gashed for more than 540 yards. But it will likely be too little, too late for Los Angeles.
There is no doubt that if the Rams make the postseason, they can be dangerous. Todd Gurley still remains a solid runner. Compounded with receivers Cooper Kupp, Brandin Cooks and Robert Woods, this offense is potent.
Additionally, after trading for paragon Jalen Ramsey, Wade Phillips' defense has surrendered just 16 points per game.
In the long run, however, 2019 will likely be deemed a down year for Los Angeles.
Chicago Bears
Current Record: 7-6 (8th Seed)
Remaining Schedule: @Green Bay, Kansas City, @Minnesota
Predicted Final Record: 7-9
Upset Potential: 5/10
Simply put, the Bears have been one of the most underperforming teams this year.
After flipping the script and going 13-3 last season, Chicago started 3-5 and had one of the most dismal offenses in the league.
In recent weeks, optimism is more prominent in the Windy City. Matt Nagy's team has looked better in their last few games versus the Giants, Lions and Cowboys. At the same time, such units are a combined 11-25-1.
The Bears have shown promise of late, but their final 3 games should give Mitch Trubisky nightmares. It's hard to imagine them emerging victorious in more than one of such contests—their "SNF" date with Patrick Mahomes could be their final "W," though even that game is truly daunting.
In the infinitesimal odds that Chicago does slip into the postseason picture, further, it is difficult to envisage them moving onto the Divisional round.
New coordinator Chuck Pagano's defense has been solid yet worse than a year ago. Moreover, phenom Khalil Mack has 7.5 sacks this season, a step-down of 5 from 2018. The Bears have also struggled against #1 receivers like Keenan Allen and Michael Thomas.
In the long run, this offense—in which Allen Robinson has been the lone consistent contributor—would likely prevent the Bears from having significant postseason prosperity.
Written by Bradley Locker
Follow Bradley on Twitter and TSJ: NFL on Twitter!
Photo credit to the Steelers via Flickr
Follow TSJ on YouTube and Twitter