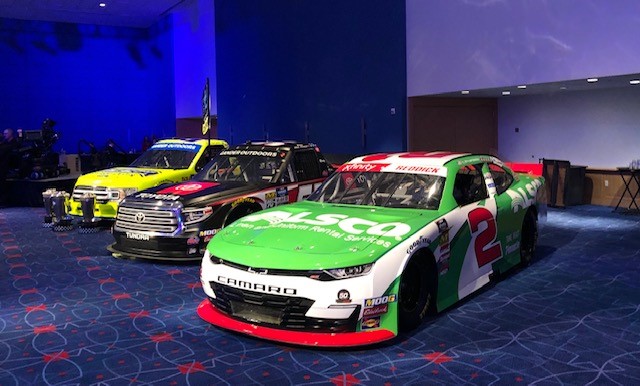 Looking Back on 2019 From the Xfinity and Truck Series Banquet, Reddick and Crafton take Center Stage
With the racing season in the books, it became time to honor the champions. For the Xfinity and Gander Outdoors Truck Series, their victors were the esteemed guests of their Awards Banquet in Charlotte. Beyond title winners Tyler Reddick and Matt Crafton though, the Championship 4 contenders from each series reflected on their campaigns. Each of the eight drivers traded in their fire suits for three-piece suits at the 2019 banquet. For NASCAR's two lower series, it was a year of surprise victors, clutch performances, and defying the odds.
Stewart Friesen
Fourth-place Truck Series points finisher Stewart Friesen had a breakout 2019 season. The Canadian driver earned his first two career victories this year. The dirt at Eldora was the site of Friesen's long-awaited first win. He would back that up with a win at ISM Raceway earlier this month. This victory put Friesen into the Championship 4 for the first time. Despite the 11th place finish at Homestead, Friesen still looked back fondly on 2019 at the banquet.
"Our goal was to position ourselves to have a chance at Homestead, and we did," Friesen said. "It was a swing and a miss. It felt a little better that we missed it by a mile and finished 11th in the race rather than a close second. Having wins, being up front and consistent are all you can ask for. Having fast racecars every week was key, and our guys were an awesome group with camaraderie."
In spite of the successful 2019, do not expect to see Stewart Friesen return to the #52 Truck in the same capacity for next year. Friesen's 2020 plans are yet to-be-determined. Be sure to stay tuned on where the Canadian dirt racer ends up for the coming year.
Justin Allgaier
Thanks to a clutch win at ISM Raceway, Justin Allgaier made the Xfinity Series Championship 4 for the third time in four years. The past two years for Allgaier have quite literally been a tale of two seasons. The JRM #7 had a record-setting Regular Season in 2018, only to have a lackluster Playoffs. 2019 was nearly the exact opposite for this team, as Allgaier's Playoff average finish this year was 5.1.
Much like Friesen though, Allgaier's momentum from the timely Phoenix win fell flat at Homestead. Allgaier would finish 14th in the finale, his worst result since July. "What we learned a year ago in the Playoffs, I feel it really set us up differently for 2019," Allgaier said. "We obviously did not have the Homestead we wanted this year, but I could not have asked for anything better in the Playoffs. We executed phenomenally, but we still need to win races. I think looking ahead to 2020, to compete for a championship I think we need a few more Regular Season wins. We would then go after that Regular Season Championship, then do exactly what we did leading into ISM Raceway. If we can do what we did last year at ISM Raceway then we'll be in great shape."
Even though Justin Allgaier did finish fourth in the 2019 championship, there is reason for great optimism. The three drivers who beat the #7 team are all moving up to the Cup Series as rookies. Allgaier will take another year's worth of experience into 2020 as an Xfinity Series veteran. In addition, the season-finale is at ISM Raceway, a venue Allgaier now has two wins at. With all of this in mind, Allgaier could be going into 2020 as a runaway title favorite.
Brett Moffitt
Defending Truck Series champion Brett Moffitt had a chance to go back-to-back for 2019. After a slow start to the year, the GMS Racing #24 Chevrolet came to life in the summer. Moffitt would win both of the first two Playoff races, and made the Championship 4 for a second time. Although all four Truck Series contenders had turns out front, Moffitt would fade to fifth at the finish.
"I feel like this was unfortunately a building year," said Moffitt. "Which isn't the answer we want, but it's what it was. I think going forward we'll be a lot stronger though. We're changing personnel, everything for the benefit of the organization."
GMS Racing's lineup for 2020 will be a stacked deck to say the least. Joining Brett Moffitt will be Tyler Ankrum, Sheldon Creed, Zane Smith, and others part-time. While Moffitt did score four wins in 2019, expect 2020 to be an even stronger year for the now-established Truck Series veteran.
Christopher Bell
Racing prodigy Christopher Bell made it two-for-two in making the Xfinity Series Championship 4. With an even stronger year than his seven-win-campaign in 2018, Bell was the class of the field for much of the season. Eight wins this year locked him into Homestead and gave him a shot at winning his first Xfinity title. After leading 37 laps in the finale though, Bell would fall back to finish fifth in the race and third in the title fight.
"We studied hard and focused hard on trying to make Homestead better for year two, but unfortunately we struggled on the long run. I felt great in practice with the ten laps I did. But in the race we didn't really get a long run setup."
With Bell moving up to the Cup Series next season, a lot will be different for the 24-year-old from Norman, Oklahoma. Rather than sticking with Joe Gibbs Racing, Bell will move to the satellite operation, the #95 Toyota at Leavine Family Racing. Unlike the other two of the Xfinity Series 'Big Three,' Bell has yet to make any Cup Series starts. His debut race will be the Daytona 500, which he thinks is a unique opportunity.
"I'm nervous about it, but I'm thankful Jason Ratcliff and his experience is moving up with me," Bell said of 2020. "I feel like I've got as great a shot as anyone of winning the Daytona 500, and I'm glad about that. But after that obviously going to the second race at Vegas where it's less luck-oriented will be the real test."
Ross Chastain
Perhaps the feelgood story of 2019, Ross Chastain's unthinkable season almost led to the title. 'The busiest man in NASCAR' made 77 starts across all three National Series in 2019. This included all 23 Truck races, as he switched to the Truck Series championship in June. In total, the 'Melon Man' won three times in 2019, making the Championship 4 with underdog Niece Motorsports. Even though Chastain finished second in the championship, he looked back on his 2019 in awe.
"Finishing second doesn't suck, it was good," said Chastain. "Hollywood would not write that script, they would never approve it. It was a fiction book if anything. 2019 was definitely a dream come true."
Chastain's 2020 will look quite a bit different as well. Ross will move back into the Xfinity Series full time, this time in the #10 Chevrolet for Kaulig Racing. This past July, Chastain scored Kaulig's first win at Daytona. Chastain will make this team his new home, yet also hopes to run as many Cup and Truck races as possible. We will see a lot more of the Florida watermelon man in the coming season.
Cole Custer
As part of the Xfinity Series 'Big Three,' Cole Custer enjoyed a breakout performance for 2019. The driver of the Stewart-Haas #00 visited victory lane seven times this season, beating the likes of Busch and Logano. In the days leading into Homestead, it was announced that Custer will take over the SHR #41 in the Cup Series. On the heels of his promotion, Custer put up a great fight for the Xfinity Series title. Custer was arguably the class of the field, fighting Tyler Reddick tooth and nail. With 19 laps to go at Homestead, Reddick made the final pass on Custer with a slide job into turn 1. Custer would finish second in the race and the championship.
"It's fun to see all of the people in the industry come together and have a good time," Custer said of the banquet night. "It always sucks to be second, but to be around a big group of people with the same interests.
"I'm looking forward to next year, what all I have to learn, it's going to be exciting. There are a lot more good cars, a lot more traffic, and a lot more restarts to deal with so it's a lot to manage."
Matt Crafton
Putting together a very consistent season, Matt Crafton hoisted the big trophy as the 2019 Truck Series champion. In spite of going winless, Crafton secured his third championship in seven years with a second place result at Homestead. Crafton's third title puts him even with Jack Sprague and one behind Ron Hornaday, Jr. for most Truck Series championships. "To return to the big stage here tonight is amazing," Crafton said. "It's where we should have been for the last few years. In the end, we were off a bit last year, and this year when it counted this team dug deep and we rose to the top."
While the Thorsport #88 team did not win in 2019, they had several races where they had chances at wins. "There were so many potential wins get away. At Martinsville we were leading when the thing just shut off on us. We just had different issues throughout the year that held us back. There were times when we had issues and had to go to the back when we were running up front, then had to come in to fix something. It was definitely a tough year."
Unlike many of the drivers mentioned above, do not expect much change for Crafton over the off season. The California native will return to the Thorsport #88 Ford F150 for his 20th season in the Trucks. With the momentum of a championship, could Crafton tie Hall of Famer Hornaday with the elusive fourth title?
Tyler Reddick
After another breakout run at Homestead, Tyler Reddick secured his second-consecutive Xfinity Series title. For two years now, Reddick has turned lights-out Homestead performances into a win and a championship. Reddick will take his back-to-back titles to the Cup Series, in a rookie effort in the RCR #8 Camaro. Reddick also made NASCAR history with his second title. He was the first driver to earn consecutive titles for different teams. His second title came after six wins throughout 2019.
"This time around the championship is less hard to believe," Reddick said. "It's still an incredible experience, but we put in the work all year long. We got the Regular Season championship, we got all of those top 5s, which led us back to Homestead racing for another championship. This second one meant more, and it meant different things in different ways."
Talented 2020 Rookie Class for Cup Series
Reddick will join arguably the most stacked Cup Series rookie class in over a decade. Reddick, Custer, Bell, and others will make the 2020 Rookie of the Year battle one of the most entertaining in recent memory. The RCR #8 Chevrolet could also win ROTY honors for two-straight seasons, as Daniel Hemric clinched this award for 2019. The rookie battle will be one of the great overarching stories to keep tabs on all season long.
Whether a seasoned veteran, young hotshot, or a surprise participant, the 2019 Xfinity and Truck Series Awards Banquet featured a variety of stories. With winners of 20 races in 2019 moving on to Cup, the 2020 Xfinity Series is wide open for a new cast of characters to become their stars. The Truck Series will also have a new infusion of young talent who will try to take the spotlight back from Crafton. No matter what, the coming seasons for NASCAR's two developmental series will be full of career-defining moments. Be sure to follow along all season, starting in February at Daytona. Speedweeks is less than 12 weeks from now, as the off season grows ever-shorter.
Do not miss the televised version of the 2019 banquet for the Xfinity and Truck Series. Coverage will be on NBCSN on Sunday, December 1, at 9 PM EST. Be sure to also catch the Monster Energy NASCAR Cup Series Awards Banquet from Nashville. Coverage of the first Nashville banquet will be on Thursday, December 5 on NBCSN at 8 PM EST.
Written by Peter Stratta
Be sure to follow us on Youtube and Twitter.
Be sure to follow the writer on Twitter.
Photo credit to TSJ101Sports.