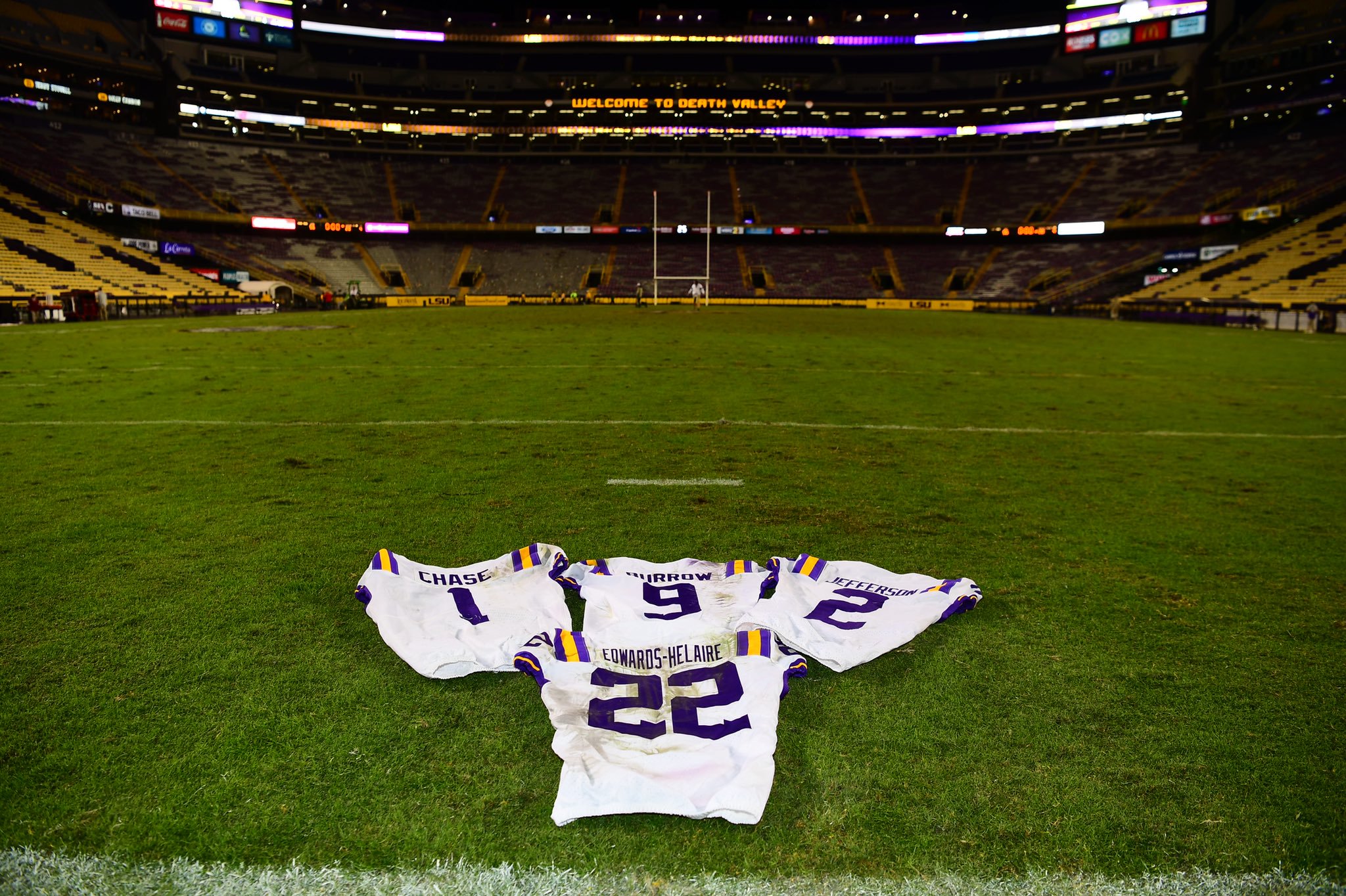 #1 LSU Starts Slow, but Still Rolls Arkansas to Clinch SEC West Title
The message looms right behind the field goal posts at LSU, "WELCOME TO DEATH VALLEY." As if the Arkansas Razorbacks needed another reminder about where they were as their abysmal season limps on. Although on this day, the death was even more cruel than usual…
The Razorbacks, winless in the SEC this year, actually hung with the number one team in the nation for most of the first-half. Though, that's when the expected came, a knockout punch in the form of a 27-yard touchdown run from junior RB Clyde Edwards-Helaire on the same day as Deontay Wilder's knockout heavyweight title win.
Tigers Push Forward
Things got off to a bit of a slow start for LSU.  After a game-opening TD pass from Heisman favorite redshirt senior QB Joe Burrow to stud sophomore WR Ja'Marr Chase. They stalled out for two consecutive drives. Two straight field goals from Arkansas had the game sitting at a tight 7-6 with 7:43 left before the half. However, that would be as close as the Razorbacks would get. A 2-yard TD run from freshman RB Tyrion Davis-Price quelled any thoughts of a colossal upset. The Tigers would then officially get rolling when Edwards-Helaire delivered the big blow to put them up 21-6, as he looks more and more like a top-two round pick come April. The final score was 56-20, as Arkansas would add some garbage time points to make it commendable.
Razorbacks Lose Their 8th Straight
Arkansas has to be commended for the way they battled. In a lost season, on a brutal losing streak, and at the #1 team's house, the Razorbacks could've easily laid down, but they did not. The defense stepped up for the majority of the first-half. However, after a couple of Connor Limpert field goals had it at a one-point game halfway through the 2nd, they might've legitimately been thinking about pulling it off. Though it got away from them, just like most of the games in 2019. Freshman QB KJ Jefferson completed just 50% of his passes for 105 yards. He also was one of three QB's to attempt a pass in the game, as Arkansas tries to do some analysis for 2020.
Next Up
LSU (11-0, 7-0 SEC) will look to cement it's first undefeated regular season since 2011, as they host Texas A&M (7-4, 4-3 SEC) this Saturday before they clash with #4 Georgia for the SEC Championship after that. Get hyped.
Arkansas (2-9, 0-7 SEC) will try to end this terrible search for a win when they host Missouri (5-6, 2-5 SEC) back in Fayetteville.
Written by Samit Bariana
Follow Samit and TSJ: College Football on Twitter!

Photo credit to via LSUFBEquipment via Twitter

Follow TSJ on YouTube and Twitter