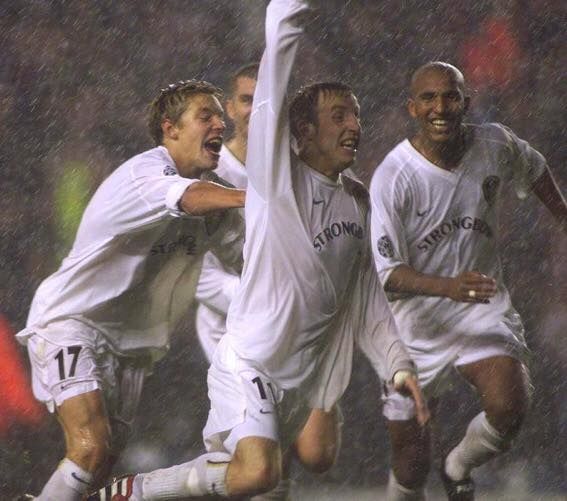 Leeds United Set To Become The New PSG?
PSG owners interested in taking over the Yorkshire club.
The floodlights illuminated the city of Leeds on that famous night at Elland Road.  Milan boasted the likes of Andriy Shevchenko, Oliver Bierhoff, and Paolo Maldini. Leeds answer to that conundrum? Lee Bowyer's right foot.
1-0, and the previously small club from Yorkshire had just pulled off a huge result at the hands of a European giant.
Dominic Matteo was part of the squad that day. The Scot also scored a cultured header from a corner right before halftime at the home of the Italian giants, in a 1-1 draw that assured the clubs passage to the knockout phase. Matteo played 115 times for Leeds United and is currently gravely ill. Everyone here at TSJ Sports sends him our best wishes in his recovery.
Leeds would go onto the Semi-Final of the cup that year. This was their second time ever being that far in the competition. The Peacocks lost the 1975 final to German giants Bayern Munich. A step like this was a massive leap forward for Leeds. It looked for all the world like they would cement themselves as a big club.
Peter Ridsdale's reign as Leeds chairman saw the club indulge in taking out huge loans. Leeds's failure to qualify comprehensively for the Champions League meant they hadn't got enough income for repayment. This gradually took its toll. Rio Ferdinand went for 30 million. David O'Leary followed suit. Then Ridsdale resigned from the board himself. The club was in financial turmoil, and that transferred onto the pitch. Leeds were relegated in the 2003-2004 season. It wasn't long after and the club had entered administration. Just a couple of years after reaching a Champions League semi-final, Leeds were in freefall.
Bielsa and The Qatari's.
Marcelo Bielsa, renowned by some top managers, has been Leeds manager for two seasons now. Pep Guardiola once said of Bielsa,
"No manager in the world works with that much information"
And Bielsa has taken Leeds forward.  A good league campaign last season, as well as a near-miss in the play-offs, has been followed up by an impressive start to this season. Leeds sit third, 2 points off leaders West Brom. The White's have looked solid this season. Kalvin Phillips has shone brightest, and Brighton's loanee has made sure of a couple of Whitewashes.
PSG are owned by Qatar Sports Investments. It has been heavily rumoured that the group are interested in taking over the Yorkshire club. ESPN is among the outlets who have reported the news.
Prior to PSG being taken over by QSI, they hadn't won a league title since the 1993-94 season, they've won 5 out of 6 since.
One of the biggest indications that this move could be happening is the social media activity of Graham Smyth. Smyth is the Yorkshire evening post chief editor. When asked about the rumors, Smyth replied with a picture of smoke. Perhaps channelling what the Vatican do before a new pope is announced?
The takeover would bring a stability that Leeds have lacked in recent years. It would give them the same spending power as a club like Manchester City and with a promotion to the Premier League looking increasingly likely, Leeds could roar again.
QSI is worth up to $338 billion. Can Leeds fans begin to dream again? Will the Mbappe2020 movement actually work in Leeds favor?
Written By Dylan McBennett
Follow Dylan and TSJ: Soccer on Twitter
Photo Credit to Football Trolls via Twitter
Follow TSJ on Youtube and Twitter