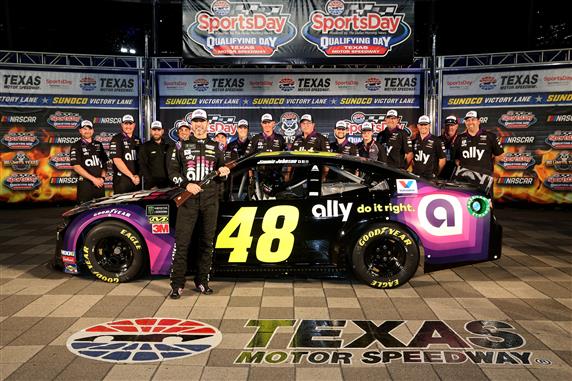 Jimmie Johnson to Retire from Full-Time Driving After 2020 NASCAR Cup Season
One of the most prolific careers in modern-day sports will come to its conclusion. 7-time NASCAR champion Jimmie Johnson announced this week that 2020 will be his final year. The retirement news came via a Twitter video. After 18 seasons, 83 wins, and the seven titles, Johnson will make one last bid for a record eighth crown.
Johnson's Reactions on 2020 Retirement
"I'm so excited to be where I am today, ready to get 2020 started," Johnson said. "The magnitude of my last Daytona 500 is on the forefront of my mind, my last California race at home in front of family will be special, but beyond that I'm not sure what other moments will stand out."
Rough Going For Johnson, 48 Team Since Seventh Title
Ever since winning his record-tying seventh championship in 2016, Johnson has been in a competitive rut. While the Hendrick #48 team did score three victories early in 2017, they had an abysmal Playoffs. The next two seasons were even more trying, as Johnson went winless for the first time in 2018. In response to this lackluster effort, Johnson and longtime crew chief Chad Knaus separated before 2019. Knaus went on to mentor young driver William Byron at the #24 team. His replacement atop the #48 pit box was rookie Kevin Meendering.
2019 was another tough campaign for the 48 bunch. Despite winning the season-opening Clash at Daytona, the newly-sponsored team still lacked speed and performance. Johnson's best 2019 result was third at Daytona in July. Midway through the season, rookie Cliff Daniels replaced Meendering. Despite the new crew chief, Johnson would still fail to make the Playoffs.
Jimmie Johnson's Outlook on 2020
Regardless of riding a 95 race winless streak, Johnson remains as optimistic as ever for 2020. "This is not going to be a mail-it-in year. We are going to win races and compete for a championship one last time."
For the duration of his driving career, Jimmie Johnson has called the 48 Hendrick Motorsports Chevrolet home. Rick Hendrick was introduced to the young motorcycle racer from El Cajon, California by Jeff Gordon. Since his debut in 2001, Johnson has continually set unprecedented records. The 48 went on a tear of five-consecutive titles from 2006-2010. After also winning the 2013 and 2016 championships, Johnson tied Richard Petty and Dale Earnhardt for most NASCAR titles. Currently, Johnson is tied with Cale Yarborough for sixth-most Cup Series wins at 83. Johnson's most recent points paying victory though was at Dover International Speedway on June 4, 2017.
Whether or not Jimmie Johnson will remain involved with Hendrick Motorsports or NASCAR beyond 2020 remains to be seen. After testing Fernando Alonso's McLaren Formula 1 car last year, the 7-time champion expressed a desire for open wheel racing. Johnson will still likely be involved in racing of some kind, just not in the NASCAR Cup Series full time.
Johnson, Daniels, and the 48 Hendrick Motorsports team will try to go out in the ultimate way. They will strive for the elusive 8th title. Jimmie Johnson's 2020 farewell tour will begin in February at Daytona Speedweeks. Johnson is as determined as ever to help return his team to relevance, which could be scary for the competition.
Written by Peter Stratta
Be sure to follow us on Youtube and Twitter.
Be sure to follow the writer on Twitter.
Photo credit to NASCARMedia.