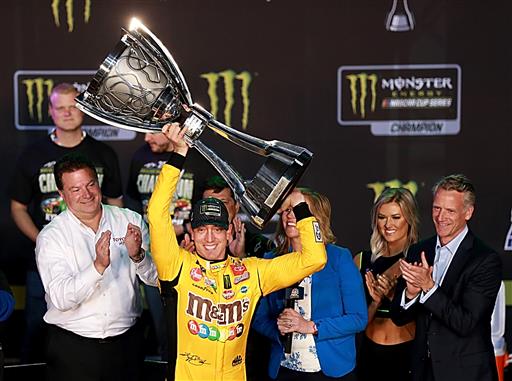 Kyle Busch Wins Second Cup Series Title at Homestead
After coming into the championship finale race at Homestead, Kyle Busch flat out dominated. The #18 Toyota would lead 120 laps en route to his second career Homestead win. More importantly than the win though, Busch earned his second Cup Series championship. This also marks the fifth title for Joe Gibbs Racing, after their statistically best-year ever. While Busch certainly had a strong car, two of his title rivals beat themselves with self-inflicted pit road mistakes. Kyle Busch is the first man to repeat as Cup Series champion under this Playoff format, as well as the only active multi-time champion besides Jimmie Johnson. After a banner year, 'Rowdy' is the ultimate victor.
No Qualifying Puts Contenders Up Front
After rain washed out practice and qualifying earlier in the weekend, Sunday's starting lineup was determined by Owner's Points. This would put each of the Championship 4 drivers in the top four positions. Denny Hamlin would be on pole and Kevin Harvick slotted alongside him. Martin Truex, Jr. and Kyle Busch would make up the second row.
Toyotas Dominate Opening Stages
When the green flag finally flew on Sunday afternoon, it was Harvick who would lead early. Harvick's lead over Hamlin at this time would exceed a second, but it was short-lived. On lap 20, Truex Jr. caught the 4 and made his way by for his first time out front. Truex's 19 would quickly leave Harvick in the dust, gaining a 1.5-second advantage by lap 24. This run would see Harvick fall to fifth, as he reported a tight handling car.
Truex would hold on to a commanding Stage 1 win, only ceding the lead for a lap 38 pit stop. Stage 1 would see each of the title contenders finish in the top 5. Kyle Larson in second was the lone interloper. The entirety of Stage 1's 80-lap distance was completed without any cautions, a trend that would not continue in Stage 2.
Kyle Busch would restart for Stage 2 in the second spot and led the opening lap. After that however, Truex motored on by his teammate to reclaim the lead. In the daytime, the 19 appeared untouchable as he gained another large lead. Behind him though, Busch and Harvick were in a dogfight for the third spot, trading blows nearly lap-by-lap. Eventually, Busch would come out on top after several laps of intense racing. The 18 then made his way by Larson for second, and set his sights on Truex.
Championship Effort Effected with Pit Road Blunder
Seventh-place running Denny Hamlin would start a cycle of green flag pit stops on lap 118. Truex would come in from the lead on lap 120. However, Truex's pit crew made a mistake that proved to be very costly. The 19 team inadvertently switched the two front tires before the pit stop. Thus Truex had to come back in to fix this issue. The time lost on pit road for the second time coming in would cost the 19 the lead lap, sending him back to 13th. Luckily for Truex, a caution came out on lap 137 for a spinning John Hunter Nemechek. This would give Truex the free pass, putting him back on the lead lap after leading a race-high 98 prior circuits.
On the restart with 19 laps to go in Stage 2, Harvick would steal the lead away from Busch. The 4 would only lead 13 laps though, as the 18 found the point again on lap 157. Busch would take the Stage 2 win over Harvick, while Truex recovered all the way to fourth. Homestead's second Stage would be Busch's first Stage win since Richmond in September.
Winners and Losers at Start of Final Stage
On what would become the final restart of the season, Kevin Harvick spun his tires badly and stacked up the inside lane. The 4 was slow to go because of a push from Truex gone bad. This allowed Busch to clear to the lead, and Hamlin to sneak by for second. This was the highest the 11 had ran all day, and he wasn't content riding behind his teammate. Hamlin took the lead away from Busch. Just two laps later though, the 18 passed the 11 again and for good. Little did anyone now at the time, but those two laps would be Hamlin's only time in charge of the championship battle.
The opening laps of this run would see the 18 run some of the fastest laps all day, as he quickly gained a two second gap over Hamlin. The championship-deciding round of green flag pit stops began on lap 210. It was here where another team in contention would drop the ball big time.
Another Title Run Hampered on Pit Road
At an obvious disadvantage to the 18 while in second, Hamlin would be the first of the four contenders to make his final scheduled pit stop of the year. The 11 came to a halt in his pit box, and all seemed to be going as-routine. However, crew chief Chris Gabehart made a daring call. He instructed a crew member to put a large piece of tape over the 11's grill. Unfortunately for Hamlin, the crew member put this tape in the wrong spot.
The 11 Toyota began to overheat while back on track, and soon began pushing out water. Gabehart called Hamlin back in to fix the issue, while he bellowed smoke like a steam locomotive. With a second trip down pit road on lap 221, the damage was done; Hamlin fell off the lead lap. While Busch and the others had clear sailing, the 11 had to race his heart out to regain lost track position.
Busch Back Out Front
This pit cycle would also see Harvick stay out longer than others, in hopes of a well-timed caution. Unfortunately for the 4 team, their lucky break never came. Harvick made his final stop for service on lap 223. This exchange would give the lead back to Busch, while Hamlin was trapped in 19th, -1 lap.
Busch had the biggest lead of the night after a near-perfect pit stop from his crew. His gap over Truex was over 10 seconds, while Harvick and Hamlin were a lap down. Both the 4 and 11 would race their way back onto the lead lap with fresher tires, but with no yellow their title chances were nonexistent. Over the final 30 laps, Busch had to simply manage an eight-second lead. By the last lap, the 18 was cruising to the victory by a winning margin of 4.5 seconds over Truex.
Significance of the Win for Busch, Joe Gibbs Racing
In a year that started off with Joe Gibbs tragically losing his son JD, the four-car effort would have their best year to-date. JGR, which is the lasting legacy of the late JD Gibbs, won a team-record 19 times in 2019. This included wins by all four drivers, three crown jewel races, and the championship. To add even further significance to Homestead, Busch, Truex, and Erik Jones made it a 1-2-3 finish for JGR. The powerhouse team managed three top-three sweeps as well throughout 2019. All of these accomplishments came in the year where Joe Gibbs will also be inducted into the NASCAR Hall of Fame.
Kyle Busch joins elite status as well. Homestead was Busch's 56th-career victory, which moves him into ninth on the Cup Series' all-time wins list. Busch is also just the 16th multi-time Cup Series champion. Along with Jimmie Johnson, Busch is one of only two active drivers to achieve this feat. "I had tears in my eyes because this is just such an awesome moment," Busch said post-race. "To share it with my family, with the Gibbs family and with the love and support of all of my sponsors, it's a dream come true."
Busch's Championship Reaction
"We have a great race team, a great owner and the best sponsors in sports. I just can't say enough and thank everyone enough for this opportunity. I may be the one that's able to hoist the trophy, or to have a championship, but it wouldn't be possible without Adam Stevens (crew chief) and Joe Gibbs, J.D. Gibbs, Coy Gibbs and the whole family. M&M's of course and Interstate Batteries and Norm Miller. And, Toyota – this TRD engine was awesome tonight. It's been awesome all year. We had one issue, but man it's so much fun to work with these guys and this group. Everybody that puts it all together for me. There's always your doubters. There's always your haters, but you know what, this one is for Rowdy nation because you guys are the best. Thank you so much."
Busch's 2019 title came in a year filled with milestones for the Las Vegas native. In week two of the season in Atlanta, Busch became the Truck Series all-time winningest driver. In March, Busch also earned his 200th NASCAR National Series win at Auto Club Speedway. He was also the Regular Season champion for the second-consecutive year. All of this would eventually lead the 34-year-old to his second Cup Series title.
Too Much to Make Up for Truex
Finishing second at Homestead for the second-straight year was Busch's teammate Martin Truex, Jr. In his first season with Joe Gibbs Racing rather than Furniture Row, Truex scored 7 wins, 24 top 10s, and an average finish of 9.8. If not for the misplaced tires, Truex may have been standing tall on the championship stage. Truex's Toyota was near-perfect in the daylight, and in the last run he did everything possible to catch Busch but ran out of time.
"When things like that happen all you can do is do your best," Truex explained. "Just try to forget about it and make it up. We got most of the way back there, just not quite all of the way. It's unfortunate. I thought we were going to be okay. Then the start of the third stage I had to restart third and I wish I would've let Denny (Hamlin) beat me off of the pit road restart and restart fourth. If we could've got by him there we would've had a shot at it. I just got blitzed on the outside by a few guys there on the restart with the 20 (Erik Jones) and the 22 (Joey Logano) and those guys.
I had to race them so hard it hurt my right-front tire and then that whole run I just faded and got tight and lost all of my track position. At the end, we were way faster but just too much ground to make up. Unfortunate, but that's the way it goes. We tried hard, we had a hell of a season and congrats to the 18 bunch."
All-Toyota Podium
Erik Jones rounded out an all-Toyota top three, bringing the #20 home in third for his best Homestead result. Right behind Jones in fourth was the lone Ford running for the title, Kevin Harvick.
Harvick Hoping for More in Fourth
"We just needed to do something different," Harvick explained. "They were so much better than us on the long run, that was our best chance, to have a caution there at the end and we never got one. We did something different, hoping for a caution. We had to do the opposite and it just didn't work out.
"On the restarts I could do what I wanted to do and hold them off for 15 or 20 laps. This race has come down to that every year. You kind of play toward that and they were quite a bit better than us on the long run. We had a really good car for those first 15-20 laps on the restarts and had a lot of speed, we just never got to try to race for it there with the caution."
Harvick ends 2019 ranked third in the championship after a four-win season. Harvick closes out this decade with eight top-three championship finishes, leading all drivers. As one of the elder veterans of the garage, it's only a matter of time until Harvick decides to retire. How many more chances will he have at the championship, and can he make the Championship 4 again in 2020?
Hamlin Left Hoping for More
Behind Harvick, the top finishers were Joey Logano, Clint Bowyer, Ryan Newman, Austin Dillon, Alex Bowman, and contender Denny Hamlin. With his fifth-place result, defending champion Logano earned fifth in the standings. For Hamlin though, a piece of tape is what kept him from battling late for his first championship.
"We put too much tape on," Hamlin bluntly said. "Chris (Gabehart, crew chief) is really aggressive with his calls and he tried to add some tape there and it just overheated. All of my gauges were pegged and they peg it up a really high number so we weren't going to make it. But, I've got to say thank you to TRD for that thing staying together. That is unbelievable. A hell of a season by our guys. We gave ourselves a shot. At the end there we woke up and I really just wanted a chance to go after them after that pit stop, but with the overheating I was going to blow up so I had to make the right call and try to un-lap ourselves and try to get a caution and try for a miracle. It stinks, but also we had a great year."
In a year with a rookie crew chief, Denny Hamlin visited victory lane six times after a winless 2018 season. While it was far short of the championship season Hamlin yearns for, 2019 was still the veteran's best statistical year. Hamlin will race on for his first championship in 2020, but with one advantage. Next year's championship finale race will be at ISM Raceway in Phoenix, a race which Hamlin will enter as the defending winner. If the 11 team can replicate their dominant run, they may have a chance to rectify their 2019 blunder as 2020 champions.
How to Watch the Next Race
With the NASCAR off-season now in full swing, the next racing action will come from Daytona Speedweeks in February on Fox. Until then, be sure to stay tuned into TSJSports as we will cover any and all off-season news. In the roughly 90 days that are left until the 2020 Daytona 500, TSJSports will not lack in NASCAR coverage. Lots of silly season rumors are swirling around and many people have uncertain 2020 plans, we will report on all racing news and updates between now and February.
Written by Peter Stratta
Be sure to follow us on Youtube and Twitter.
Be sure to follow the writer on Twitter.
Photo credit to TSJ101Sports.