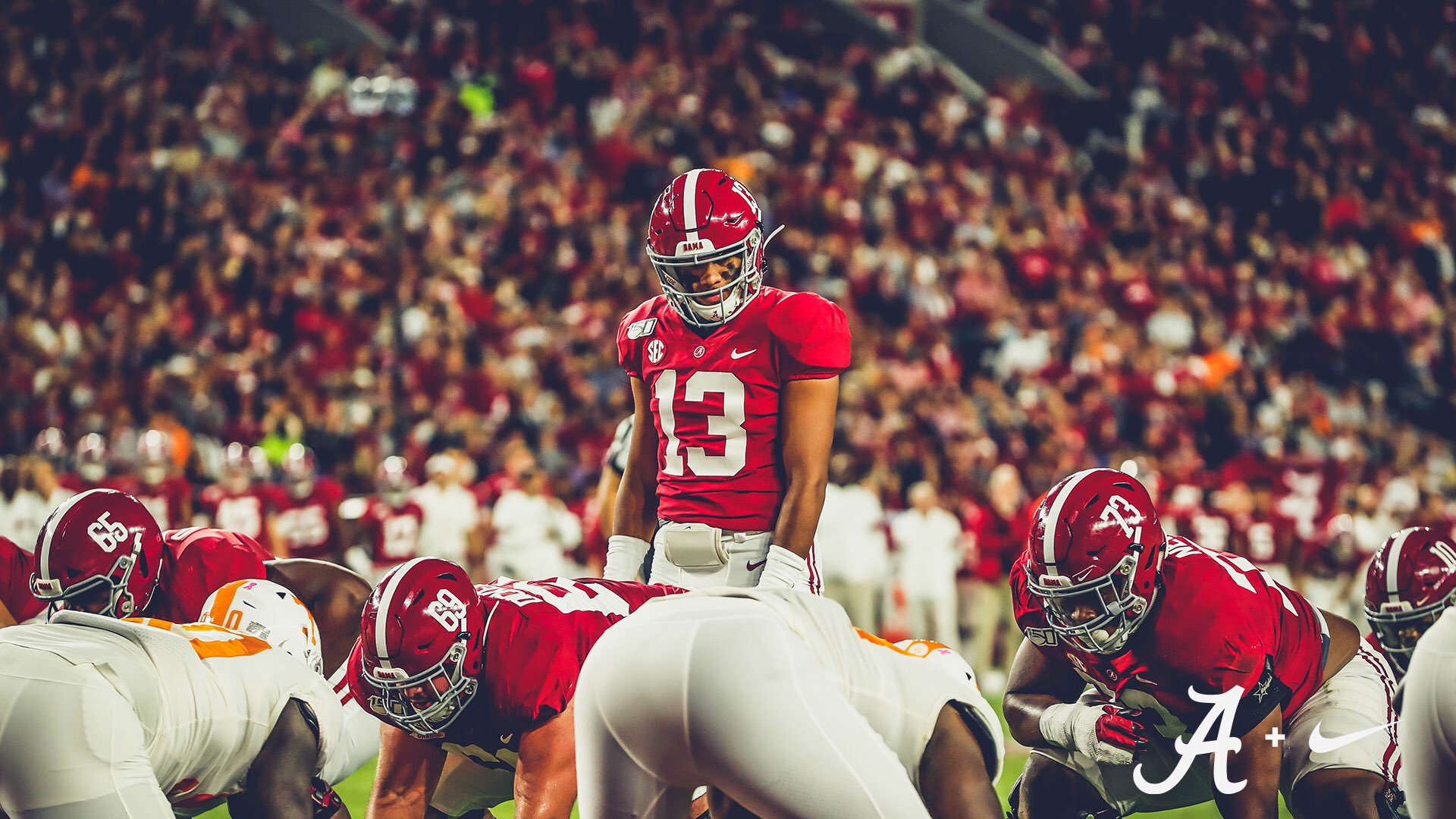 Tumbling Tua: Why Tagovailoa Is Not #1 NFL Prospect
3rd and 4. 3:10 left in the 2nd quarter. A 35-7 lead.
Tua Tagovailoa scampers out of the pocket and barely manages to get a throw away, harmlessly out of bounds. But as the Alabama star lands, damage is certainly done.
On that fateful play, Tagovailoa was left weakened by a right hip dislocation—one so severe that he was airlifted to a hospital in Birmingham, some 144 miles from Mississippi State's Davis Wade Stadium.
Though the Crimson Tide was able to defeat the Bulldogs 38-7 with Mac Jones at quarterback, things are looking bleak for their College Football Playoff chances—as well as Tagovailoa's NFL draft stock.
Entering Saturday, Tua was widely considered a top-3 selection in the 2020 NFL Draft. After a ludicrous 2018 in which he was named a consensus All-American as well as the Heisman Trophy runner-up, Tagovailoa was having yet another phenomenal campaign, his ridiculous 31:3 touchdown-interception ratio serving as just the tip of the iceberg.
But Tagovailoa's latest injury should prove portentous in terms of why he is not worthy of the #1 overall selection.
Insurmountable Injuries
Since 2018, the left-hander has dealt with a knee sprain as well as severe high sprains to each ankle. Factor in his latest lower-body ailment, and Tagovailoa will likely miss at least 2 more collegiate games—as well as possibly the NFL Combine in late February.
Even if Tagovailoa is 100% for the 2020 NFL campaign, teams should be wary of his lengthy medical record.
In 2018, the New York Giants made Saquon Barkley their workhorse with the #2 overall pick. Despite Barkley having sustained several injuries at Penn State, his overall body of work spoke for itself. Unsurprisingly, Barkley is among the premier echelon of professional running backs and was the 2018 Offensive Rookie of the Year.
However, Barkley's unfathomable hurdles and electric runs have regressed in 2019—with injuries serving as the primary culprit.
Barkley sprained his ankle in Week 3 against the Buccaneers and has been stifled since. He posted just 2 yards per carry against the Cowboys on November 4th and accumulated just 1 yard on 13 totes in Week 10.
Barkley's precedent may not be a harbinger of Tagovailoa's likely NFL career. At the same time, it certainly serves as an example for why susceptibility to injuries must be taken into account when evaluating prospects.
Ultimately, such time lost for Tua may allow his elite NCAA competitors to gain a statistical—and scout—edge.
(Prospect) Tide is Turning for Tua
In Columbus, Ohio State junior Chase Young has proven a force to be reckoned with. Despite missing 2 games due to a suspension—which will come to a close this Saturday against aforementioned Penn State—the 6'5" edge rusher has had analysts drooling all season.
In addition, Tagovailoa's 2019 signal-caller competition is quite steep.
The favorite to hoist this year's Heisman Trophy, Joe Burrow of LSU has catapulted the Tigers to a 9-0 record behind an NCAA-best 78.9 completion percentage.
A week ago, Burrow outdueled Tagovailoa 46-41 in one of the best college football games of this season. After the contest, pundits postulated that Burrow emerged as the best QB prospect this year. Considering that Tagovailoa will not play for the rest of 2019, Burrow's outstanding numbers—which are near the nation's best in almost every single significant category—will only further propel him to the summit of more draft boards.
Burrow is far from the only QB who is likely to hear his name called in April, however. Oklahoma's Jalen Hurts, Georgia's Jake Fromm and Oregon's Justin Herbert have all emerged as excellent quarterbacks. Include Washington's Jacob Eason and Utah State's Jordan Love, and this year's crop rivals that of 2018.
Yes, there is the incredibly slight possibility that Tagovailoa will emulate Herbert and come back to play in Tuscaloosa for his senior season despite endless professional hype. But barring a change of heart, it seems that the southpaw has his eyes on the stage of Las Vegas.
Yet before picking up the phone to inform Tua of his being selected, NFL coaches and front offices—looking at you, Cincinnati Bengals and Miami Dolphins—should realize that Tagovailoa's injuries and competition prevent him from being the best prospect—overall and quarterback-wise–in this year's talent-laden group.
Written by Bradley Locker
Follow Bradley on Twitter and TSJ: NFL on Twitter!
Photo credit to Alabama Football via Twitter
Follow TSJ on YouTube and Twitter