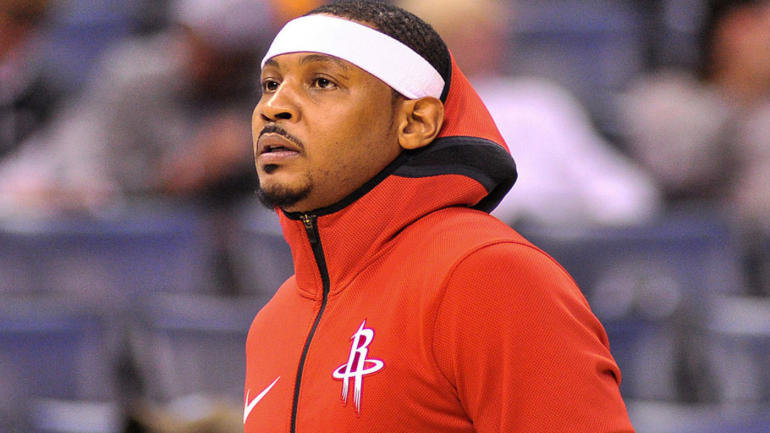 Portland Trail Blazers Sign Carmelo Anthony
The Portland Trail Blazers signed Carmelo Anthony on Thursday to a veteran's minimum contract. This will be Anthony's sixth team in 17 seasons in the NBA.
After being released by the Houston Rockets in November 2018 and only appearing in 10 games, a year later Anthony again has a chance to prove he belongs in the NBA.
This will be Anthony's fourth team in three seasons. Anthony was traded from the Oklahoma City Thunder in July 2018.  He averaged career lows in scoring (16.2 points per game) to the Atlanta Hawks.
Additionally, Anthony never touched the court in an ATL jersey. He was waived five days after being traded in July 2018. Anthony also would never wear a Chicago Bulls jersey as he was waived 10 days after being traded in February 2019.
No teams would sign Anthony until August 2018 when the Rockets signed him.
After averaging career lows in scoring with the Thunder, Carmelo averaged 13 points per game before being released.
In an interview with Stephen A. Smith about his release, Anthony said he was surprised that he was waived.
"It went from 'oh this is the piece that we want, this is the piece that we need,'" Anthony said. "So I get there and I'm thinking that everything is good…and then the tenth game came and I just didn't understand where that came from.
Anthony also said he didn't like how his release went down.
Now a member of the Trail Blazers, Anthony is again trying to prove he still belongs in the NBA.
Portland is currently 13th in the Western Conference (4-8). The Trail Blazers may have signed Anthony with intention of providing depth and scoring but the Trail Blazers have scored over 100 points in every game they have played beside one where they put up 99 points in a loss to the Sacramento Kings.
The Trail Blazers average 112.2 points per game (12th in the NBA).
It could be for defense as the Trail Blazers allow opposing teams to score 114 points per game (22nd in the NBA) and have a defensive rating of 102.8 (17th in the NBA). But, Anthony has never been known for his great defense like his mid-range.
Though some NBA fans may be happy to see one the best scorers of last decade return, poor performances won't likely go over the Trail Blazers' front office heads like it his farewell tour.
The Trail Blazers want to make a push to once again be in the Western Conference Finals again. Since the Trail Blazers are only paying him $2.2 million on a non-guaranteed contract (becomes fully guaranteed if not waived by Jan. 7) they face little risk if the signing is a flop and a high reward can provide consistency as a starter or off the bench.
Written by Joshua Sampson
Follow Joshua and TSJ: NBA on Twitter!
Photo credit to Smashdown Sports News via Twitter
Follow TSJ on YouTube and Twitter