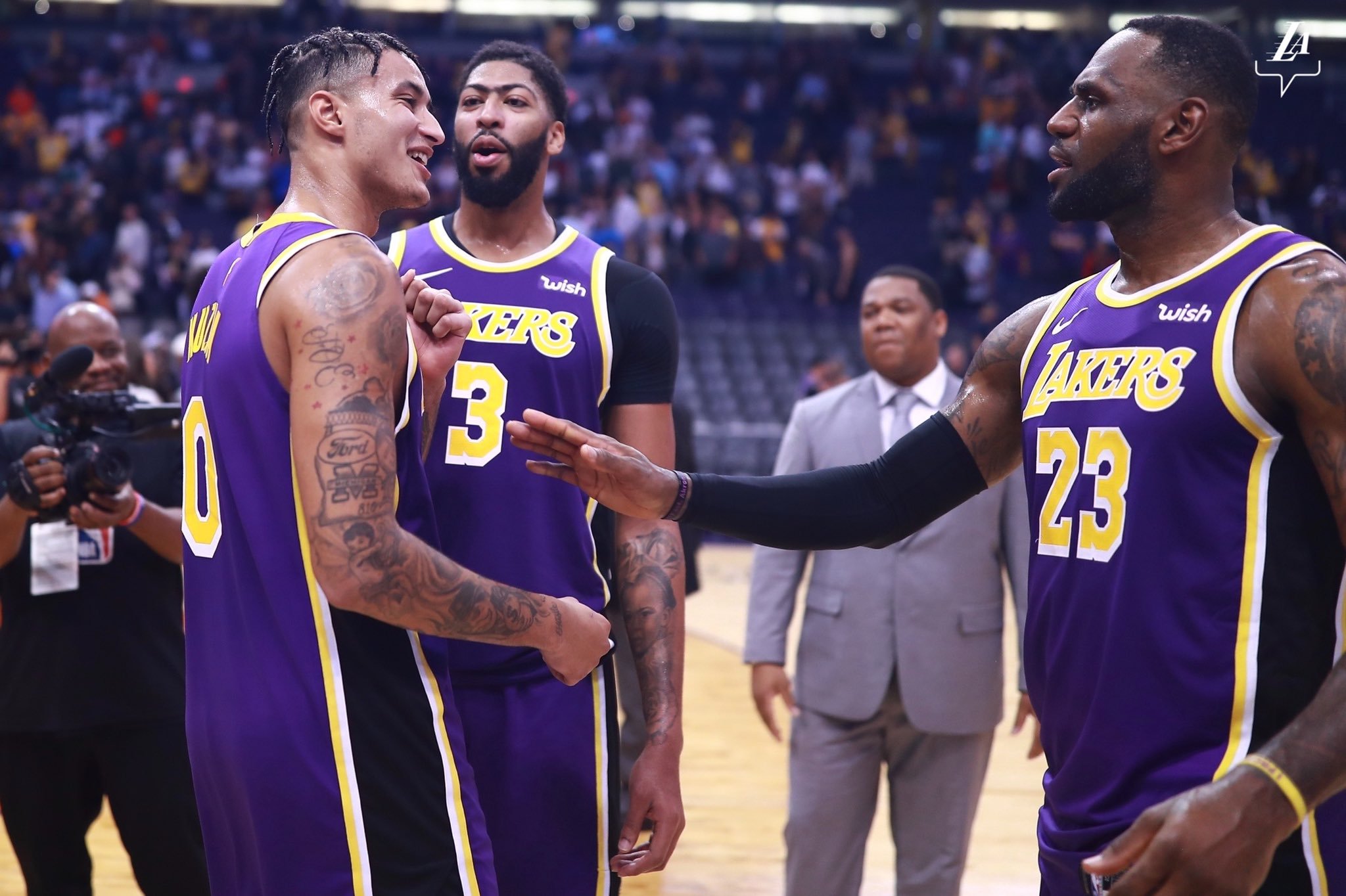 Shreyas Kar's NBA Power Rankings 2019-20: Week 4
In this week's power rankings, we're able to tell who the real contenders and pretenders are in this league. As the season progresses, it gives us more insight on how teams will probably do during the regular season.
1. Los Angeles Lakers
Record: 7-2
Week 3 ranking: 2
All good things must come to an end. For the Lakers, they finally suffered their first loss after winning seven straight games. Kyle Kuzma's play has been up-and-down for the most part, however, he did score 15 points in their loss against Toronto. Despite their loss to the Raptors, they took care of business by defeating the Bulls on the road and Miami at home. Are there any concerns with Anthony Davis' lingering injuries? Sure. But every player plays with bruises and soreness. The more healthy this team gets, the better they become. Just give them time.
2. Boston Celtics
Record: 7-1
Week 3 ranking: 5
I must admit, this team is way better than I had thought. I have to give them props for being on top of the East through these first few weeks. Unfortunately, Gordon Hayward fractured his hand. Hayward was having an All-Star caliber season, as he has been averaging 20.3 points, 7.9 rebounds, and 4.6 assists while shooting 56.4% from the field and 44.4% from behind the arc. It's a pretty big blow for the time being, however, Coach Brad Stevens will make proper adjustments moving forward.
3. Los Angeles Clippers
Record: 6-3
Week 3 ranking: 3 
Load management was the headline for the Clippers this week as Kawhi Leonard decided to sit out during a prime-time game against the Bucks. Despite him sitting out against Milwaukee, he played the next night against Portland, and he scored 18 of his 27 in the fourth quarter. On top of that, Paul George is expected to make his Clipper debut sometime next week. So for the first time ever, we'll get to see how this team operates at full strength. Buckle up, it's going to be special.
4. Milwaukee Bucks
Record: 7-3
Week 3 ranking: 6
After defeating a Kawhi-less Clippers team, they lost on a buzzer-beater to the Jazz in Salt Lake City. Their offense has been superb, however, their biggest question mark was on the defensive end. Their defense is becoming better as team progresses, allowing opponents to shoot only 41.8% from the field. Despite their 7-3 start after 10 games, this team still has a lot of work to do. They're playing well, but not perfectly. With Khris Middleton sidelined for 3-4 weeks due to a left thigh contusion, they're going to have to figure out who's going to fill his role for the time being.
5. Denver Nuggets
Record: 7-2
Week 3 ranking: 8
Despite having a 7-2 start, the Nuggets haven't looked exactly great. If it weren't for Nikola Jokic hitting a couple of game-winners, we could be having a totally different discussion right now. They won in overtime, but went scoreless in the final 6:23 of the fourth quarter against the Timberwolves this past Sunday. Offensively, the Nuggets are still trying to find consistency, as they rank 27th in true shooting percentage. With all of this being said, if this is considered "bad' for the Nuggets, then that just means that they're very good.
6. Toronto Raptors
Record: 7-2
Week 3 ranking: 10
Despite Kawhi Leonard's departure during free agency, the Raptors are not only one of the best teams in the East, but one of the best teams in the entire league. Despite losing Kyle Lowry and Serge Ibaka to injuries, they managed to defeat the Lakers on Friday. Like I said before, Pascal Siakam is going to have a break-out year this season, and that's exactly what's happening. He's has proved to be an MVP-candidate as he has been averaging 26.3 points and 9.5 rebounds per game.
7. Utah Jazz
Record: 6-3
Week 3 ranking: 9
Throughout the first three weeks of the season, the Jazz remain as the best defensive team in the league. The major question mark with this team has been whether or not they can produce on the offensive end consistently. After acquiring Bojan Bogdanovic via free agency, it gives the Jazz more spacing and a spark offensively. He has been averaging 21.8 points per game, while shooting 45.5% from behind the arc. If that wasn't enough, he put the exclamation point this past week as he nailed a game-winning shot to the beat the Bucks. With that being said, can the Jazz remain consistent offensively? Only time will tell.
8. Philadelphia 76ers
Record: 6-3
Week 3 ranking: 1
After starting the season 5-0, Philadelphia dropped three straight to Phoenix, Utah, and Denver. Their one win of the week was against Charlotte, however, they shouldn't take too much pride in winning that game. People will say that Joel Embiid's suspension was the reason why they lost to the Suns. They'll also say that Ben Simmons' injury was the reason why they lost to the Jazz. Let's face it. This offense was hot garbage this past week. They kept on forcing the 3-ball instead of attacking the basket, and because of that, their offense couldn't find any consistency whatsoever.
9. Miami Heat
Record: 6-3
Week 3 ranking: 4
The Miami Heat hype has lessened this past week as people are more focused on the Dion Waiters situation. With that being said, Miami got reality checks in Denver and L.A., however, next week should be more favorable for them. Fortunately for them, they're set to play against Detroit, Cleveland, and New Orleans, as they should be able to take care of business and go 3-0. Defensively, the Heat have established themselves as one of the better teams in that department. In this past week, Miami's offense was flat-out ugly, shooting 15/64 from behind the arc. They should be able to get things going next week.
10. Houston Rockets
Record: 6-3
Week 3 ranking: 14
The Rockets took advantage of a soft schedule last week as they easily took care of Memphis, Golden State, and Chicago. With this three-game winning streak, Houston could easily build upon this. After a slow start from Clint Capela due to injuries, he's failed to disappoint these past two games as he has been averaging 17.5 points, 18.0 rebounds, and 5.0 blocks. Despite their win-streak, Houston's narrative remains the same. They rank 2nd in offensive rating, so we know that they don't have many issues getting the ball in the hoop, but can they play defense? Houston's got a long way before they can call themselves title contenders.
11. Phoenix Suns
Record: 6-3
Week 3 ranking: 15
None of us expected the Suns to be this high in a power rankings list at this time of the year. As a result, I have to give them credit. Phoenix established a winning culture and have now found themselves as possible playoff contender. If you're not impressed from what the Suns have achieved so far, then you don't know basketball. Coach Monty Williams has done a fantastic job with this team, and with a 6-3 start to the season, it matches the best start by a first-year coach in franchise history. Job well done Phoenix.
12. Dallas Mavericks 
Record: 6-3
Week 3 ranking: 7
Luka Doncic has been playing like a superstar all season long. Kristaps Porzingis is still trying to find consistency each game as he's just rubbing off rust with the season progressing. Unfortunately for the Mavericks, they suffered a disappointing loss to the Knicks in Dallas. What separates a good team and a great team is the ability to take care of business. You can't lose to the Knicks at home with two stars and call yourself a great team. Dallas at least has a shot at redemption, as they're set to play the Knicks again.
13. Indiana Pacers
Record: 6-4
Week 3 ranking: 16
Despite having Myles Turner, Jeremy Lamb, and Goga Bitadze all injured, Indiana has found ways to win someway somehow. The return of Domantas Sabonis, along with Aaron Holiday replacing the injured Jeremy Lamb in the starting line-up, and as a result, they were able to spark a three-game winning streak. With all of this being said, each of the first 10 games the Pacers have played, their opponents have a losing record. This week will be a reality check for Indiana, as they'll face the Thunder, Rockets, and Bucks.
14. San Antonio Spurs
Record: 5-4
Week 3 ranking: 11
For the Spurs, LaMarcus Aldridge has been the biggest issue for them this season. He's been extremely inconsistent as of yet, and has failed to perform like an All-Star this year. Last season, the Spurs were 37-10 when Aldridge scored at least 20 points, however, they were 11-24 in the rest of their games. After scoring 39 points against the Thunder, Aldridge was held to single-digits in scoring during Saturday's loss to Boston. I know he's getting older, and it's tough to perform well consistently, but the Spurs need him.
15. Minnesota Timberwolves
Record: 5-4
Week 3 ranking: 12
I think last week was a telling story of how this team will be during the regular season. I'm not buying that Minnesota will be a playoff contender. After losing to Milwaukee and Memphis last week, I had to bump them down a few spots. They were able to make a come back in their win against Golden State, which featured Andrew Wiggins scoring 40 points, however, I'm just not sold. Wiggins has been having an impressive year to say the least, but I just don't believe in this team.
16. Portland Trail Blazers
Record: 4-6
Week 3 ranking: 13
Ever since I've started doing these power rankings, the Blazers have done nothing except for dropping spots. I understand that there are many injuries that are affecting this team negatively, however, when Damian Lillard is scoring 60 points and you still can't win, then there's an actual problem with your team. Although it's just 10 games, Portland was able to defeat Atlanta in a comeback fashion, which was key. Portland doesn't want to fall too far behind in the standings, as falling too far behind in an extremely competitive conference may mean falling out altogether.
17. Oklahoma City Thunder
Record: 4-6
Week 3 ranking: 20
Before the season had begun, many believed that the Thunder would just flat-out stink. Throughout 10 games, their record remains at 4-6, however, they've remained competitive in each of their games. Eight of their 10 games and five of their six losses have been within five points in the last five minutes of the game. Though it's only two games, next week will present a challenge, as they're set to play Indiana and Philadelphia. I know they're competitive, but I don't think that will get you anywhere in the loaded Western Conference. It's a nice attempt though.
18. Brooklyn Nets
Record: 4-5
Week 3 ranking: 18
Despite it only being three weeks into the season, the Nets have established themselves as an offensive-heavy team. Forget defense apparently. They allowed over 115 points in each of their games last week, which featured giving up 125 and 135 points in losses to New Orleans and Phoenix. I just don't understand why many teams don't emphasize the defensive end of a basketball game. As a result, the Nets rank 7th in offensive rating and 26th in defensive rating, and they sit at 4-5. I know it's only nine games into the season, but I just hate it when teams don't care for defense. I guess they're okay when they give up 135 points to Phoenix out of all teams. Pathetic.
19. Detroit Pistons
Record: 4-6
Week 3 ranking: 17
Good news Detroit fans, Blake Griffin is coming back soon. He's expected to make his comeback sometime next week, as they should be able to get back on the right track moving forward. Derrick Rose has also been injured for the past few games, and to me, it's an absolute miracle how this team is 4-6 at this point. This next week should be a telling story as to how this team will perform for the remainder of the season. Just don't expect much. They're a good team when healthy, but do you honestly expect them to anything come playoff time? You said no? That's what I thought.
20. Atlanta Hawks
Record: 3-6
Week 3 ranking: 21
With the loss of John Collins due to his 25-game suspension for a positive drug test, newcomer Jabari Parker has helped tremendously. Parker has been averaging 23.3 points and 8.0 rebounds in his past three games. With that being said, next week is absolutely brutal for Atlanta. They're going to be in the west coast for awhile, as they're set to play the Nuggets, Suns, Clippers, and Lakers all on the road next week. The Hawks need to take the next step if they want to contend for a playoff spot. As a result, this next week will be the ultimate test as to whether or not the Hawks can do that.
21. Cleveland Cavaliers
Record: 4-5
Week 3 ranking: 26
After losing three straight games, they found a way to win back-to-back double-digit road wins against the Wizards and Knicks. Perhaps they're not that bad. In three games this week, the backcourt of Colin Sexton and Darius Garland have combined for just 10 turnovers. This season, the Cavaliers rank fourth in fewest amount of turnovers per game. Were we all wrong? Is Cleveland an actual contender for a playoff spot this year? Probably not. Having to face Miami and Philadelphia twice next week, it will be a good test for Cleveland as to whether not they're an improved team.
22. Charlotte Hornets
Record: 4-6
Week 3 ranking: 22
I'm sorry. I thought the Hornets were going to win just 19 games, and I called them flat-out garbage. I'm glad they're proving me wrong. It's a three-week sample, but backup guard Devonte' Graham has been flat-out balling. Graham has been averaging 23.3 points per game, which includes a career-high 35 in a comeback win against Indiana. As a result, they're somehow 4-6. It's kind of remarkable that the Hornets are 4-6, because they've trailed all 10 of their games by double-digits. I guess, keep it up? The starters have been relatively garbage, and the other reserves have been non-existent. Whatever you're doing Charlotte, just keep doing it I suppose.
23. Orlando Magic
Record: 3-7
Week 3 ranking: 19
The Magic have dropped five of six, with their only win coming against Memphis. Despite Orlando's 3-7 start, third-year forward Jonathan Isaac is finally living up to some of the hype. Since the month of November had begun, no one in the league has averaged more blocks per game than Isaac's 3.2. Though it's only been ten games, it appears that Orlando has taken a step down from last year, which is weird to say. Their schedule doesn't get much easier, as they're set to face Philadelphia, San Antonio, and Washington this next week.
24. Sacramento Kings
Record: 3-6
Week 3 ranking: 27
The Kings are finally beginning to shake of their poor start of the season by winning three of their past four games, including two on the road. Sacramento has been much better on the defensive end, as they have allowed an average of 100.7 points in the three wins, including 92 points in New York. Next week will present a big challenge for the Kings, as their newly-improved offense will take two of the top-five defenses in the league.
25. Chicago Bulls
Record: 3-7
Week 3 ranking: 23
The main issue with Chicago is that they lack an identity. Say what you want about it just being ten games in the season, but Coach Jim Boylen wants his team to keep shooting threes, even if they're complete garbage at it. The Bulls have made 31% of their 3's so far this season, only to rank fifth-worst in the league. On top of that, they missed 28 of 32 3-point attempts in a loss to Houston on Saturday. There's no other way to put it, this team has many issues.
26. New Orleans Pelicans
Record: 2-7
Week 3 ranking: 25
Despite having multiple injuries, Brandon Ingram has been having a break-out season this year, averaging 25.9 points per game while shooting 53.7% from the field and 46.9% from behind the arc. Once again, I guess teams just don't care for the defensive end. Just like Brooklyn, New Orleans' identity is more on the offensive end, as they're ranked 13th in that department. They've been pathetic defensively, ranking 29th in defensive rating. Just like last week, my assessment remains the same. Until this team is fully healthy, then I can't say much about New Orleans.
27. Washington Wizards
Record: 2-6
Week 3 ranking: 24
None of us expected them to be good anyways, however, Washington needs to a couple things right. They need to develop Rui Hachimura and keep Bradley Beal happy. Despite having some positives early from being scrappy and playing tough, they remain as an absolute embarrassment on the defensive end. I get it, nobody thinks they will be good, but you have to remain competitive in each game.
28. Golden State Warriors
Record: 2-8
Week 3 ranking: 28
The scary part of this whole thing is that the Warriors could end up with the number one pick of the draft this year. It's crazy to see how quick the Warriors have fallen off the map. The injury-plagued Warriors have used eight different starting lineups this year. I guess the only hope moving forward with this team is that Draymond Green could be back soon? In other words, it's not looking great.
29. Memphis Grizzlies
Record: 2-7
Week 3 ranking: 29
The Grizzlies don't have much to look forward to this season other than the production of rookie guard Ja Morant. Memphis is being extremely so cautious with Morant that they're even willing to let him rest on a back-to-back. With that being said, it's weird to believe that because Morant has only played more than 30 minutes in a game one time, logging 32 minutes during his 30-point, 9 assist night in an overtime win against the Nets.
30. New York Knicks
Record: 2-8
Week 3 ranking: 30
When you had thought that the Knicks would turn it around after a huge road win in Dallas on Friday, they disappointed once again as they got blown out to the Cavaliers just a few nights later. After the loss to Cleveland, it got so bad that president Steve Mills and GM Scott Perry decided to start the process of firing Coach David Fizdale. If you didn't think that was bad enough, New York's 2-8 record comes with the league's second-worst point differential. In summary, they're trash.
Written by Shreyas Kar
Follow Shreyas and TSJ: NBA on Twitter!
Photo credit to Lakers via Twitter
Follow TSJ on YouTube and Twitter