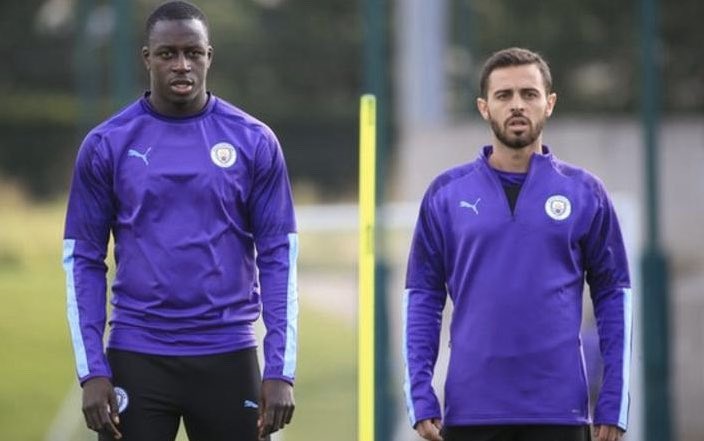 Bernardo Silva Given One Game Ban For Racism
Silva given one game ban and 50k fine.
Bernardo Silva will face a one-game ban and will pay a 50k fine because of comments he made about Benjamin Mendy on social media.
The Portuguese international posted a video on his Instagram story in which he stated," Guys we've just seen a world cup champion completely naked". The FA view the comments in the video as racially motivated, because Mendy had a black club tracksuit on at the time of recording the video. Here is the video:
Bernardo is also being punished because he posted a picture eluding to a cartoon character that he believed Mendy resembled.
City team-mate Raheem Sterling defended Silva after the incident. Sterling said,
"I don't feel there's any racism in it,"

"It's a situation between two friends, Bernardo and Mendy, as everyone knows. I can see exactly the point where some people can get touchy-feely on it but I feel in that situation Bernardo made a joke to his friend.
Benjamin Mendy himself actually defended Silva after the situation blew up. The French international wrote a letter to the FA pleading with them not to ban Silva.
Silva misses Manchester City's next league game, and it happens to be against Frank Lampard's high flying Chelsea.  Silva is in fine form this season, scoring 5 goals and accumulating 2 assists in 11 games. He will be a big miss for City in such a big game. A game they need to win after the defeat to Liverpool
Right or wrong?
Silva did not mean to racially abuse Benjamin Mendy. This much is very clear. The whole ordeal was banter between mates and that's all it was. Mendy is obviously comfortable enough with Silva for him to make this joke, otherwise, the Portuguese man wouldn't have made it in the first place. The problem with the ordeal is that it was broadcast to an audience. Footballers are adored by young fans everywhere because of this they are role models in every aspect. Nearly everything they do is copied by the easily impressionable younger fans who idolize them. That's why banning Silva was important.
Why is it important? Young fans could see the whole Silva ordeal and think it's okay to do this to any person of colour. People that may not be as comfortable with the topic as Bernardo and Mendy are. That can't happen. It may not be wrong in the context of the two players having a bit of banter towards each other, but it is wrong to let that banter spill into the impressionable young fans. The FA needed to ban Silva to set an example that it can't be tolerated. Racism is so ripe in the game right now after events in Bulgaria and more recently with Mario Balotelli's incident, that any form of it needs to be acted on and punished. Failure to kick this virus out of the beautiful game will ruin it once and for all.
 Have your say below!
Written By Dylan McBennett
Follow Dylan and TSJ: Soccer on Twitter
Photo Credit to David Walker via Twitter
Follow TSJ on Youtube and Twitter