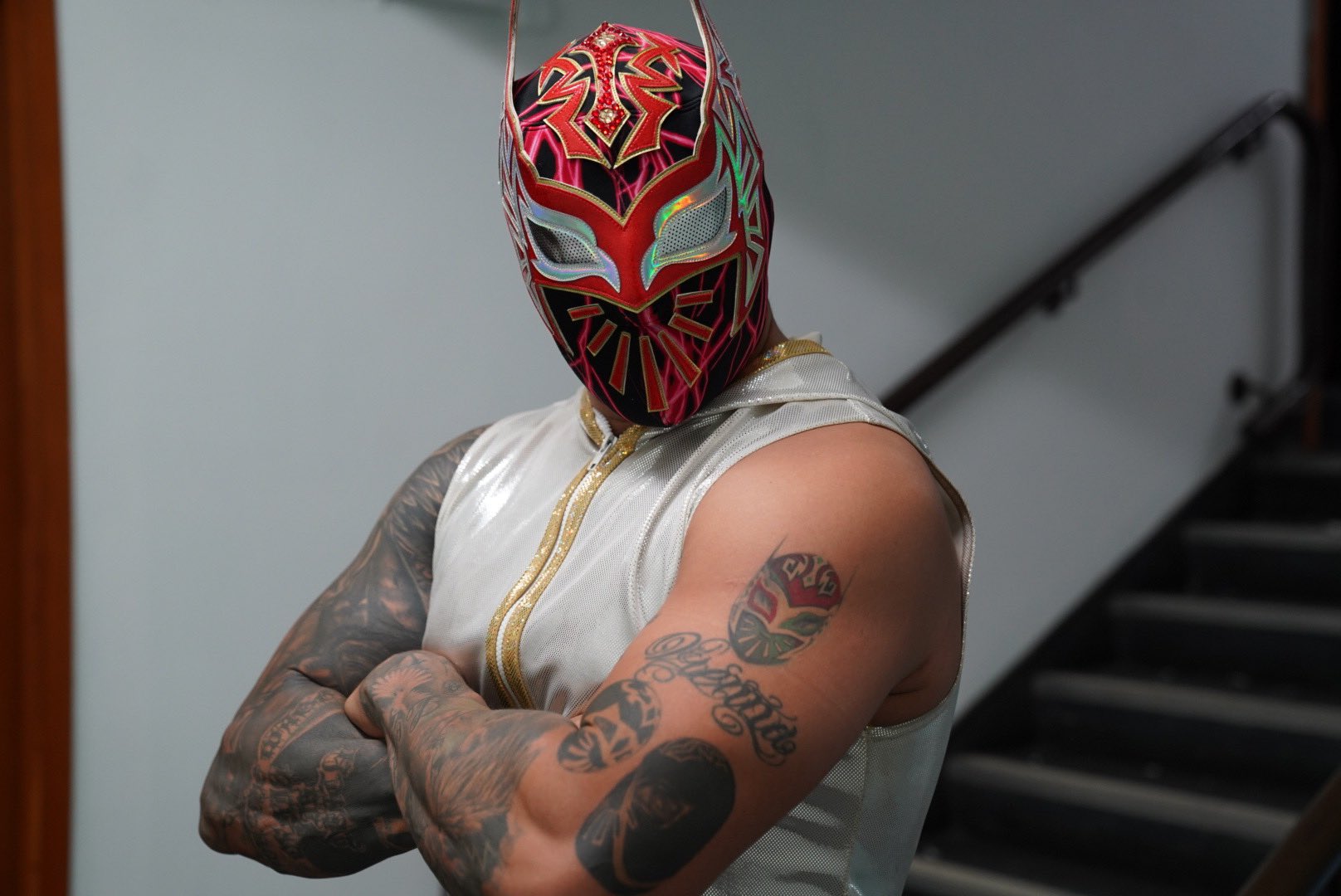 Sin Cara Makes A Special Request To The WWE
Sin Cara, real name Jorge Arias, is a replacement of the real wrestler who played this character: Luis Urive. And after WWE let Urive go and sent their regards, Aries replays the character back in WWE. But a bad decision for him; only wasted his wrestling career with little to zero push back in his singles run. He even unmasked himself (losing to Urive) and became a heel superstar called Hunico.
His First Break in WWE!
In 2014, he gets his first and only title when he teams up with Kalisto as The Lucha Dragons in NXT. He goes from Raw and then to the Cruiserweight Division to Smackdown Live; then back to Raw. Arias got title shots after shots but didn't win any; lose almost all the matches he is send into as a singles competitor.
In 2019, after a return from his recent knee injury; he got a brief feud with Andrade and Zelina Vega but lost the match. Even when Aries brings in an equalizer Carolina from NXT (Catalina Garcia); again they lost the mixed tag team match to Andrade and Zelina last week on Raw.
A few days ago, a news surface about Aries's mixed tag team partner Carolina decides to go back to NXT. And today on 11th November 2019, one half of the Lucha Dragons request for his release from the WWE.
TSJ Writer's view on his request!
Will WWE grant his wish? Or will WWE solve this problem by giving his a title belt as they did with the Revival? For me personally, I think WWE should just let him walk off to the sunset because the company already wasted his time for about 10 years.
WWE should be rewarding him for staying this long even after countless match losses.
Sin Cara shares his final Letter to the WWE Universe!
"Last night, after praying and considering it a lot, thinking about my children and their future, I made one of the most difficult but sensible decisions that I had to make in my professional wrestling career; I have asked for my WWE release.

Since I was a child, all I wanted to do was fight and all my life I have made decisions and sacrifices to put myself in a position to fulfill that dream. They are 20 long years of experience and total ethrega to my sport that I love and respect. I traveled the world, met incredible people and fought for the incredible fans of the WWE Universe.

I'm so grateful for the opportunity they gave me, however, I realized that I am stuck in a place where I am not valued as an athlete or talent. I have worked hard and honestly for many years to polish my trade, I've been loyal, respectful, a team player, support and I have patiently waited for the opportunity to show the world everything I can do. Unfortunately, after all these years, that opportunity never came or I feel that it will ever come while I remain where I am.

The best years of my professional wrestling career are coming and I think the best is yet to come! I am a healthy, disciplined man, respectful of my profession and its environment, of my companions and mainly of the public to whom I have never failed. This is not the end, on the contrary, this is the beginning of the next chapter and I am excited for what the future holds! (Isaiah 43: 18-19)

I just want to thank WWE for this incredible chapter, I will always be grateful."
Sin Cara continues!
"Most importantly, thanks to the WWE Universe for its unwavering support. And to all my public that in all parts of the world has supported me and showed its affection, the only way I can correspond is to continue providing myself with all the dedication, passion and professionalism that I have Always shown. Thanks from the bottom of my heart."
Below is the original from his Twitter account:
— Sin Cara (@SinCaraWWE) November 11, 2019
https://platform.twitter.com/widgets.js
TSJ Family would like to wish Jorge Aries the best in his journey ahead outside of WWE!
Follow Andrew and TSJ: WWE on Twitter!
Photo credit to Sin Cara Official Twitter Account
Follow TSJ on YouTube and Twitter