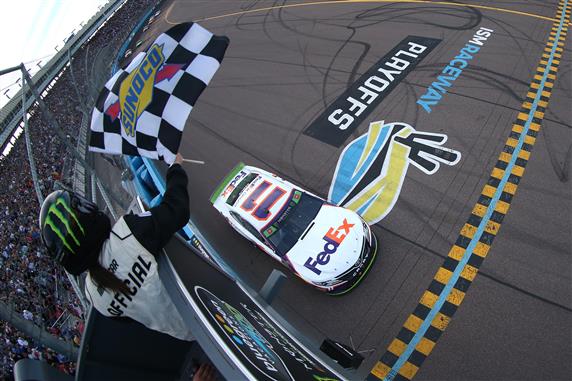 Hamlin Wins His Way into Homestead with Clutch Win at ISM Raceway
After a big blow to his championship chances last week, Denny Hamlin had a clutch win this week. Starting from third, Denny Hamlin would win a Stage and lead 143 laps en route to a commanding win at ISM Raceway. This sixth win of 2019 for Hamlin locks him into the Championship 4 at Homestead. Hamlin will also join two of his Joe Gibbs Racing teammates in next week's title-deciding race.
Busch Breaks Through Early
After earning his first pole of the season, Kyle Busch was strong early at ISM. By lap 20, the #18 led Hamlin's #11 by one second. While in the midst of a tight battle for the final spot in Homestead, Busch went for maximum points. The 2-time defending ISM Raceway winner would dominate Stage 1, but a late caution would change that.
When Ricky Stenhouse, Jr. hit the wall on lap 67, strategies would be split for the sprint to end Stage 1. Non-contenders Brad Keselowski and William Byron stayed out to take the top 2 spots, putting Busch and Hamlin in the second row. On the restart, Hamlin was able to get a strong run through turns 1 and 2 and cleared Keselowski for the lead by turn 3. Behind him, Chase Elliott moved into second. The Joe Gibbs Racing driver who had to win at ISM Raceway was up front to capitalize for the Stage 1 win.
Logano Lunges Ahead
For the start of Stage 2, Joey Logano made a 4-wide restart work to his advantage and took the lead away from Hamlin. By going from the lead back to sixth, Hamlin lost the last Homestead transfer spot to Logano. With clean air, the 22 was gone. By lap 100, Logano's lead over Chase Elliott was in excess of one second. Behind Logano though, there was a great race for second in the Stage. Chase Elliott had the position, while Denny Hamlin was trying to regain lost ground. Over the closing laps of the Stage, Hamlin finally passed Elliott thanks to a slide job into turn 3. Despite finishing second in the Stage, Hamlin at this time was still outside of the final 4 due to Logano leading. The two of them would start as the top two for the final Stage.
On the restart for the final Stage, Denny Hamlin spun his tires badly, allowing Logano to clear for the lead by turn 1. Hamlin would retain second though, clearing Elliott. At this time, one Playoff driver would face adversity and have a day-ending issue.
Early Exit for Elliott
While running in third on lap 166, Chase Elliott would lose a left rear tire entering turn 1. Elliott's #9 Napa Chevrolet would pound the outside wall, making enough contact to bend his rear windshield. After coming into ISM Raceway facing a must-win scenario, Elliott would finish last in 39th. This crash was the latest of a hellacious Round of 8 for the 9 car. Elliott has finished worse than 32nd for three-straight weeks. Despite his three wins this year, Elliott will not be racing in Homestead for the title.
Logano's Luck Runs Out
When racing resumed on lap 174, Logano led Hamlin once again. However, the 11 began to reel in the 22 on this run, and passed him for the lead and for a Championship 4 berth on lap 177. By losing the lead, Logano went to fourth in the standings, just one point ahead of Busch who ran third. When Busch passed Logano on lap 188, he eliminated Logano from Homestead.
After losing the lead and second, Logano's #22 Mustang continued to drop positions with ill handling. With 90 laps to go, Logano was 10th and still free-falling through the field. Lap 238 would see Hamlin put the now-12th place Logano a lap down. Meanwhile, Hamlin's lead over Busch at this time was three seconds and growing.
Hamlin would hold a commanding lead until his final pit stop on lap 246. When the 11 came in for the last time, his lead over the 18 was more than 12 seconds. After just four laps, Hamlin was back in control at ISM Raceway.
Late Caution Offers Last Chance
With a 130-lap green flag run in the books, only ten laps remained as Hamlin was on cruise control. That would change however on lap 304, when John Hunter Nemechek pounded the turn 1 wall. This fifth yellow flag would set up a final restart with three laps to go. To Hamlin's outside on this restart would be Ryan Blaney, who would make Homestead with the win.
On the restart, Hamlin would easily clear for the lead as Blaney went low to block Busch's charge. By turn 3, it was clear sailing for Hamlin. With Busch taking over second, Hamlin would lead his teammate to the line by three-tenths of a second. This marks Hamlin's second Phoenix win, and first since 2012.
Significance of the Win for Hamlin
Denny Hamlin's sixth win of the year was momentous for numerous reasons. Hamlin is a part of the Championship 4 in Homestead for the second time, as he races for his first title. For Joe Gibbs Racing, ISM Raceway marks their 18th victory of 2019, which ties Hendrick Motorsports' record-year from 2007. Busch finishing right behind Hamlin also puts him through to Homestead. For five-straight years now, the 18 has been a final 4 contender. Hamlin and Busch join Martin Truex, Jr. and Kevin Harvick in the final 4 next Sunday.
"One of the best cars of my career," Hamlin said after the win. "I can tell you that. Fast car. But, yeah, I pushed for all I had. I mean, that's all I got. Once we got the big lead there, a little over 10 seconds, I just kind of sat there. I got to thinking about if the caution does come out, I want to lap as many as I can. That's all we had. So proud of this whole FedEx racing team, proud of Toyota for locking up the manufacturer's championship this week. Toyota, the Jordan Brand, Little Big Burger, the entire FedEx group for an unbelievable team."
Other Notables in the Top 10
Busch Brings it Home in Second
After staring on pole and leading 69 laps, Kyle Busch brought the 18 home in second. His runner-up result was enough to make the Homestead Championship 4 on points, his fifth-straight finale appearance. "We gave it everything we had today," Busch said. "The M&M's Camry was good out front and then we lost the lead and could never get it back. Kind of seemed that way for a few guys, I guess the 22 (Joey Logano) most notably. We were a little bit slower than the 11 (Denny Hamlin) all weekend long.
We kind of saw it in practice just a little bit. They had a really good car and they executed well and took two tires there at the end. It's funny, two tires can overdo four. I have yet to understand that, again. But, must be an aero package thing. So, we'll just go on to Homestead with a chance to race for a championship and give it our best."
Third Not Enough for Blaney
Despite having a shot on the last restart, the third-place effort by Ryan Blaney was not enough to ward off elimination. After winning his way into the Round of 8 at Talladega, Blaney will exit the postseason a week early. The High Point, North Carolina native was especially emotional post-race, as he claims to have thrown up prior to his media availability. "We ran third," Blaney said. "I thought we got better all day. I thought we did a good job of getting better on long runs all day and the short runs too. We just got overall better, and then passed a couple cars we were behind the first couple runs, but nowhere near in the league, especially the 11, but in the 18 and the 19 were in.
We've got to do our homework. We've got to start working on that. I'm really proud of the whole group for today, but the whole playoffs as well. It stinks that you miss it, but a solid day." For two-straight years now, Blaney has been unable to capitalize on a Playoff win and make a run for Homestead.
Larson Loses Out in Fourth
After also winning his way through to the Round of 8 at Dover, Kyle Larson's deepest Playoff run to date ends after week nine. The Ganassi #42 was a constant threat in the top five for much of the day, placing fourth at the checkers. "The 11 (Denny Hamlin) had an amazing race car there," Larson said. "So, he would have had been tough to beat. But obviously with that final restart there, everybody felt like they had another chance to try and beat him. I just felt like if I could have lined up on the outside row, I would have had a really good shot. Had I lined up sixth or eighth even, I felt like I would have been in a much better position than starting seventh.
It didn't work out. I restarted on the bottom every time but one today, so that was unfortunate. It's still a good year for us. It was a little rough in the beginning of the season, but we have rebounded from that, worked hard, got our cars better and our team better. We were battling for a championship. We'll go to Homestead next week, race and try to get a win."
Harvick Quietly in Top 5
After last week's Texas win to lock him into Homestead, Harvick would not go back-to-back at ISM Raceway. The nine-time Phoenix winner would fail to lead a single lap in his fifth-place result. However, Harvick is not concerned about his Homestead efforts. "The Gibbs cars were strong and we were probably about where we finished, about a fifth-place car," Harvick said. "I'm just really proud of everybody on our Mobil 1 Ford for battling through the day and we'll see what happens next week in Homestead." Harvick will head to Homestead looking to extend a series-high 11 year streak of top 10s.
Truex Nonchalantly in Sixth
Two weeks after his Championship 4-clinching win at Martinsville, Martin Truex, Jr. ended a relatively quiet day in sixth. "I know we're ready for Homestead, and feeling really confident about that," Truex said. "Today we had a really strong car on the long runs, we just would get killed on restarts there. I was in a good spot on that last one to make a run at him, and went down into 1 and it just went straight. We fought that all day long, just took us too long to get going.
You know, for having half a team and an old car and not really working on it, I thought we had a second- or third-place car today, so that's pretty good. Excited for Homestead, and can't say enough about everybody back at JGR." For the fourth time in five years, Truex is contending for the championship in Homestead. With his last two Homestead finishes being the 2017 win and second last year, Truex has to be thought of as a potential favorite.
Erik Jones Rounds Out JGR Banner Day
With his three teammates all fighting for a championship next week, Erik Jones would complete the JGR quartet in the top seven. Jones was in the top 10 for much of the day, running as the best non-contender for most of the 312 laps. This was exactly where he finished, leading the non-Playoff drivers. Jones has now scored a top 10 in three of the last four races.
Bounce-back for Bowyer
Putting two Stewart-Haas Mustangs in the top 10, Clint Bowyer would bring the #14 home in eighth. Despite being eliminated after the Round of 12, ISM Raceway marked Bowyer's fifth top 10 in the nine Playoff races. After their 1-2-3 effort last week at Texas, Harvick and Bowyer would be the only two SHR Fords in the top 10.
Logano Recovers Yet Not Enough
After being passed by Hamlin for the lead on lap 176, Joey Logano fell as low as 12th on track. Logano's #22 Mustang was plagued by tightness in this run, as he would fall off of the lead lap. Despite coming back to ninth, Logano would miss the Championship 4 in his title-defending year.
"It went from a really good car to a car that couldn't stay on the lead lap with changing tires and a half pound of air," Logano said. "A lot of things don't line up there. That doesn't make any sense. The car shouldn't do that, but it did and once we put tires back on it we got to where we could run competitive at least again, but we were so far back and I was running so hard trying to get back to the 11 that we ended up using it up again. We just needed a caution at the right time and we didn't get it to try to get back up there. It stinks.
Highs ans Lows for Logano
We did the first half of the race really well, with a fast car. We scored a ton of stage points and to the point that we could tie the 18 and all I had to do was finish in front of him, which was the goal, and it went bad from there. I don't get it, but it just wasn't our year I guess. I don't know what to say. You're up there wishing that somebody gets up there and passes him, but the 18 wasn't gonna pass him. He could have, but wasn't going to obviously to have all of their cars in, so it is what it is. We'll move forward." With the points reset, Logano will have a shot at earning fifth in the 2019 championship.
Keselowski Puts Three Penske Cars in Top 10
Rounding out the top 10 from ISM Raceway was a third non-Playoff driver-Brad Keselowski. The #2 Mustang earned track position late in Stage 1, but lacked speed in comparison to the JGR cars and other competitors. Keselowski's struggles would continue late with a lost cylinder. "I don't know if I had anything for the 11 or 18," Keselowski bluntly said. "I didn't really get a chance to run around them on equal tires, but I felt like we were a top three or four car at least. Then I lost a cylinder at the end. I felt lucky to bring home tenth." Keselowski will be Logano's main competitor for the best-of-the-rest fifth place points position next week.
How to Watch the Next Race
After 35 weeks and nine months of racing, the 2019 NASCAR season comes down to the championship race. For the eighteenth-straight year, the champion will be determined at south Florida's Homestead-Miami Speedway. Coverage of the Ford EcoBoost 400 will be live on NBC, MRN, and SiriusXM NASCAR Radio Channel 90 on Sunday, November 17 at 3 PM EST. Three of the final 4 contenders come from Joe Gibbs Racing, so will JGR end their best year on top, or will Harvick spoil their party?
Written by Peter Stratta
Be sure to follow us on Youtube and Twitter.
Be sure to follow the writer on Twitter.
Photo credit to NASCARMedia