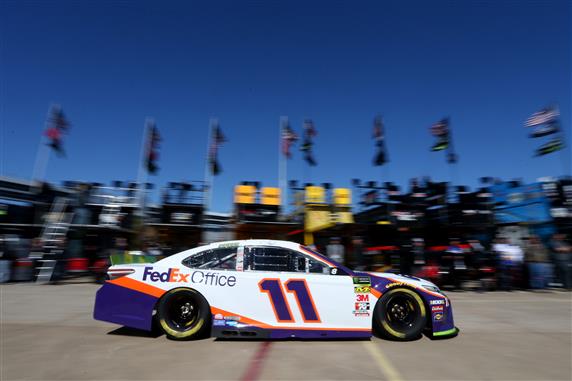 Denny Hamlin is Prepared to Fight for a Spot in the Championship 4
Most would say that Denny Hamlin has had the best season of his Cup Series career. Statistically, Hamlin has tied 2012 as his second-winningest season with 5 wins. He's also tied 2016 and 2017 as the most top 10s in his career (22), and has beaten his previous record of 15 top 5s with this seasons 18 so far. The one column Hamlin strives to check off now is becoming a NASCAR Cup Series champion.
As NASCAR heads to ISM Raceway, Hamlin is coming off of a sour run in Texas. As a result of an early spin, Hamlin would finish 28th with a damaged racecar. This put him 20 points under the playoff cut line for the final race in the Round of 8 this weekend. When asked if he would approach Phoenix as a must-win, Denny felt he may not need to.
"I think we're going to try to qualify as good as we can and try to stay upfront," Hamlin said. "If you stay upfront and are leading the race, leading laps, finish good in the first stage, the pressure will shift to other people to have to protect points. You do everything you can to be up front the first stage, and then you kind of analyze where you are from there. Are you a winning car, are you going to stay there, or are you going to have to switch your strategy for the second stage to set yourself up to be upfront to win the race?"
Denny Hamlin's Phoenix Success
Hamlin is no fluke when it comes to racing at ISM Raceway. Though he's only claimed 1 win at the Arizona track (2012), driver #11 also has 12 top 5s and 16 top 10s. Over his 28 Cup Series races here, his average start is 10.8 and average finish is 11.3.
This weekend Hamlin's car looked pretty quick in practice and was able to qualify in the 3rd starting spot. But what if he's not able to make the Championship 4? How does he view his season without a run at the title?
"You adjust your expectations," Hamlin told the media. "No matter what, I will not consider this year any sort of failure. As Mark Martin would say, we just didn't score enough points. We had a great year, we won races, we led more laps than we have in a long time and more top fives than anybody in the series. It's been a really good year and I'm just not going to let the outcome of this weekend, or last weekend, decide whether it's a good season or not. I think you have to adjust that. One race, winner take all, or a three-race round – anything can happen, and it did for us."
Tune into NBC today to see if Denny Hamlin can clinch a spot in the Championship 4. The BlueGreen Vacations 500 will go green at 2:30 PM EST.
Written by Noah Lewis
Be sure to follow us on Youtube and Twitter.
Be sure to follow the writer on Twitter.
Photo credit to TSJ101Sports.