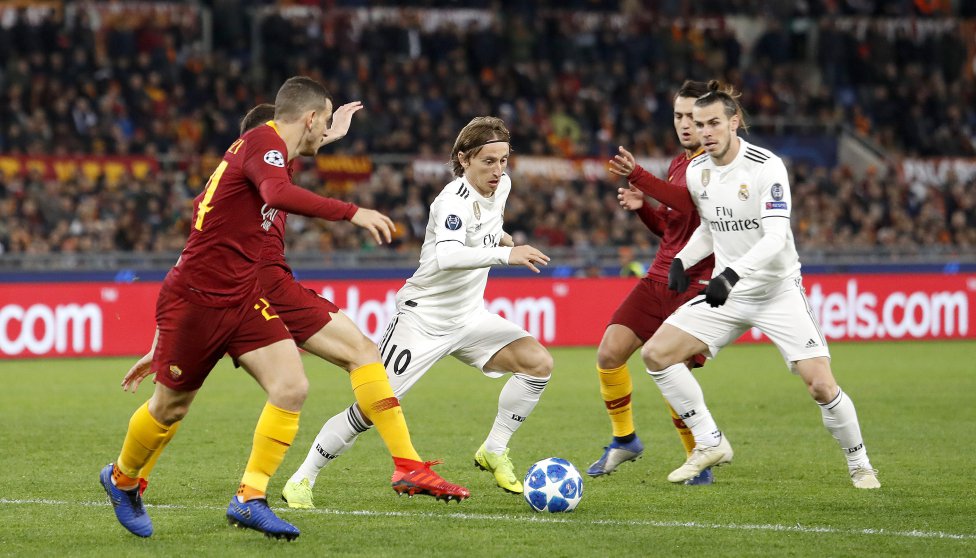 Zidane's New Preferred 11: No Bale And Modric
The Frenchman is known for his two-team approach as the recipe for winning multiple silverware. Currently, the Real Madrid coach's "A-Team" is missing familiar names.
Los Blancos secured a 6-0 win over Galatasaray on Wednesday afternoon edging closer to a place in the last 16 of the Champions League. Meanwhile, the Spanish giants sit 2nd in the League table level on points with eternal rivals Barcelona.
Despite a few disappointing results, fans of the whites will regard the work of Zidane so far as satisfactory. The 1998 World Cup winner himself can attribute the success of this season up to his favorite starting 11, As was the case in his last spell as manager.
No Bale And Modric
However, the Real Madrid side that dominated Europe under his management included Cristiano Ronaldo, Luka Modric and Gareth Bale. While the former is a different matter entirely, the Croatian Ballon d'Or winner and the Welsh star have been replaced by youngsters Fede Valverde and Rodrygo Goes respectively.
All in all, the manager's preferred eleven is as follows. Thibaut Courtois; Dani Carvajal, Raphael Varane, Sergio Ramos, Marcelo; Fede Valverde, Casemiro, Toni Kroos; Rodrygo Goes, Karim Benzema and Eden Hazard.
When those names are on the team sheet, Real Madrid wins.
The Numbers
After experimenting with various combinations throughout the season, Zidane first fielded the aforementioned side in it's first match against Galatasaray. The results being a tidy 1-0 away victory. This was followed by the same lineup recording a 5-0 home victory versus Leganes.
Interestingly, when the coach opted to replace Valverde and Marcelo with Luka Modric and Ferland Mendy his side could only manage a disappointing goalless draw with Real Betis. The side with the worst defense in Spain. In total, Zizou's new "A-Team" have three victories, 12 goals scored and 0 conceded.
Notably, the team's success is not in spite of the presence of Rodrygo and Valverde but more so because of their inclusion. The Brazilian has contributed 5 goals so far this season and one assist. Likewise, the Uruguayan's hard work in midfield has been the difference for his team on several occasions.
What Now For Modric And Bale?
Of course, when there is an A-Team, there is also a B-Team. It seems reasonable to assume that players of such quality will be utilized in the managers squad rotation in this way. Nevertheless, Modric and Bale will no doubt feel too accomplished to be second choice.
As a result, it is possible that one or both could exit the Spanish capital in the January transfer window. Equally as possible is that one or both wins their spot back in the team. Not only is there the chance of an injury but there is also the matter of Rodrygo and Valverde's inexperience.
Regardless of what happens. fans of the 13 time European champions will be pleased that their coach has discovered a starting lineup that guarantees results and inspires confidence in the teams chances of silverware.
Especially following a trophy-less season.
Written by Chris Cartwright
Follow Chris and TSJ: Soccer on Twitter!
Photo credit to Real Madrid via Flickr
Follow TSJ on YouTube and Twitter