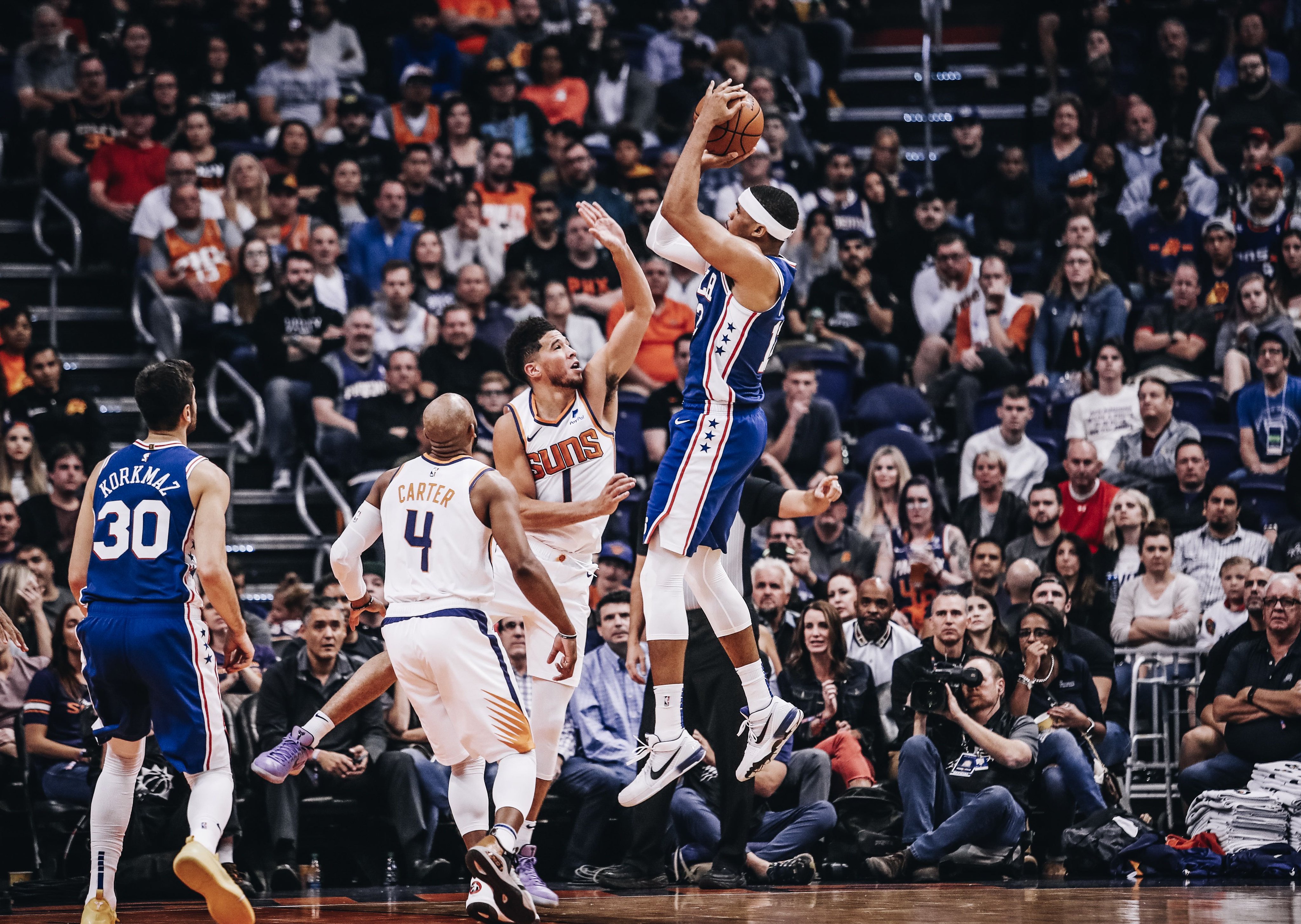 Shreyas Kar's NBA Power Rankings 2019-20: Week 3
Now that we're two weeks into the NBA season, it's okay to analyze more into how teams have looked and performed. With that being said, there are teams like the Miami Heat, who are performing better than expected. Then there are teams like the Golden State Warriors, who are just complete garbage currently.
1. Philadelphia 76ers
Record: 5-0
Week 2 ranking: 1
Last week, the Philadelphia 76ers were the number one team on power rankings list. They haven't done anything that would make me change my mind. I'll admit, I was a bit skeptical about the production from the bench unit, however, they've done a relatively good job so far. Without Joel Embiid due to suspension, players like James Ennis III, Kyle O' Quinn, Mike Scott, Raul Neto, and Furkan Korkmaz have all done a great job contributing throughout the first few weeks.
2. Los Angeles Lakers
Record: 5-1 
Week 2 ranking: 4
The Los Angeles Lakers have easily established themselves as the best Western Conference team this past week. Obviously, it's just one week, but that's why this is a power ranking. They took care of business ever since they lost to the Clippers on opening night, so they deserve this number two spot. People will continue doubting every single win this team gets, but it's time to give them credit. Defeating Utah at home, demolishing Charlotte and Memphis, and finishing it up by defeating both Dallas and San Antonio on the road. Yeah, this team is really good.
3. Los Angeles Clippers
Record: 5-2
Week 2 ranking: 3
Despite losing to the Jazz on the road this past week, I think the Clippers have established themselves as a top three team in the league. It's extremely early, however, what separates this team from others is that they have an insane amount of depth. Against the Jazz, the Clippers were able to get 30 points from Kawhi Leonard, while having their bench produce 50 points. Like I said, this is a power ranking, and we go week-by-week. The Lakers simply had a better week than the Clippers, so that's why they're number three on this list.
4. Miami Heat
Record: 5-1
Week 2 ranking: 12
Jimmy Butler has been averaging less than 15 points per game in his three games as a Heat, and they're 5-1. It's time people start giving Miami credit. They defeated the Bucks on the road, while demolishing the Rockets by 29 points. The Heat are easily one of the bigger surprises this season as nobody really expected them to be this good. Miami has had everybody contributing, and that includes players like Tyler Herro, Kendrick Nunn, Meyers Leonard, and Duncan Robinson. Like I said last week, there are more "popular" picks to win the East, however, we shouldn't count this team out whatsoever.
5. Boston Celtics
Record: 4-1
Week 2 ranking: 10 
To me, the Celtics have also been a surprise team somewhat. Boston is good, but not great. So far, they've proved me wrong. They play pretty poorly in the first half as they average -8.2 points per 100 possessions, however, their second half performance is what got them to their 4-1 record. Last week, the Celtics swept their opponents at home with a comeback win over the Bucks and a Jayson Tatum game-winner to beat the Knicks. The team is looking better as time progresses, but I still need to see more from this team. They'll be tested as they play eight of their next ten games on the road.
6. Milwaukee Bucks 
Record: 4-2
Week 2 ranking: 5
The Bucks started their week off rough by getting blown out by the Celtics. They then recovered by winning two straight which featured them demolishing the Magic and Raptors. Currently, the Bucks are surging offensively as they're ranked 3rd in offensive rating and have been producing 119.2 points per game on 47.5% shooting from the field. Overall, they're probably better than the Heat and Celtics, but I have to put them lower on this ranking since they lost to the both of them. That's how power rankings work.
7. Dallas Mavericks
Record: 4-2
Week 2 ranking: 13
I could easily make the case that the Dallas Mavericks should be 6-0 right now. By losing to Portland from a coaches challenge and to the Lakers in overtime, this team has still been impressive nonetheless. Luka Doncic has the potential to become an MVP-candidate if Dallas continues winning games. Doncic has been averaging 26.7 points, 10.3 rebounds, and 9.5 assists per game, and it's safe to say that he's established himself as a star in this league. I know it's early, but we could expect them to make the playoffs at this rate.
8. Denver Nuggets
Record: 4-2
Week 2 ranking: 2
I normally wouldn't drop a team by six spots, but in this case, I had to. Entering this season, we all expected the Nuggets to be one of the better teams in the league. Nobody expected them to stink it up in a blowout-loss to New Orleans. There's actually expectations set for this team as they are no longer considered "sleepers" in this league. When expectations and pressure arises, that tells us truly how ready a team is to win it all. Denver was able to recover with a solid road win in Orlando, but they're going to be tested next week as they face off against Miami and Philadelphia.
9. Utah Jazz
Record: 4-3
Week 2 ranking: 6 
It's always the same story with the Utah Jazz. For the past few seasons, it's been about their lack off offensive consistency. The Jazz have been amazing on defense as they're ranked 2nd in defensive rating, however, they're complete garbage on the offensive end, ranking 25th. If anything, Donovan Mitchell has taken a major step towards becoming a star in this league, but it's all about the others. Utah is still way too dependent on Mitchell, and if they want any progress as a team moving forward, they're going to need major contributions from the others.
10. Toronto Raptors
Record: 4-2
Week 2 ranking: 11
Despite losing Kawhi Leonard and Danny Green, the Raptors remain not only as one of the better teams in the East, but also one of the better defensive teams in the league. Toronto has held their opponents to just 40.1% shooting from field through the first two weeks, and as a result, they're ranked 10th in defensive rating. Supported by many analytics, Pascal Siakam was their best defender last season. Supported by former defensive player of the year in Marc Gasol, Toronto won't be taking much of a step back this year defensively.
11. San Antonio Spurs
Record: 4-2
Week 2 ranking: 9
Like I said before the season had begun, the San Antonio Spurs will make the playoffs. I know it's just two weeks into the regular season, but don't expect otherwise. The Spurs are once again, a good-quality team in the western conference. They've done a solid job so far as they're ranked 7th in offensive rating and 15th in defensive rating. In terms of rebounding, San Antonio is ranked second in rebounding percentage (53.7). Their only two losses came to the Clippers and Lakers, both of which are elite teams. There's nothing wrong with that.
12. Minnesota Timberwolves
Record: 4-1
Week 2 ranking: 14
I'm probably being a little too rough on Minnesota. I just don't believe in them as much as others do. Do you honestly believe that they will make the playoffs? Despite how good Karl-Anthony Towns has been, I'm not buying into them just yet. Towns made the headlines last week as he got into a huge fight with Joel Embiid, which resulted in a two-game suspension. Minnesota was able to blow out Washington even with Towns suspended, and thus sit at a 4-1 record after week two. They'll be tested this week though as they're set to play Milwaukee and Denver. Then we'll see how good this team is after next week.
13. Portland Trail Blazers
Record: 3-3
Week 2 ranking: 8
Zach Collins' injury is having more of a negative impact than we had anticipated at first. With him being out, it leaves Portland's interior completely exposed as we saw it struggle in action against Philadelphia. Al Horford and Tobias Harris were able to do whatever they felt like doing against Portland. With the Blazers not having much of a frontline, there is a strong belief that they will end up trading for someone that will fill that role. Until then, they have to continue playing games as they sit with an average 3-3 record.
14. Houston Rockets
Record: 3-3
Week 2 ranking: 7
Honestly, how could you like this team? I hate the way this team plays. No defense, just offense. This team is not a championship-caliber team. I don't care how you put it, this team is just straight up garbage right now. Despite the fact that they barely beat Washington, they allowed 158 points to them. That's just disgusting. Then they followed that up by getting blown out by 29 points to Miami. Ask yourself, will this really work out? James Harden is overrated, and Russell Westbrook won't be able to save this dumpster fire. Sorry Rocket fans, but your team is going nowhere, especially in the playoffs.
15. Phoenix Suns
Record: 4-2
Week 2 ranking: 18
Despite the fact that Deandre Ayton was suspended for 25 games, Suns center Aron Baynes has been filling that role as he has been averaging 15.2 points, 5.7 rebounds, and 3.2 assists per game. I'm honestly impressed by this Phoenix team. There's just something different. Now, they probably won't make the playoffs, but that's okay. For the past eight years, Suns fans have been watching their franchise go to waste. But this year, there's an optimistic feeling in the city. The fact that they're 4-2 with the adversity they faced already, I could've easily put them a few spots up. Job well done Phoenix.
16. Indiana Pacers
Record: 3-3
Week 2 ranking: 23
The Pacers started their season off with three straight losses, but have responded by winning three straight. With the additions of Malcom Brogdon, T.J. Warren, and Jeremy Lamb, it gives Indiana flexibility as they're able to attack anywhere on the court. They still have some work to do on the offensive end as they're ranked 22nd, however, they've done an exceptional job on the defensive end, ranking 11th. Like I said last week, all Indiana needs to do is to remain in playoff contention until Victor Oladipo returns. The way they're playing, they'll probably end up doing so.
17. Detroit Pistons
Record: 3-4
Week 2 ranking: 21
After suffering consecutive losses, the Pistons were able to bounce back with a win against the Nets. With Blake Griffin still out from injury, Andre Drummond has had a great year so far as he has dominated the interior with three straight 20-20 games. Drummond leads the league in rebounding, but what's more impressive to me is that he ranks 2nd in blocks per game. Griffin is still out, however, Detroit should manage without him for the time being with them playing 11 of their next 14 games against opponents who are at .500 or below.
18. Brooklyn Nets
Record: 2-4 
Week 2 ranking: 16 
After defeating Houston in what was a complete win, the Nets stunk it up against Detroit as the backcourt of Bruce Brown and Luke Kennard outplayed Kyrie Irving and Caris LeVert. Last week, it was evident that Brooklyn had an issue of taking care of the basketball. They haven't made many adjustments since then as they're ranked second to last in turnovers per game. On paper, this roster is pretty good, but there is no way that this team will be able to win basketball games by committing that many turnovers. Basketball 101: Don't turn the ball over.
19. Orlando Magic
Record: 2-4
Week 2 ranking: 17
The Orlando Magic are just weird. Last year, they shocked the world as they were able to make the post-season. This year, it's looking like they took a step back. Defensively, the Magic rank 5th in that department, but they're absolutely atrocious on the offensive end, ranking dead last. Against Denver on Saturday, they weren't able to sustain any offense consistently, as they scored fewer than 20 points in the second and third quarter. Orlando still has a lot of work to do, and they're going to need to start now if they want to make the post-season this time around.
20. Oklahoma City Thunder
Record: 2-4
Week 2 ranking: 19
Just like last week, there isn't much to take away from this team. Oklahoma City is not terrible, but they're not all that great. Until they make some moves with their roster, I can't really assess their situation. The Thunder manage to stay in it for most of the game, however, they always seem to crumble late in the fourth quarter. In fact, they rank second to last in the league in defensive rating, allowing 142.5 points per 100 possessions in the final five minutes of a game within five points. I don't know what to make of this team.
21. Atlanta Hawks
Record: 2-3
Week 2 ranking: 15
As soon as things were going right for the Hawks, the injury bug hit them pretty hard. With their two most important players suffering injuries, I had to drop the Hawks in this weeks power ranking. It's unfortunate because I had thought that they were a dark-horse team to make the playoffs this year. After dropping three straight games, it's just a matter of time until both Trae Young and John Collins are 100% healthy. Until then, they just have keep their heads up and move forward.
22. Charlotte Hornets
Record: 3-3
Week 2 ranking: 28
I'm sorry for calling the Hornets garbage just a couple of weeks ago. No one, including myself, expected Charlotte to be 3-3 after two weeks. The Hornets have found their early success with a duo of former second round picks in Devonte' Graham and Dwyane Bacon, while getting contributions from their first round picks in PJ Washington, Malik Monk, Miles Bridges, and Cody Zeller. Just a few weeks back, they were ranked dead last in the NBA's Future Power Rankings, however, with expiring contracts on Marvin Williams, Nicholas Batum, and Bismack Biyombo, there might be a future after all in Charlotte.
23. Chicago Bulls
Record: 2-5
Week 2 ranking: 24
When comparing the Bulls with the bottom of the Eastern Conference, it's easy to look on paper and say that Chicago is the best out of all of them. Unfortunately for the Bulls, they're having a tough time putting all of their pieces together. They have nice players like Zach LaVine and Lauri Markannen, however, talent is one thing and fit is another. The Bulls have yet to find an identity as they're below average defensively (18th) and offensively (23rd). What's in store for this team moving forward?
24. Washington Wizards
Record: 1-4
Week 2 ranking: 25
Giving up 159 points to the Houston Rockets was definitely embarrassing for Washington, but giving up 131 points to the Timberwolves without Karl-Anthony Towns was probably more embarrassing. In their last eight quarters, the Wizards have allowed 35 or more points in six of them. It's clear as to how they are on the defensive end, however, it's a different story offensively. With them being able to run with pace and having efficient scorers on the team, they rank 6th in offensive rating. If they can improve somewhat on the defensive end, then this team is not as bad as many people think.
25. New Orleans Pelicans
Record: 1-5
Week 2 ranking: 22
Once again, it was another whatever week for the Pelicans. They've been able to make themselves competitive for the most part, however, with their loss against the Warriors and Thunder, I had to bump them a few spots down. Despite their impressive win against the Nuggets, this team has a lot of work to do. The Pelicans still seem cursed with injuries as Brandon Ingram suffered a head injury earlier this week. With his head injury, that now marks four of the Pelicans' five projected starters to have already missed time due to injury. Once they're all healthy, then we can fairly assess this team.
26. Cleveland Cavaliers
Record: 2-4
Week 2 ranking: 27
Despite having a 2-4 record, the Cavaliers have had some bright spots this season. One of the bright spots is Tristian Thompson. Thompson has been averaging 17.4 points and 11.4 rebounds per game while shooting 56.9% from the field, all career highs. This past week, they lost to quality opponents like the Bucks, Mavericks, and Pacers, so I won't criticize them much for being 2-4. With that being said, they played poor defense against Dallas, allowing 131 points. This team has a lot of work to do moving forward, but at least they have something to work with.
27. Sacramento Kings 
Record: 2-5
Week 2 ranking: 30
With the Kings being one of the more improved teams last season, nobody expected a 2-5 start from them. After suffering five straight losses, they were able to pick up wins against the Jazz and Knicks. I said last week that Coach Luke Walton would most likely hold back their young players, and it seems like that's the case. With his inconsistent substitutions, nobody has the ability to find their groove at the proper time. It's good for them that they were able to bounce back by winning two straight, but how long could that last? We're not sure.
28. Golden State Warriors
Record: 1-5
Week 2 ranking: 20
Well, the Golden State Warriors have fallen. For the first time since 2000-01, the Warriors have started 1-5. Without Steph Curry for three months (hand), Klay Thompson (Torn ACL), and Draymond Green for a few games (torn ligament), it's safe to say that this team won't make  the playoffs. It's not the worst thing in the world though. Considering all the star-power they have for next year, they could essentially return better than ever. They'll have the asset of a top-pick, as well as a player like D'Angelo Russell to trade, and who knows what will happen? The Warriors have fallen, but they're not completely out of it just yet. Don't sleep on them.
29. Memphis Grizzlies
Record: 1-4
Week 2 ranking: 26
With Jaren Jackson Jr. suffering a knee injury during Saturday's loss to the Suns, tensions are growing in Memphis. Jackson Jr. missed 24 games as a rookie due to injury, and it's not a good look to get injured so quick once again. The Grizzlies have started well in every game, as they're 4-1 by the end of the first first half. With them being such a young and inexperienced team, it makes sense that their overall record is 1-4. The Grizzlies just have a lot of work to do in general, and with Jackson Jr. out, it adds pressure on Ja Morant.
30. New York Knicks
Record: 1-6
Week 2 ranking: 29
The Knicks started their week off well with a comeback-win against Chicago, however, it ended on a Jayson Tatum game-winner in a loss to Boston. Due to injures and with Dennis Smith Jr. out for personal reasons, New York has experimented with four different line-ups in just the last two weeks. There isn't much going for the Knicks at the moment, however, we can expect to see R.J. Barrett to have a bounce-back performance after having a minus-20 during their loss to the Magic.
Written by Shreyas Kar
Follow Shreyas and TSJ: NBA on Twitter!
Photo credit to Sixers via Twitter
Follow TSJ on YouTube and Twitter