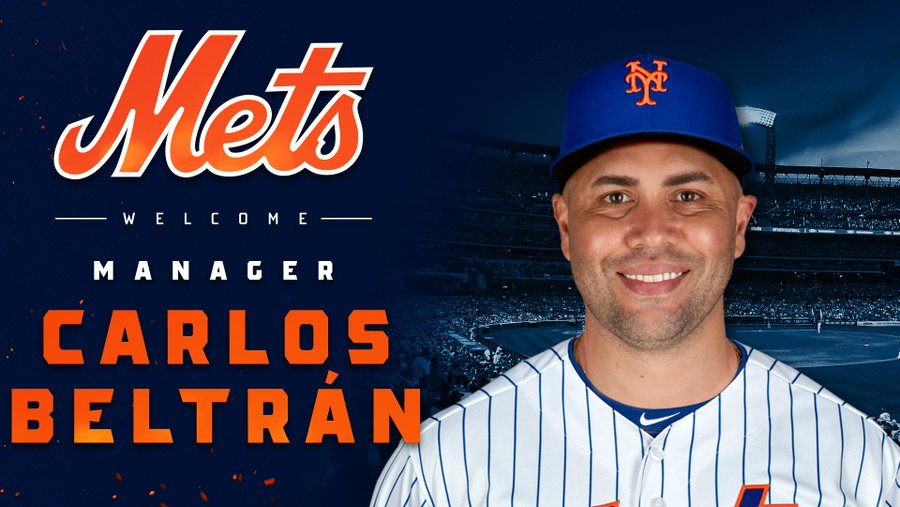 Mets Name Carlos Beltran As Their New Manager
After the Mets parted ways with Mickey Callaway shortly after the season ended, the team went on a search for their new manager. After careful interviews, the Mets have announced that Carlos Beltran will take the reigns for the 2020 season. Beltran will be the 22nd manager in franchise history and will be introduced in a press conference later today.
Brodie addressed the media by saying, "We are very excited to bring Carlos on board as our next manager and re-introduce him to Mets fans next week."
Beltran's Career With The Mets
As a player, Beltran spent seven on 20 years in the Majors with the New York Mets. He slashed .280/.369/.500 with 149 homers and 559 RBIs during in time with the Mets. In addition, he also earned five All-Star appearances, three Gold Gloves, and two Silver Slugger Awards. To add to his Hall of Fame resume, Beltran also has more than 2,700 career hits, over 400 homers, and more than 300 stolen bases.
Being recognized as one of the greatest offensive players in Mets history, fans were thrilled to see the team bring him back to the Mets. After winning a World Series with the Astros back in 2017, Beltran retired. He has also served as a Special Advisor to the Yankees since late in the 2018 season.
How Will Beltran Be With The Mets?
After hiring a first time manager previously with Callaway, the Mets decided to go with another first-time manager in Beltran. After being involved with the team during nearly half of his playing career, Beltran brings a familiar face to the Mets organization. His excellent playing career and experience (though brief) in a front office will be very beneficial to the Mets. Fans should be very excited to see Beltran as their new manager and see great success in 2020.
Written By Zach Nau
Follow Zach and TSJ: MLB on Twitter
Photo Credit to the Mets via Twitter
Follow TSJ on Facebook and Twitter