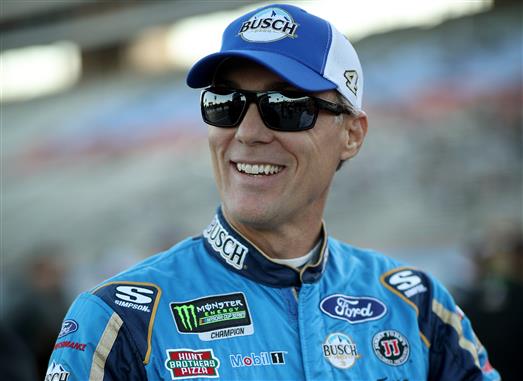 Kevin Harvick Heads to Texas Hunting a Homestead Berth, 3rd-Straight Win
As the NASCAR Playoffs roll into Texas, one man enters the Lone Star state as a standout-Kevin Harvick. The man behind the wheel of the Stewart-Haas Racing #4 Mustang has the last 2 fall Texas wins. With a flyer lap in qualifying yesterday that put him on the pole, can Harvick win again? A Texas win may just be in his future, as Harvick is hunting another Homestead Championship 4 berth.
Harvick's Recent History at Texas
Since Texas Motor Speedway was reconfigured in 2017, nobody has been stronger on this 1.5-mile track than Harvick. His pair of Texas trophies have come in each of the last two Playoff races, in addition to a worst-finish of eighth in this span. In total, the last five Texas races for Harvick have yielded five top 10s, 379 laps led, an average start of 6.4, and an average finish of 3.2. While Phoenix has historically been Harvick's playground, Texas has become arguably Harvick's best track.
Each of the last two seasons have seen Harvick clinch a Homestead berth with a Texas triumph. 2017 saw the 4 pass Martin Truex, Jr. late and lead 77 laps, while 2018 was far more dominant. A year ago, Harvick led 177 circuits at TMS en route to a superb win. However, that win was marred in controversy. Due to an illegally modified spoiler, Harvick was stripped of the winning benefits with an encumbered finish. Still slighted by the sting of this embarrassment, the 4 team enters this weekend as hungry and determined as ever.
Strong Start to Weekend for the 4
So far this weekend, it's been the status quo for the 4. Harvick put his Ducks Unlimited Mustang on the pole by more than a tenth over the field. While this is only Harvick's second-ever Texas pole, this could lead to a third-straight win. With prime track position to start today's race, the 4 will be at a big advantage to his competition. Entering today at 14 points outside of the final four, Harvick must be the aggressor. He must score Stage points if not win if he wants to stay alive for the title fight.
A win today would be Harvick's third-consecutive victory in the Texas Playoff race. This mark would only trail Jimmie Johnson's record of four-straight TMS fall wins from 2012-2015. It would also be Harvick's fourth win of 2019. Can Kevin Harvick's hunt for a fifth Homestead berth come to completion at Texas again? Tune into NBCSN later today at 3 PM EST to find out.
Written by Peter Stratta
Be sure to follow us on Youtube and Twitter.
Be sure to follow the writer on Twitter.
Photo credit to NASCARMedia