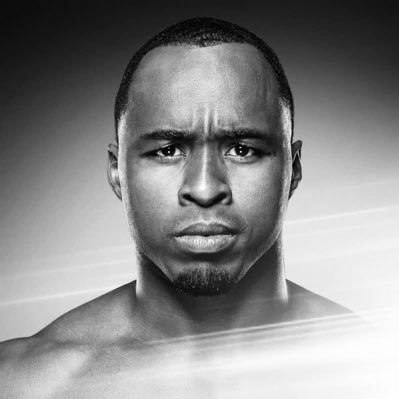 Jordan Myles
Jordan Myles, an NXT superstar, also known as ACH in Indy promotions is now making headlines with his controversial comments about his "racial" T-Shirt.
ACH won the NXT Breakout Tournament in his TV debut in NXT in July and with the stipulation of the tournament; letting the winner chooses any championship match, he picked Adam Cole (NXT Champion) but sadly he didn't win the match in September.
A Controversial Smile!
In October, this month, NXT makes a T-shirt with his name looking like a big smile on a black color t-shirt; ACH quickly noting that it's a racist "sambo" imagery.
He added:
"I will keep posting this till my voice is heard. I'm not sorry for anything I say or do.

Representation is important.

If this is @VinceMcMahon & @TripleH "vision" of me then this is a slap in the face to EVERY African American performer, fan, and supporter."
There was also a now-deleted video of him giving the middle finger after saying this:
"WWE doesn't care about black people"
His continuous Tweets, saying:
"When I originally saw the design I was uncomfortable. Rather than addressing the issue I decided to counter offer with another.

Baker Landon lied to my face! He said HHH wanted this design so my hands were tied. I spoke with @TripleH in person and his impression was I approved"
And
"THE WHOLE WWE SYSTEM IS FRAUD!
THEY CREATED THIS SYSTEM WHERE YOU CANT TRUST ANYONE, YOU GROW COLD, AND YOU GROW APART FROM WHAT YOU LOVE THE MOST!

The fact that @HulkHogan is still employed after giving the locker room an apology for being caught says enough.#ForTheCulture"
He gives the reason why he speaks out publicly is that:
"My soul hasn't been able to rest properly since I've laid eyes on it."
Jordan Myles on Instagram:
"My tweets yesterday were completely disrespectful and were unprofessional.

‪I have offend a ton of people and used anger to fuel me.  ‪With that being said…  ‪I'd like to take this time to state an apologize for not giving a shit about what others think of me. ‪The anger I have inside of me has been built up for years now. Call me what you want, but you'll never EVER be able to call me fake.

‪ I've been lied too, used, and often mistreated by others who I viewed as associates. ‪I've tipped toe around, kept quiet, and even took some Ls when necessary.

Emotionally charged up due to the shirt which triggered past emotions. I'm never going to be sorry for being me nor will I take back my words. ‪I'm the damn professional wrestler in the WORLD & universe today. ‪My ribs are touching and I'm tired of waiting.

Time to snatch plates from those that have been eating far too long and always gets seconds; while guys like myself have to eat crumbs from the floor like an unwanted child.

‪For 4 years…I gave my all to a promotion only to find out that you could only reach so high just as long as you didn't surpass certain "people"… I never begged for anything, I never kissed no ass, nor did rub elbows with the right ppl to get ahead.

HUSTLED, I WORKED HARD.

‪I didn't call Hunter every day to get booked in New Japan (s/o to NJPW) I earned it. ‪I've always wanted to be "The Guy" and of no one will allow me to be in that spot… I shall blaze my own trail to that spot rather it be by the approval of others or not."‪
Jordan Myles Continues:
"Today I shall continue to go the distance.

And Today I shall move forward. Today I shall rise up from my past ashes like a Dark Phoenix and promote change in this industry. ‪Remember these words ‪I AM THE BEST IN THE WORLD! AND NO MAN OR WOMAN WILL STOP ME FROM BEING HONEST. ‪GO THE DISTANCE."
Later WWE issued a respond statement, noting:
"Albert Hardie Jr. (aka Jordan Myles) approved this t-shirt for sale."

"As always, we work collaboratively with all of our performers to develop logos and merchandise designs and get their input and approval before proceeding. This was the same process with Albert, and we responded swiftly once he later requested that the logo/t-shirt be redesigned. No t-shirts were sold."
Titus O'Neil also gave his opinion on ACH's matter:
"@GoGoMyles I AM 100% in agreement that the shirt is very Distasteful.
That being said, bringing others into this to vent your frustrations or Issues THAT HAVE NOTHING to do with @WWE or the shirt is also very Distasteful. If it's #ForTheCulture Don't attack those in it!! "
But ACH takes a bit further by asking a public apology from both Chairman Vince McMahon and the founder of NXT: Triple H; also called "Uncle Tom" to the former ROH champion Jay Lethal.
Brad Shepard from ProSportsExtra.com is now saying that Chairman Vince McMahon may be thinking about giving the pink slip:
"According to a source in #WWE, Vince McMahon is considering terminating @GoGoMyles' contract. The source stated he has "lost it."
According to PWInsider, ACH has not been seen in WWE Performance Center for weeks now.
I hope everything cools down in the coming weeks; a super talented wrestler and it'd be a loss for WWE to terminate ACH's contract, but a win for AEW.
Jordan Myles should not release from WWE!
Since he is in the NXT brand, Triple H should reconsider and put this into a storyline; give him a big push and see how things go with the fans.
Follow Andrew and TSJ: WWE on Twitter!
Photo credit to Jordan Myles Official Twitter Account.
Follow TSJ on YouTube and Twitter