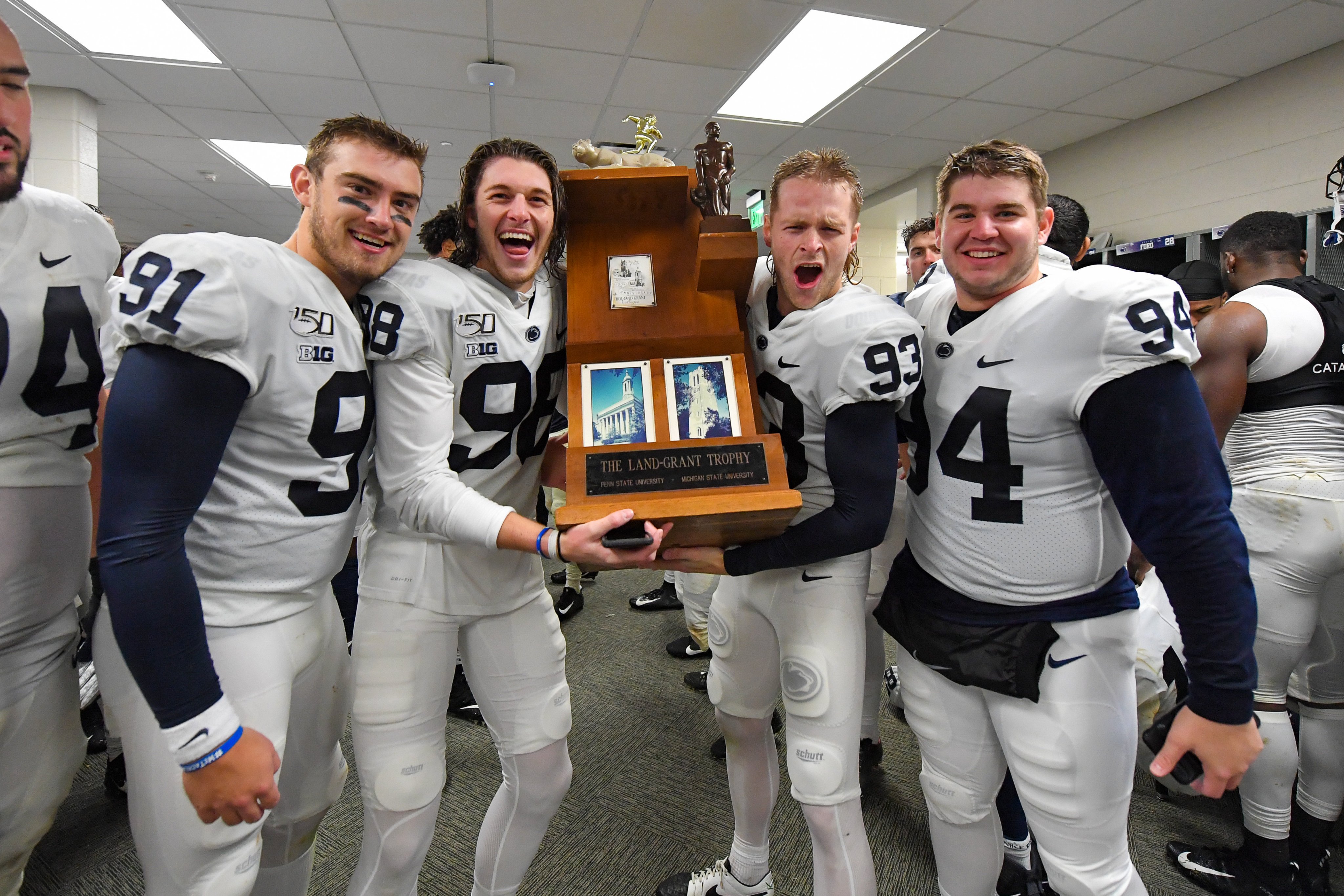 Nittany Lions Beat The Spartans
Penn State Makes A Statement Defeating the Michigan State Spartans
On Saturday, Penn State went into East Lansing, Michigan and defeated the Spartans 28-7. This victory was key for Penn State considering James Franklin hasn't won in East Lansing since arriving at Penn State. Furthermore, the victory helped Penn State make a statement as they're 8-0 for the first time since 2008.
How The Game Went Down
The Nittany Lions stormed out of the gate scoring 21 points. A touchdown in the first quarter followed by two touchdowns in the second quarter. Quarterback Sean Clifford connected with tight end Pat Freiermuth for the lone touchdown in the fist quarter. Subsequently, Freiermuth scored the second touchdown in the second quarter by forcing his way into the endzone through multiple defenders. On top of that, Clifford would throw for two more touchdowns. The Spartans would make very little of a comeback late in the game when Quarterback Brian Lewerke connected with Cody White for a 49-yard completion to march into Penn State territory, and Anthony Williams rushed into the end zone from the 4 yard line a couple plays later.
Penn State would defeat the Spartans 28-7 and claim the Land Grant Trophy after a two yea hiatus. While going on the road and defeating the Spartans, it sent the college football landscape a statement that Penn State is a solid contender and a threat for the College Football Playoff picture. This victory also has momentum on Penn State's side not only with a second bye week on the horizon but also a match up with unbeaten Big Ten West opponent Minnesota.
Penn State
Quarterback Sean Clifford completed 18 of 31 passes for a total of 189 yards with four touchdowns and one interception that came late in the game. On the other hand, the running back department didn't have its best game but it was doable. Journey Brown led all runners with 12 carries for 45 total yards. However, Brown didn't start the game, that start belonged to freshman running back Noah Cain. Cain had six carries for 24 yards but left the game early.
Receiving wise, KJ Hamler showed yet again why he's Penn State's top receiver and has five catches for 57 yards and one of Clifford's touchdown passes. Likewise, tight end Pat Freiermuth had three touchdown catches and five catches for 60 yards.
What's Next
The Nittany Lions are on a bye week this coming week. However, they'll look to have extra preparation for next Saturday's showdown with Big Ten West opponent Minnesota Golden Gophers. Currently, the Gophers are atop the Big Ten West standings with a record of 8-0 overall and a 5-0 Big Ten conference record. Minnesota is also unbeaten at home with a record of 5-0. The Gophers are currently ranked No. 13 the nation. Kickoff time and television network has yet to be determined.
Written By Tom Johnston