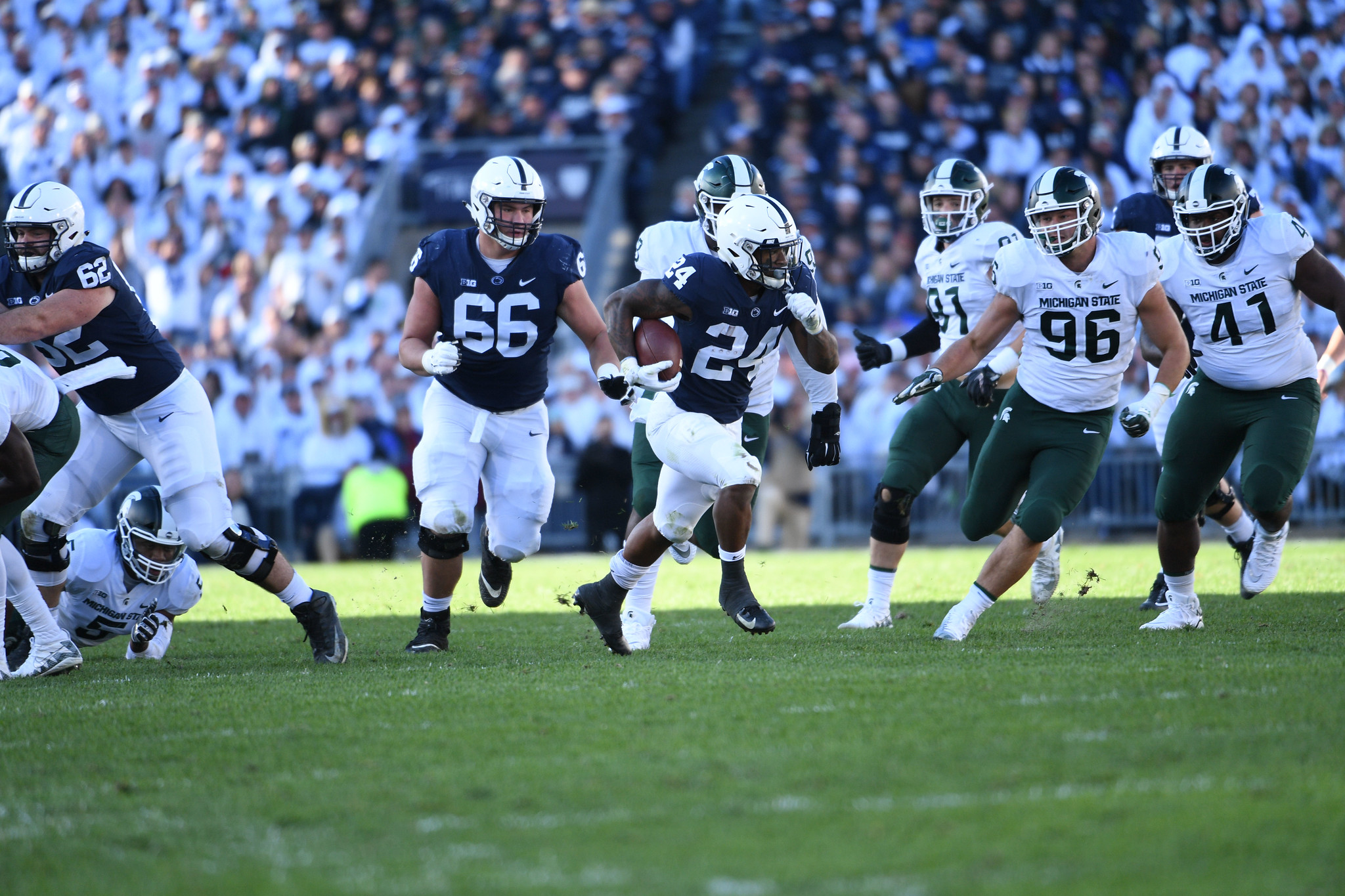 Land Grant Trophy Battle
This Weekend Is The Battle Of The Land Grant Trophy
Penn State will take a trip northwest to East Lansing, Michigan when they face the Michigan State Spartans this Saturday. This battle is no ordinary battle as a Land Grant Trophy is on the line.
Penn State
Penn State comes into this game entering the latter end of the gauntlet. The Nittany Lions have defeated Iowa on the road and Michigan at home. Now, they head to face a team they've struggled to defeat the last two seasons this time on the road. Furthermore, in his career, Franklin has never won in East Lansing. So if Penn State can conquer this game, it'll be a good not only for Franklin but for Penn State too.
For Penn State, quarterback Sean Clifford went 14-for-25 for 182 yards and three touchdowns. Clifford managed to not throw an interception against a Michigan defense that at times were all over the Nittany Lions. As for rushing, Ricky Slade garnered the most with very little carries. On just three carries, Slade ran for 48 yards. KJ Hamler once agains showed his dominance as Penn State's top receiver. Hamler recorded two touchdown passes on six receptions for 108 yards. Tight end Pat Freiermuth had the other Clifford touchdown pass.
Michigan State
The Spartans are coming into this game with interesting scenarios. They're losers of two straight games and coming off a bye week. Overall, the PSartans are 4-3 and 2-2 in Big Ten conference play. Specifically at home, Michigan State is 3-1. Head coach Mark Dantonio is i his 13th season at Michigan State and owns a 6-4 overall record against Penn State. The Spartans rank 12th in the Big Ten in both rushing offense and scoring offense. The Spartans are led by senior quarterback Brian Lewerke who has thrown for 1,596 yards and 11 touchdowns this season. Meanwhile, Lewerke has also thrown three interceptions.
Defensively, senior linebacker Joe Bachie leads the defense with 65 tackles. While Bachie did collect 11 tackles against Ohio State, he also has collected 8.5 tackles for loss this season. Defense was a big factor last season being one of the toughest in the Big Ten, However, the Spartans allow 117.7 yards per game on the ground, a mark that ranks fifth in the Big Ten and 27th in the FBS. Michigan State is 10-9 in its last 19 games against AP Top 10 programs but has losses this season to Ohio State and Wisconsin.
Series History And Kickoff
Overall, there have been 33 meetings between both schools. Penn State has 15 wins compared to Michigan State's 17 victories and there's also one tie. As a result, Michigan State is on a two-game winning streak winning the last two meetings. Kickoff is set for 3:30 p.m tomorrow on ABC
Written By Tom Johnston
Follow TSJ on YouTube and Twitter