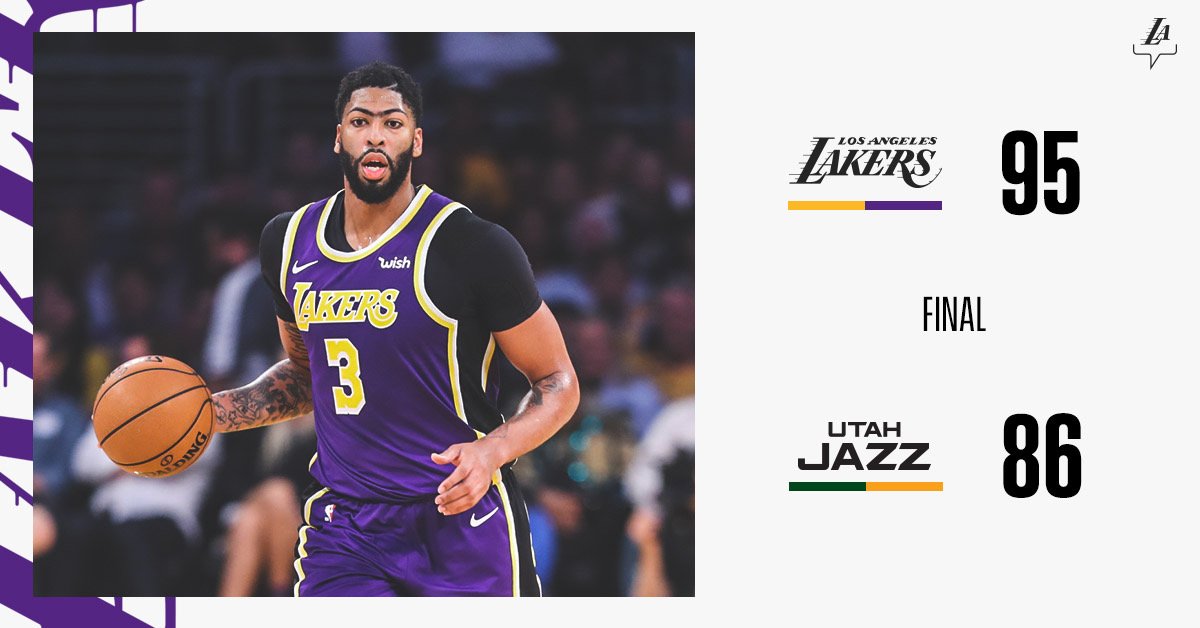 4 Takeaways From Los Angeles Lakers 95-86 Win Over Utah Jazz
After falling short to the Los Angeles Clippers in their opening night, the Los Angeles Lakers defeated the Utah Jazz in a convincing fashion. It was definitely a sloppy game for both teams throughout, however, a win is a win. In this game, we saw both positives and negatives as the Lakers captured their first win of the season.
1. Defense wins championships
With the hiring of Coach Frank Vogel, it's obvious that the identity of this team was going to be defense. The Lakers ranked 20th last year in defensive efficiency as we all knew that they needed some work in that department. Los Angeles was able to set the tone early by forcing the Jazz to commit many turnovers. Utah shot 41.4% from the field and 32.0% from behind the arc, while committing 22 turnovers. The Lakers were able to play great defense throughout the game, and that's what ultimately put them ahead during the match. Against the Clippers, they couldn't play great defense consistently, but they were able to do so tonight.
2. LeBron James is still dominant
This would be an obvious takeaway from the game, however, it's only a topic because of what happened last game. LeBron James disappointed many by his lack of aggression as he had just 18 points, while committing 5 turnovers. Many were under the assumption that father time had kicked in and by that, many believed that James was no longer the best player in the world. Most of the media and fans were overreacting from that one game. The narrative will change once again as James was completely dominant against Utah, putting up 32 points, 7 rebounds, and 10 assists. Don't get it twisted. James remains as one of the best, if not the best player in the world.
3. Offense still needs work
The Lakers were able to play excellent defense throughout the game. Unfortunately, we can't really say the same about the offense. Los Angeles scored just 95 points while shooting 39.5% from the field. Despite those low numbers, we shouldn't expect this to be the case moving forward. This whole thing is a process, and with a completely new team, it's normal for these types of things to happen. On top of that, they were playing one of the best defensive teams in the Jazz. Since this team is so new, it's going to take at least a few months for the offense to be consistent. This is going to be a process, and it's all apart of the growing pains.
4. Underrated depth
When people talk about the Lakers, they just see LeBron and Anthony Davis. I don't think many folks understand how much depth this team has. Excluding the starting line-up, there are players like Quinn Cook, Troy Daniels, Dwight Howard, and Jared Dudley. All of them make a huge difference throughout the game. Their individual stats may not display them as "quality" role-players, however, their impact on the game is more than just numbers. It's about hustle, timely shots, energy, and leadership. All of which are qualities that these role-players possess on this squad. This isn't even including Rajon Rondo and Kyle Kuzma yet since they're both currently injured.
Written by Shreyas Kar
Follow Shreyas and TSJ: NBA on Twitter!
Photo credit to Lakers via Twitter
Follow TSJ on YouTube and Twitter